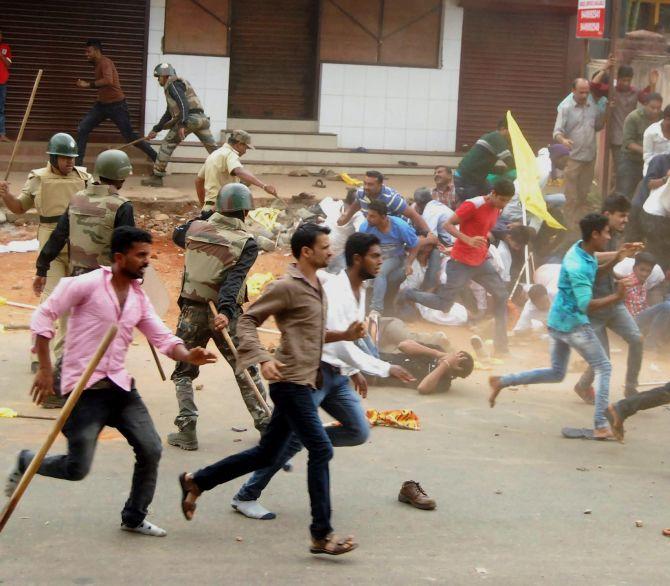 The Vishwa Hindu Parisahad on Friday blocked roads across Karnataka, protesting against the state government observing the birth anniversary of 18th century Mysore ruler Tipu Sultan and over the death of its functionary in violence during the protest in Madikeri.
VHP and Bajrang Dal activists blocked roads during the hour-long protest in various parts of the state including Mysuru, Mangaluru, Tumakuru, Chitradurga, Shivamogga and Hassan with undeclared bandh in some cities, police said.
In Bengaluru, the protest was held in front of the Town Hall in the heart of the city, where VHP activists vented their anger at Chief Minister Siddaramaiah whose government decided to celerbrate Tipu Sultan's birth anniversary from this year.
The celebration was held on November 10.
As the controversy persisted, two men were stabbed, one fatally, near Mangaluru late on Thursday night after a meeting organised by Social Democratic Party of India in support of the celebrations turned violent.
Police, however, did not link the stabbing incidents to the Tipu controversy.
Harish, 28, was stabbed to death at Vagga Halegate, 25 km away from Mangaluru, by unidentified men when he was on his way to home. His friend Samiulla, who was with him, was also stabbed by the men who came in a car. He had been hospitalised in Mangaluru, police said.
Prohibitory orders under Section 144 have been clamped in Dakshina Kannada district for three days after the VHP and Bajrang Dal called the bandh.
The bandh call was given late on Thursday night after the stabbing. The two Hindutva outfits had earlier decided to stage protests against the death of VHP leader Kuttappa in Madikeri in Kodagu district on November 10.
Mangaluru wore a deserted look on Friday as the bandh call received a total response. Karnataka State Road Transport Corporation buses and private vehicles were off the roads and all shops and business establishments remained closed.
Police said stray incidents of violence were reported from some parts of Mangaluru. Four parked buses were stoned by miscreants in Pumpwell area.
Supporting VHP's protest, Bharatiya Janata Party leader and deputy leader of Opposition in the assembly R Ashoka said Siddaramaiah and his government have to take responsibility for 'disturbing' communal harmony in the state.
He accused the government of purposefully selecting the Diwali day to celebrate Tipu Jayanti to hurt the sentiments of Hindus.
"Siddaramaiah is playing vote bank politics. He follows an anti-Hindu culture," Ashoka said.
Karnataka government has ordered an inquiry into the death of two persons during the Madikeri violence.