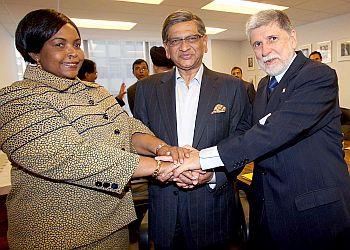 Reform of the United Nations Security Council figured prominently during a meeting of External Affairs Minister S M Krishna with his counterparts from Brazil and South Africa on the first day of the minister's official engagement on the sidelines of the 64th session of the UN General Assembly.
At the meeting in New York on Monday, Celso Amorim and Maite Nkoana-Mashabane, ministers from Brazil and South Africa respectively, said there is a need for the UN to be reformed so as to become 'more representative and reflective' of the needs and priorities of developing countries.

The ministers, including Krishna, also reaffirmed their commitment to multilateralism and to increased participation of developing countries in the decision-making bodies of multilateral organizations and institutions.

According to sources, what emerged from the meeting in essence was the need to focus more attention on the expansion of the Security Council in both permanent and the non-permanent categories.

"It was felt that it was high time for the council to be reformed," diplomatic sources told rediff.com.
"If possible all three of us would like some action in the 64th session," the sources said referring to IBSA.
The sources also noted that while the discussions among the three countries are not going to improve the dialogue forward, the 'commonalities of our view' would help towards the goal.
Bearing in mind the importance of developing countries participating in the procedures and deliberations of the UNSC on a continuous and regular basis, the ministers recalled the urgent need to expand 'its permanent and non-permanent categories' so as to increase participation of developing countries in both.
"They felt such expansion would make the UNSC more broadly representative, efficient and transparent and would enhance its effectiveness and legitimacy," the sources said.

New Delhi would like to build on the momentum generated last year in terms of the reform of the Security Council and also on its success earlier this month in getting two decisions of some significance, one being the decent burial of the previous framework called the Open Ended Framework under which India negotiated for the last 12 years.
India was able to get a formulation in the operative decision that the Open Ended Working Group that was the framework under which New Delhi had to negotiate for more than a decade, could be convened if only the member states so deicide.


This means that the automatic convening of that mechanism has gone and now one will need the majority of the member states to convene the OEWG.
Diplomatic sources said earlier that hopefully India has been able to arrest the regression, now that it is at the inter- governmental negotiating framework. During the meeting, the ministers acknowledged the progress so far in the intergovernmental negotiations on Security Council reform and stressed the urgent need to achieve concrete results at the 64th session of the General Assembly.
Image:
External Affairs Minister SM Krishna with Celso Amorim (Right) and Maite Nkoana-Mashabane (Left)

Reportage: Suman Guha Mozumder | Photograph: Paresh Gandhi