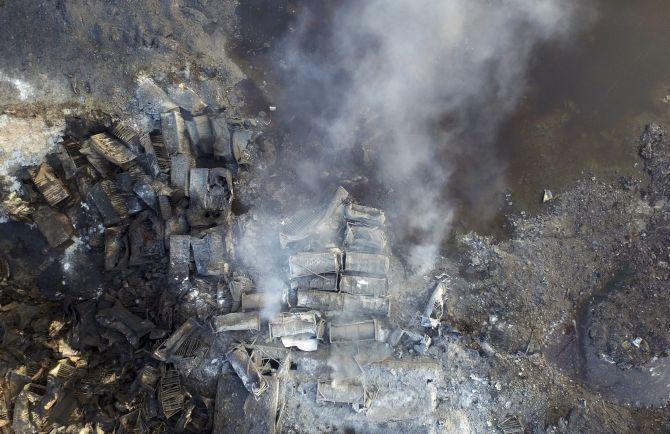 The explosions took place as rescuers began cleaning hundreds of tonnes of cyanide at the blast site, most of which was unaffected raising fears of the possibility for contaminating air and water sources.
Minute traces of sodium cyanide have been found in waters near China's Tianjin port indicating that it has spread to the sea, even as experts raced against time to clear the area of toxic chemicals stored at a warehouse ravaged by blasts that killed at least 114 people.
Minute traces of cyanide have been detected in waters near the Tianjin port, the State Oceanic Administration said acknowledging that it was spreading into the waters of the port which is on the western shore of the Bohai Bay.
The findings were based on monitoring reports from yesterday, according to the SOA.
The detected density of the dangerous chemical was below the normal standard and does not pose a threat to the marine environment for the time being, state-run Xinhua news agency reported.
Bao Jingling, chief engineer of Tianjin's bureau of environmental protection, said about 700 tonnes of sodium cyanide stored at the blasts site remains mostly unaffected.
Sodium cyanide is a highly toxic white, water-soluble powder that prevents the body from using oxygen.
The death toll from the massive blasts last week rose to 114 after rescuers found two more bodies in the debris, Gong Jiansheng of Tianjin's publicity department told reporters.
Identities of 54 bodies have been confirmed, he said, adding that another 70 people are still missing.
Among the bodies, 39 were firefighters and five were policemen. The number of missing people was previously 95, before 25 bodies were identified. Among the missing are 64 firemen, Gong said.
Rescuers have carried out four rounds of comprehensive search through what they called "a maze of containers" and search and rescue efforts are still underway.
"Navigating through the blasts zone is extremely dangerous because of the burning chemicals and twisted containers, which could collapse at any time. We had to make marks in order not to get lost," Wang Ke, who led a group of chemical specialist soldiers, said.
Two massive blasts before midnight on August 12 wreaked havoc in areas a few kilometres away.
The blasts have affected 17,000 households and 1,700 enterprises. At least 6,000 residents have been displaced.
Soldiers are combing nearby residential quarters to search for survivors and their search has covered 6,000 households so far. As of today, 698 people remained in hospital, of whom 57 are in a critical condition.
More than 4,000 medical staff are treating the injured and 77 people have been discharged from hospitals.
Meanwhile, a minor explosion occurred today at the blasts site hampering rescue operations.
Sodium cyanide is fatal if inhaled or ingested. It is mainly used in chemical manufacturing and to extract gold and other metals in mining.
When treated with acid, it releases the highly poisonous gas hydrogen cyanide.
He Shushan, vice mayor of Tianjin, said sodium cyanide at the periphery of the blasts area will be mostly collected and cleared soon.
Some of the highly toxic chemicals were scattered at the periphery, but mostly within a 100,000-square-meter core area, he said, adding that sand and earth barriers were built around the core area to prevent any leakage.
A "very complicated and difficult" clean-up, partially due to the presence of 16,500 empty shipping containers within the core area is underway, He said.
Workers are now searching empty shipping containers for chemicals dispersed by the blast.
Cofferdams will also be reinforced to prevent the outflow of contaminated water after it rains, he said.
Monitoring has shown air quality in the area and water in the nearby river are within safe standards.
Environmental authorities set up 27 additional water monitoring spots, three of which were found to contain excessive cyanide with some samples containing 27.4 times more than the standard.
Two of the original waste water monitoring stations also found samples with cyanide levels of 1.25 to 2.2 times the standard.
According to weather forecasts, showers were expected in Tianjin on Monday and Tuesday.
"Plans have been drafted to account for the weather to prevent the spread of contamination by cyanide," Bao said.
Meanwhile, more than 100 residents whose homes were damaged also protested outside the Mayfair Hotel, asking the government to purchase their properties to compensate for their loss.
More than 17,000 people were living in properties that were damaged in the blast, China News Service reported.
Li Wei, a resident of Haigangcheng Community, only 600 metres from the blast site, told the Global Times that residents worry chemicals may harm their health and that there might be another explosion.
As the government ordered inquiry into the incident there were conflicting reports about Tianjin Dongjiang Port Ruihai International Logistics' ownership of the warehouse where the explosions took place.
One of its two major shareholders was quoted as saying by media reports that he knew nothing about the company.
Shu Zheng, who owns 45 per cent of the company's shares, said that a friend used his identity to register as a shareholder of the company and he did not participate in the company's operation.
Nothing has been found about another listed shareholder Li Liang, reports said.
Authorities have also refuted rumours that the general manager of the company, Zhi Feng, has connections with a former deputy mayor of Tianjin.
Image: An aerial picture shows smoke rising from the debris among shipping containers at the site of explosions at Binhai new district in Tianjin, China. Photograph: Reuters