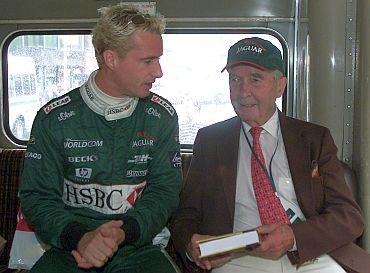 Writer Dick Francis, famous for his horse racing-based crime novels, is dead. He was 89.
He breathed his last on Sunday in his home in the Cayman Islands.
In a statement, the writer's son, Felix said he and his brother, Merrick, were "devastated" by their father's death, but "rejoice in having been the sons of such an extraordinary man."


"We share in the joy that he brought to so many over such a long life," Felix said.
The winner of over 350 races, he was champion jockey in 1953/1954 and rode for HM Queen Elizabeth, the Queen Mother. On his retirement from the sport he published his autobiography, The Sport of Queens, before going on to write forty-one bestselling novels, a volume of short stories (Field of 13), and the biography of Lester Piggott.
Dick Francis won the prestigious Crime Writers' Association's Cartier Diamond Dagger and was the only three-time recipient of the Mystery Writer of America's Edgar Award for Best Novel, winning for Forfeit in 1970, Whip Hand in 1981, and Come to Grief in 1996, the same year he was made a Grand Master for a lifetime's achievement. He was awarded a CBE in the Queen's Birthday Honours list in 2000.
Francis's most recent works, including Dead Heat and Silks, were co-authored by Felix.
Writer Frederick Forsyth praised Francis's "immensely prolific" output of "page-turners", and said authors were still "walking in his footsteps".
According to Times Online, readers did not buy Francis's novels just because they liked racing, or just because they liked thrillers. They liked his work, and knew what to expect from it.

The prose of Francis's novels was muscular and uncomplicated, as were his heroes -- though they often suffered torment, stoically borne. Even if not damaged when the novels began, they would grit their way through physical and emotional traumas in the course of them, the tribute in the daily.
Besides novels, Francis also authored a volume of short stories, as well as a biography of British jockey Lester Piggot.
Image: File photo shows British author Dick Francis with Driver Eddie Irvine of the British Jaguar Formula One team.
Photograph: Arnd Wiegmann/Reuters