Four British Muslims believed to be of Pakistani origin, including a trio who called themselves the "Three Musketeers", were on Thursday jailed for life by a United Kingdom court for plotting a terrorist attack on a military or police target.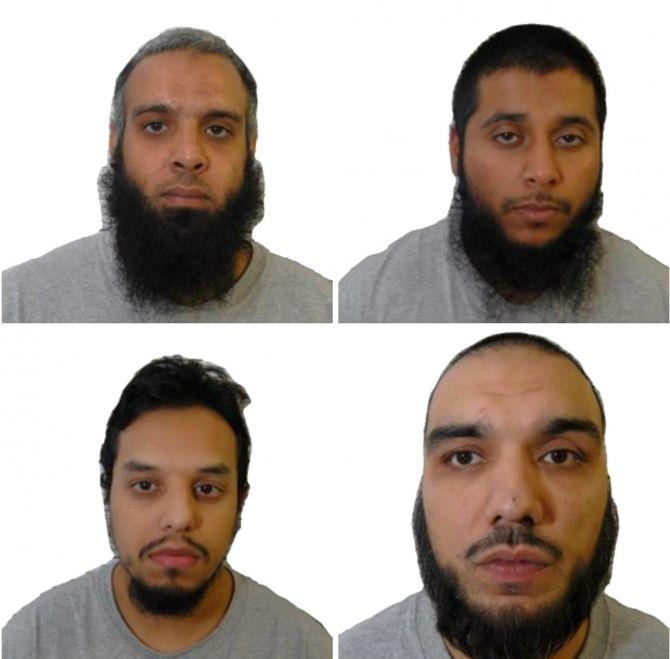 Mohibur Rahman, Khobaib Hussain and Naweed Ali were part of a terror cell which was busted after British spies bugged Ali's car and found a pipe bomb and meat cleaver hidden in a sports bag in England's West Midlands region in August 2016.
The fourth member of the gang was 38-year-old Tahir Aziz.
The four, aged between 25 and 38, were convicted after a 23-week trial at the Old Bailey court in London on Wednesday.
Sentencing the four men, Justice Globe said the men had been gripped by a "long-standing, radical, violent ideology".
He agreed with prosecution lawyer that the defendants may have planned to use their cars as weapons after being influenced by Islamic State's Nice attack last year that left 86 victims dead.
"These attacks demonstrate in stark form the carnage that can be created by different types of terrorist attack that can be carried out with a vehicle, explosives and loaded weapons."
The gang were poised to strike police and military targets in the UK using a pipe bomb and meat cleaver inscribed with an Arabic word meaning "disbeliever".
Hussain and Ali had been convicted of terrorist offences after they pleaded guilty to going to terror training camps in Pakistan in 2012. They had met Rahman in jail in 2013, where they were all serving time for offences linked to supporting al-Qaeda.
The trio refused to leave the high-security Belmarsh Prison in London to attend the sentencing hearing.
The judge handed down the trio a minimum term of 20 years for their "significant role" in the planned attack.
Aziz, who became involved in the plot at a later stage, was ordered to serve a minimum term of 15 years.
The men were arrested in August 2016 following an intensive undercover operation by West Midlands Police and Britain's MI5 security service.
The suspects had claimed in court that the evidence was planted by an undercover officer, but they were unanimously found guilty by a jury on Wednesday.
IMAGE: Top left to right, Naweed Ali and Khobaib Hussain; bottom left-right, Mohibur Rahman and Tahir Aziz. Photograph: West Midlands Police/Twitter