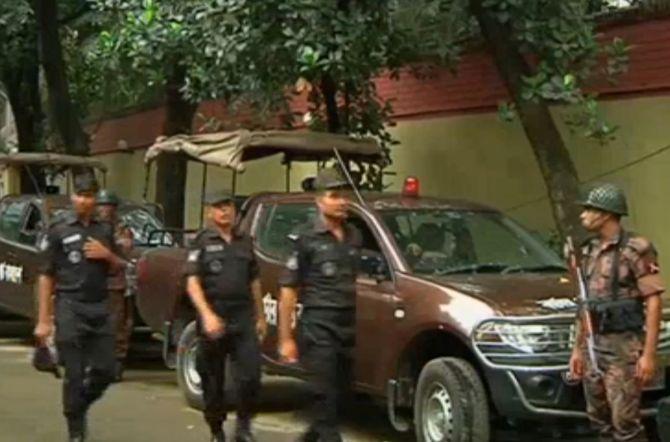 Those who could recite a verse from the Quran were spared, others were tortured, said a rescued hostage of the Dhaka restaurant attack where at least two lawmen were killed.
"The others were tortured by the gunmen," Rezaul Karim, father of Hasnat Karim who was held hostage inside Holey Artisan Bakery in the diplomatic zone for over 10 hours was quoted as saying to The Daily Star.
Hasnat Karim, his wife and two daughters were at the restaurant in the diplomatic area to celebrate one of their daughter's birthday.
Unfortunately, the happy and momentous occasion soon turned into their worst nightmare when the gunmen, allegedly from the Islamic State, stormed the eatery and took them hostage.
After their rescue was secured following severe gunfire for almost 12 hours, the traumatised family was happy to be out and safe. "They (gunmen) did not behave rough with the Bangladesh nationals," Reazul said quoting his victim son Hasnat. "Rather they provided night meals for all Bangladeshis."
Hasnat was also quoted as saying the gunmen were doing background checks on the hostages by asking them their religions and asking them to recite a verse from the Quran.
The family was later rushed for interrogation and were assured safety.
Image: Rapid Action Battalion members walk as police stormed the Holey Artisan restaurant after gunmen attacked it and took hostages early on Saturday in Dhaka. Photograph: Reuters TV