The panel headed by Environment Minister Anil Madhav Dave has agreed to submerge more than 100 sq km of Panna Tiger Reserve in Madhya Pradesh, reports Nitin Sethi.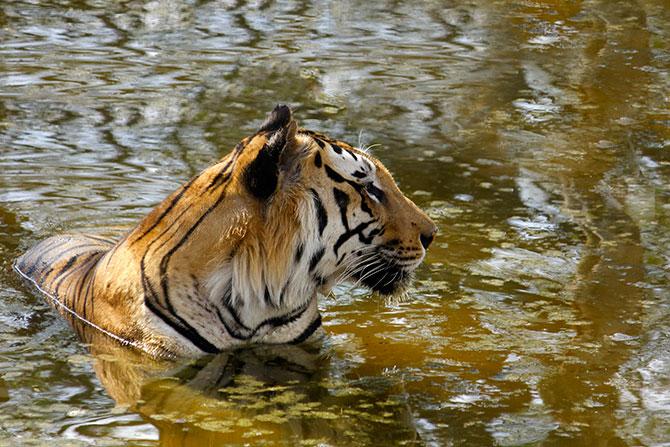 The Ken-Betwa river linking project has got the approval of the standing committee of the National Board for Wildlife. The panel headed by Union environment minister Anil Madhav Dave has agreed to submerge about 100 sq km of the Panna Tiger Reserve in Madhya Pradesh -- one of the country's prime tiger habitats -- for the project.
In a meeting on August 23, the standing committee chaired by Dave cleared the project after some deliberations. Business Standard reviewed the minutes of the meeting, which are yet to be made public. Immediately after taking charge as environment minister and well before the project had got mandatory clearances, Dave had repeatedly said India should go ahead with at least one inter-linking of river project to assess its consequences.
Union Water Resources Minister Uma Bharti, too, had threatened to go on hunger strike if the project did not get approval soon. Projects that specifically eat into tiger habitats need a positive recommendation from the National Tiger Conservation Authority on the basis of which the standing committee of the National Board for Wildlife accords the wildlife clearance.
Minutes of the meeting show the group contended with and rejected the idea of bringing down the reservoir levels to protect some wildlife areas. The meeting of ministry experts and others concluded that bringing down the reservoir level by even 10 metres would reduce the reservoir storage capacity by 32 per cent. The minutes note that 100 sq km of the Panna Tiger Reserve would be lost 'directly' by the project. This includes 50 sq km or about 10 per cent of the critical tiger habitat.
The tiger authority has recommended that other nearby tiger-bearing areas be classified as tiger reserve to compensate for the loss. These include Nauradehi Wildlife Sanctuary, Rani Durgavati Wildlife Sanctuary (both in Madhya Pradesh) and Ranipur Wildlife Sanctuary in Uttar Pradesh. The minutes note, "The effort to integrate the three wildlife sanctuaries within the Panna Tiger Reserve will be undertaken simultaneously and the management objective of these areas will be in the context of treatment of the area as a part of tiger landscape."
One of the non-government wildlife experts on the National Board for Wildlife, R Sukumar, had earlier expressed his concerns about the "impact of the project, in view of its huge submergence, habitat loss and impact on Gharial Sanctuary, among others", show records of the ministry.
Subsequently, Sukumar was asked to be on an expert sub-committee to carry out a specific assessment of the project along with a retired forest officer, H S Singh, and other government officials. The records of the August meeting of the standing committee show that both Sukumar and Singh did not attend the standing committee discussions that cleared the Ken-Betwa linking of rivers.