Tanmaya Nanda provides a quick guide to questions about the Mars mission you always wanted to ask but were afraid to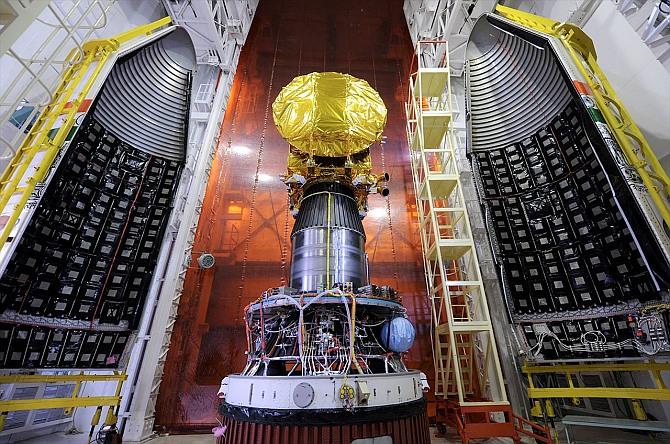 India's Mars Orbiter Mission spacecraft before the launch from Satish Dhawan Space Center SHAR in Sriharikota. Photograph: ISRO
So India has successfully placed the Mangalyaan into the Mars orbit. But what happens once the euphoria over the achievement itself dies down? What exactly will the spacecraft do while circling the red planet?
Here's a list of five things that the Mars Orbiter hopes to accomplish and what the applications of those findings will be.
The journey is the destination
A huge part of the MOM is to actually study the process of sending Mangalyaan into Mars orbit. The launch will help Indian Space Research Organisation develop technologies needed to design, plan, manage and operate an interplanetary mission. This is the so-called 'technological' part of the mission.
Can we someday go live on Mars?

One of the key scientific objectives that Mangalyaan has is to look for methane. Methane is considered a key chemical to determine if there is the possibility of life, even if in the form of microbes, already existing on the red planet. The Methane Sensor For Mars will confirm the presence of the gas, which scientists consider a proof for life. Curiosity, NASA's earlier spacecraft, had failed to find any methane.
The hunt for aqua vitae
The spacecraft will also take pictures of the Martian surface to check if there was once water on the planet, as is widely believed. The planet is believed to have large ice reserves but no water bodies. If Mangalyaan can detect the presence of water, it would make Mars the only known planet to have the life-giving liquid.
The lay of the land
The imagers on board Mangalyaan, which are solar-powered, will take photographs of the surface of the planet and relay them back to earth where they will be analysed to study the texture and reflectivity of the soil.
More than just hot air?
The instruments will also study the Martian atmosphere to detect the presence of neutral gases in the atmosphere, as well of deuterium and hydrogen in the higher reaches. The presence of the two elements could provide pointers to the history of water on the red planet. The instruments will also study the effect of solar radiation on decomposing or eroding the Martian surface as well as its affect on the Martian atmosphere.