What would it be like to be the last man on earth? Many have pondered over the question never to have found an answer. If only Sudan could speak he could have solved that philosophical quandary.
Sudan is the last male northern white rhino left on the planet Earth and as the last of his kind he doesn't have much time left.
The northern white rhino is carrying the fate of his species with him with conservationists praying for an unlikely miracle that he can sire an offspring before his inevitable passing.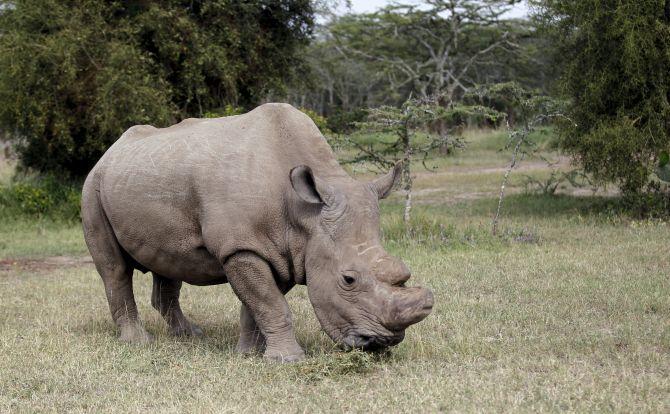 The last surviving male northern white rhino named 'Sudan' grazes at the Ol Pejeta Conservancy in Laikipia national park. Photograph: Thomas Mukoya/ Reuters
Sudan is housed at the Ol Pejeta Conservancy in Kenya, and is guarded 24 hours a day by armed rangers, the last line of defense between him and poaching gangs.
But with his rear legs weakening and his sperm count lowering, it is likelier that Sudan's fate will be sealed by time and not poachers. In any event, Sudan's horn has already been removed to discourage poachers.
Back in 2009, Sudan and three others -- Najin, Fatu, and Suni -- arrived at the conservancy from Dvur Králové Zoo in the CzechRepublic.
It was hoped that the sanctuary, with its more natural habitat and the presence of other rhino species, would provide favourable conditions for breeding thus saving Sudan's species.
In October last year, the world lost 34-year-old Suni. In December, a 44-year-old male rhinoceros named Angalifu died of old age at the San DiegoZooSafari Park.
By the end of 2014, the world had only five left: three in Kenya, one in San Diego, and another in the CzechRepublic. San Diego's Nola is currently receiving antibiotics after a basketball-sized abscess on her right hip was lanced.
Sadly, attempts to mate both Angalifu and Suni with females naturally failed, and at 44, Sudan is nearing his end.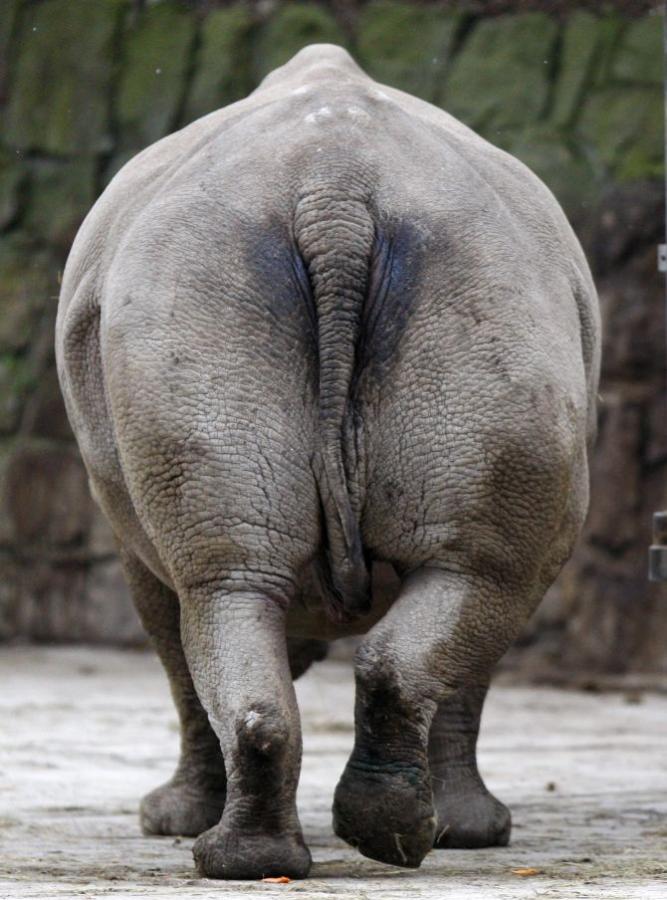 Sudan's hind legs are getting weaker and he may not survive for long. Photograph: Petr Josek/ Reuters
Some biologists speculate that in vitro fertilization might be recourse to keep the species alive. While sperm has been saved and frozen, and female southern white rhinos have been marked as possible surrogate mothers if any embryos become viable, the clock is ticking.
If the breeding programs prove unsuccessful, the three-ton heavy Sudan's death would assure the extinction for the northern white rhino.
Sudan has formed a strong bond with his guards. Rhino keeper Zacharia Mutai said, "Sudan loves to be rubbed under the belly, and scratched behind the ears, it makes him feel relaxed."
Wardens assist the last surviving male northern white rhino named 'Sudan' as it grazes at the Ol Pejeta Conservancy in Laikipia national park. Photograph: Thomas Mukoya/ Reuters
"When we call his name he often comes to us."
"He's really calm because he's used to us, but animals are unpredictable -- they can charge and they can attack, so even I have to be careful."
Armed Guard John Mugo spends his days in the paddock with the rhinos, carrying a G3A3 assault rifle.
He said, "Sudan is special because he's the last one of his kind surviving in the whole universe. We guard Sudan 24-hours a day around the clock to protect him from poaching."
According to the World Wildlife Fund as late as 1960 there were more than 2,000 northern white rhinos across the globe but the numbers fell to the brink of extinction as a result of poaching.
The Ol Pejeta conservancy are trying to raise funds to ensure the future of the northern white rhino.
To fund the artificial breeding programme could cost between $1 million (around Rs 6 crore) and $4 million (around Rs 25 crore).
The current campaign is running at www.gofundme.com/olpejeta where people can contribute to help save the northern white rhinoceros.