'If we refused, the teachers threatened to beat us.'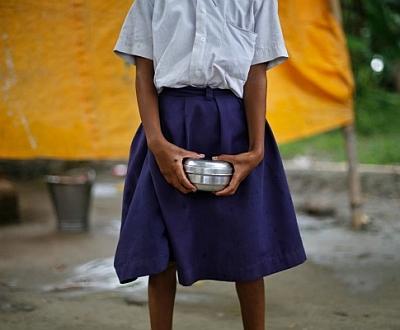 The government-aided Hindu High School in Keelapathai Pandithan Kurichi village near Kalakkad in Tamil Nadu's Tirunelveli district was at the centre of a major controversy last week.
The school was said to be using Dalit students, both boys and girls, to clean toilets on the school premises in recent months. The students were from Classes 6 to 8.
Eight teachers and the school correspondent -- the head of the management committee which runs the school -- were arrested. They are out on bail.
Seventeen Dalit students from Kila Vadakarai, a small hamlet about a mile away from the school, complained that they had been cleaning toilets for the past few months.
Sugadev has been studying in the school for eight years. He is a nervous young boy who said for the first seven years he did not face any problem.
He is now in Class 8. "I have been cleaning toilets for a little more than a month. Before that there were workers who did this. If we refused, the teachers threatened to beat us."
"There are cleaners in the village panchayat who are responsible for keeping the streets clean. They used to clean the toilets whenever they were free and they were paid for it," village elder S Krishnan told Rediff.com "They were used for temporary work. There are no permanent cleaning workers in the school."
"The management had told teachers to keep the school clean. The teachers took turns to keep the toilets clean using the students," Krishnan added.
"There is too much tension for students at the school now. All our villagers have decided to take our children out of the school," says Sugadev's father Kannan. "When the school reopens in June, we will collect the transfer certificates. There are many other schools in Kalakkad."
"It was a middle school all these years. Only last year they added 9th and 10th and it became a high school. Earlier students used to clean the classrooms and the school premises and we never objected," Kannan added. "When I went to school we used to clean our classrooms. Only when they asked my son to clean the toilets did we object."
"If they had told all the students to clean the toilets we would not have objected," says Kannan. "They made only the students belonging to the scheduled castes do this and that is why we objected."
School Correspondent Solomon Jeba first denied that anything like that had happened. After the students informed him he said he would take action. Jeba assured the villagers of strict action against the teachers and offered a compromise, but the aggrieved villagers refused.
The villagers complained to the Kalakkad police station and also petitioned the district collector. Both complaints are now being investigated by the police and the concerned government departments.
Image used for representation only