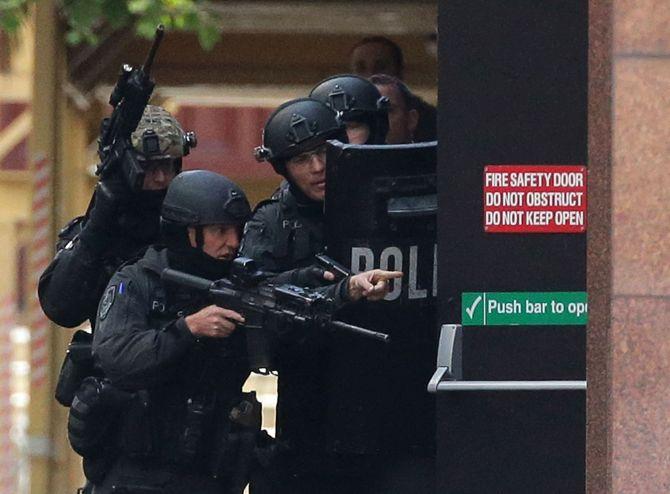 An inquest into the Sydney café seige began on Thursday with details emerging on how a female victim died as she was hit by bullets from security forces who stormed the eatery after the slain Islamist gunman made the café's manager kneel before shooting him dead.
Counsel assisting the coroner, Jeremy Gormly, revealed that 38-year-old barrister Katrina Dawson was struck by six fragments of police bullets after they ricocheted off hard surfaces.
The details of the 17-hour siege emerged for the first time in an inquest which opened at the coroner's court in Glebe suburb of Sydney.
The two victims, cafe manager Tori Johnson and Dawson, were killed after Iranian-born gunman Man Haron Monis, later shot dead by police, took 18 hostages inside the Lindt cafe on December 15 last year.
Details of the of a 12-minute phone call Johnson made to the 000 emergency number at 9.44 am at the behest of Monis also emerged during the inquest.
"Australia is under attack by Islamic State and there are a number of radio-controlled bombs in Martin Place, Circular Quay and George Street," Johnson told the operator.
The call was broadcast over police radio as officers from the Tactical Operations Unit and police negotiators rushed to the scene.
Monis entered the cafe at 8.33 am, local time, carrying a firearm in a blue plastic bag and first ordered a piece of chocolate cake and a cup of tea.
Gormly said Monis asked to be moved to a different table where he could see the whole cafe.
Other staff saw Johnson becoming visibly distressed and he then told one to get the keys and lock the front door. "We're closed," Johnson reportedly said to the staff member.
"Everything is going to be okay, I want you to be calm," Monis said, then stood up and declared, "This is an attack -- I have a bomb."
Two police snipers who killed Monis are being represented at the inquest with their identities remaining a secret.
Solicitors for the two asked for their clients' identities to be withheld for their safety.
Monis' partner Amirah Droudis is being represented by lawyer Angelo Bilias.
State coroner Michael Barnes began the inquest by asking all those involved in the investigation and inquest to remain dispassionate and objective.
"We will need to rely on our reason and keep our emotions in check," he said.
"The desire for urgent answers must be weighed against the time it takes to make sure the evidence is the best available".
In his opening address, Gormly disclosed that, at 2.14 am on December 16, Monis shot Johnson in the back of the head without warning.