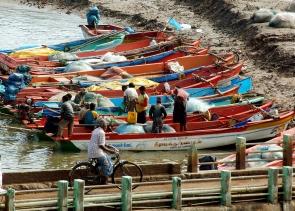 At least 32 Indian fishermen were arrested by the Sri Lankan navy for allegedly poaching in the country's waters off the coast of the Delft islet in Jaffna.
Their eight trawlers were seized on Monday, a Naval spokesman said.
The fishermen were being taken to the port of Kankesanturai to be handed over to the fisheries surveillance officials, the spokesman added.
Commenting on the arrest, fisheries ministry spokesman Narendra Rajapaksa said the Indian fishermen had violated accord reached during January's bilateral fishing talks to stop bottom trawling.
The arrest comes ahead of Prime Minister Manmohan Singh's meeting with Sri Lanakan President Mahinda Rajapaksa on the sidelines of a summit in Myanmar on Tuesday.
The two leaders will meet as part of the BIMSTEC (Bay Bengal Initiative for Multi-Sectoral Technical and Economic Cooperation) summit, three months after the PM skipped a visit to the island nation bowing to pressure from political parties in Tamil Nadu.
Image: Tamil Nadu has been raising the issues of fishermen, who often come under attack by the Sri Lankan navy, with the Centre
Photograph: Babu/Reuters