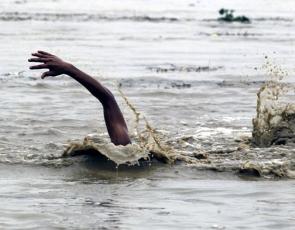 Fifty more bodies were on Wednesday recovered from the river Ganga in Safipur area of the district even as sanitation workers of Nagar Palikas have refused to further take them out from the river.
So far 80 bodies have been taken out from the river near Pariyar ghat, District Magistrate Saumya Agarwal said. The body count is said to be more than 100.
The sanitation workers have refused to take out the bodies from the river as they are in a very bad shape, an officer said. A team of doctors led by Chief Medical Officer Geeta
Yadav is taking forensic sample of the bodies.
The DM said that as per the opinion of the doctors post mortem was not possible, instead sampling was being done for DNA testing.
She said that as bodies were still being recovered it was not possible to tell the exact number as of now. Meanwhile, the Bharatiya Janata Party alleged that the bodies were being buried with the help of JCB machine.
State president Laxmi Kant visited the spot last night and demanded proper cremation of the bodies after post mortem. He also demanded a high-level inquiry into the matter.
IG (law and order) A Satish Ganesh had on Tuesday said that bodies which were ostensibly disposed of in the Ganga River as part of last rites by their kin, surfaced after the water receded near Pariyar ghat.
Until Tuesday, around 25-30 bodies were recovered. "During preliminary investigation, local residents informed that instead of cremating the bodies of unmarried girls they are set adrift in the Ganga River," the IG had said.
"Most of the bodies were badly mutilated so it was difficult to ascertain their gender," he said.