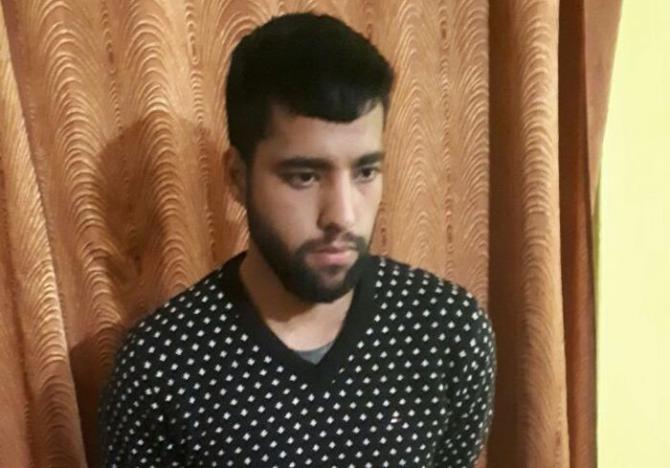 Police has arrested the third terrorist, who was part of the terror module involved in the deadly attack on the Sashastra Seema Bal party in Banihal belt of Jammu and Kashmir last week.
With his arrest, the three-member terror module has been wiped out within days of the attack on the SSB party in Ramban district, the police said.
On September 22, two militants of the module involved in the deadly terror attack were arrested.
"We have arrested the third militant involved in the terror attack yesterday and recovered a pistol", SSP Ramban, Mohan Lal said on Monday.
The arrested terrorist has been identified as Aquib Wahid, a BSc student at the Degree College in Anantnag, he said.
A pistol along with ammunition was recovered from him.
During the initial interrogation, the arrested terrorist said an Over Ground Worker of South Kashmir gave him the pistol with the task of setting up a terror module along with others.
Police is on a hunt to track down the OGW connected with terror groups in South Kashmir. On September 22 Gaznafar and Arif were arrested in connection with the attack.
"They were arrested within 24 hours of the attack by the police during a major combing operation in Banihal belt", SSP said.
"Two service rifles, including an AK assault rifle and an Insas rifle, which were snatched during the attack, were also recovered from their possession", the SSP said.
On September 20, the trio had attacked a SSB party near an under-construction railway tunnel in Banihal killing an SSB jawan and injuring another.
Gazanfar, Arif and Aquib were recruited to foment terror in the Chenab Valley region, officials said.
Police have neutralised a terror module trying to revive militancy in Jammu region and arrested three attackers involved in the killing of the SSB jawan, the SSP said.
"We have been able to neutrtalise an important module which was trying to revive terrorism in this area", he said.
Photograph: ANI