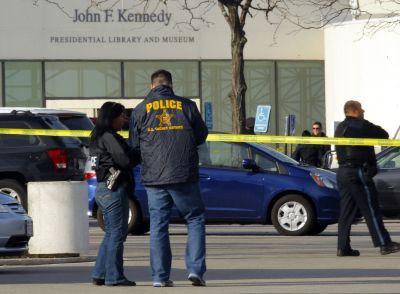 The Boston Police have said a third explosion occurred at a local library within hours of the two blasts at a marathon that killed two persons and injured several others.
The police, however, did not specify whether the three explosions were terrorist attacks.
"We're not being definitive, but you can draw your own conclusions," Boston Police Chief Edward Davis told reporters, when asked if the explosions were a terrorist attack.
The Boston Marathon is an annual event that attracts thousands of people from across the world. Nearly 27,000 people were participating in this year's marathon.
The first two blasts occurred as the runners were nearing the finishing line of the marathon.
Davis said two simultaneous blasts occurred along the route close to the finish line and were 50-100 yards apart.
The third explosion was reported at the JFK Library.
Initial video footage showed some runners falling down and spectators scrambling away as fire broke out after explosion.
Police have cordoned off the area and are investigating the cause of the explosions.
Davis said police is not certain if the "third incident" at JFK library is related to the two blasts along the marathon route but said "we are treating like they are. It is an ongoing event at this point."
The Boston blasts prompted other major US cities like New York and Washington to step up security at landmark locations.
"We're stepping up security at hotels and other prominent locations in the city through deployment of NYPD's critical response vehicles (CRVs) until more about the explosion is learned," New York City Police Department Deputy Commissioner Paul Browne said.
Image: Law enforcement officials gather outside the John F. Kennedy Presidential Library where a fire blackened the outside of the building.
Credit: Brian Snyder/Reuters