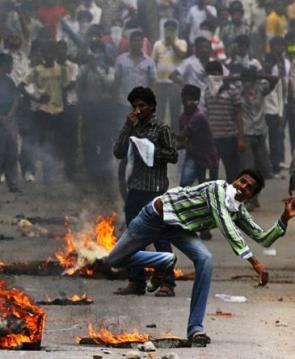 Members of Parliament from Seemandhra region went on a rampage inside Parliament on Thursday to protest the tabling of the Telangana Bill.
The angry MPs allegedly brandished a knife, used a pepper spray and broke computers and microphones.
K T Rama Rao, leader of the Telangana Rashtra Samiti, the party which has been at the forefront of the fight for a separate state of Telangana, tells Rediff.com's Vicky Nanjappa that they will ensure that the contentious bill is passed in Parliament at any cost.

This is what he had to say:
"Now do you understand why we wanted a bifurcation? Look at what we have put up with and lived with for the past 57 years.
"In Parliament, the Seemandhra MPs resorted to tactics that one cannot even imagine. A knife was branded, pepper spray was used, computers broken and a mike pulled as the government tried to table the Telangana Bill.
"This is what we have been trying to tell the country. Do you feel that the people of Telangana should continue to live with such people? Today it is for the entire country to see what we have lived with for over five decades.
"We have been wronged, we have been dominated and justice has never been done to us. Today they have held the Parliament to ransom. There was a clear criminal intent to create a violent situation.
"Parliamentary democracy needs to be upheld. This is no way to behave. Our President has said Parliamentary democracy needs to be upheld. But these MPs have not bothered to listen to him.
"These MPs should be barred from public life. They should not be allowed to enter Parliament ever again or contest the elections. The entire House has to support such a decision. TRS members have also launched protests in Parliament, but this is not the way we have conducted ourselves. There is a way to protest and to be heard.
"This incident in Parliament is shocking not only to us but to the entire nation. This deplorable act should be condemned. We were worried that the scenes in Parliament would spill on to the streets in Hyderabad and other parts of Telangana. We will make sure that law and order is maintained here. We will be patient and ensure that the bill is passed in Parliament at any cost".
Image: A protest against the creation of Telanagna ' Photograph: SnapsIndia