Ramji Raghavan is using the 'Ah to ha ha' principle to help village children from government schools enjoy science and maths. Indulekha Aravind reports.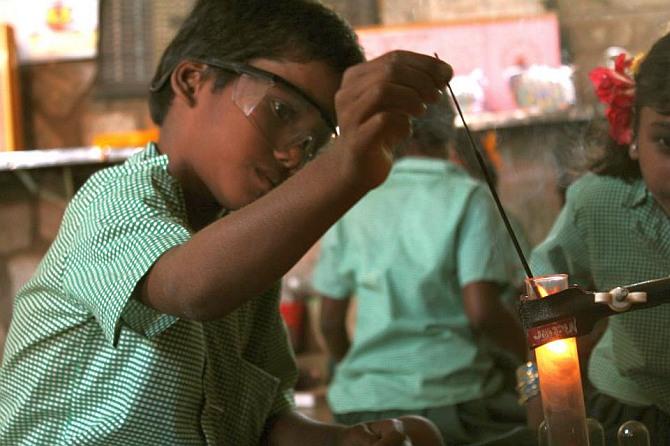 The giggles can be heard even before you enter the classroom. The children, in green checked uniforms, are laughing over the trumpet-like sounds produced when they blow through the straws given to them.

One would not have guessed, but a class in physics is in progress and the straws are being used to explain how sound waves travel.

The theory of "Ah" and "Ha ha" for learning, articulated by Agastya International Foundation Chairman and founder Ramji Raghavan, are clearly being followed at this physics session for children from a government school in Andhra Pradesh, who have been ferried to Agastya's flagship campus in Kuppam for the day.

Raghavan, a London Business School graduate, had set up the foundation in 1999, after decades abroad in finance, including a stint as vice-president of mergers at Citibank.

Through 100 mobile vans in 13 states and 40 bikes equipped with science and math experiments which reach out to children in government schools, science centres, science fairs and the apex campus at Kuppam (which around 400 government school children visit every day), the foundation is looking to instil the spirit of curiosity through hands-on learning among underprivileged children, mainly from rural backgrounds.


It also trains around 700 government school teachers every year. Last year, the foundation's motorbike science labs won the Google Impact Challenge, awarded to nonprofits for innovations "to make a better world".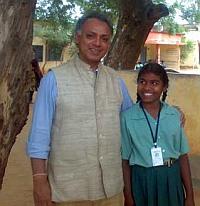 The three Rs (reading, 'riting,'rithmetic), considered to be the bedrock of school learning, need to be replaced by the three As, Raghavan says in an interview at Indian Institute of Management Bangalore, a sentiment he would repeat in his speech at the institute later the same evening.

To explain, he spins what seems like a small, colourful top on the conference table we were seated at. But it's not any top - it suddenly flips on its own, and continues to spin. "You see it and you go Ah! and then Aha and finally Ha ha," he says. I concur, for it does make me wonder.

The Ah, he says, happens when your curiosity is stirred, the Aha when you figure out the how and why, and the Ha ha when you are having fun learning.

"In any class, you need to ask if at least one of these principles is being followed," says Raghavan, who has been invited to deliver the Foundation Day lecture at IIM Bangalore.

Dressed formally for the occasion in a cream, fitted bandhgala and trousers, Raghavan, to my relief, says that while the tippie top, as it is called, evokes an Ah and Ha ha in him, he has not fully understood the scientific principles behind the top flipping over, either.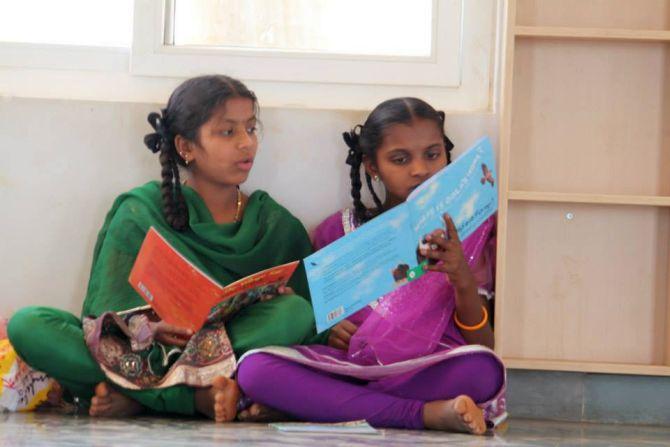 The three Ahs are among the founding principles of Agastya, but the foundation in its current avatar was not what Raghavan had envisioned when he quit his corporate career and returned to India to give something back to society.

"My original dream was to create a school for creative leaders in the foothills of the Himalayas. The students would come out and change the world," he says.

But since he did not know anybody in Himachal Pradesh, he started talks with the Andhra Pradesh government, after an introduction by a friend. The officials liked the idea, and the government donated 170 acres of arid land in Kuppam on the Andhra-Karnataka border for the "dream school".

Then came the first roadblock in the form of a fund crunch, which Raghavan says, in retrospect, was the best thing that could have happened.

While the founders waited for money to begin construction, they decided to reach out to village children through a mobile science lab.

P K Iyengar, former chairman of the Atomic Energy Commission and one of the founders, got a bunch of experiments from the Homi Bhabha Centre for Science Education which he assured Raghavan would spark curiosity, if not creativity, and put them in a vehicle donated by a friend.

A tractor driver, Balram, became the instructor and driver, and it became such a hit with the villagers that it soon got the attention of the media, which in turn brought it to the attention of the Karnataka government, which also wanted mobile vans in the state.




One of the early donors to the foundation was investor Rakesh Jhunjhunwala, who began by funding one mobile van, and gradually increased his donations.

"He found the idea very lateral, and to his credit, he envisioned them all over India," says Raghavan.

Then one day, Jhunjhunwala called Raghavan and told him to come up with a 10-year plan detailing how many children the foundation would reach and how much money the campus would need.

"So I went to him with a plan and said we needed Rs 90 crore."

After saying nobody would give that kind of money to an effort of this sort in India, Jhunjhunwala went on to commit Rs 50 crore and also joined the board of the foundation, along with a colleague.

"I gave a small amount at first but when I saw Raghavan's dedication, I gave more," confirms Jhunjhunwala on phone from Mumbai. "I have implicit trust in him and his abilities."

Jhunjhunwala says the emphasis on instilling curiosity in rural children struck a chord with him, as did the aim of teaching science to rural children.

"Curiosity is the source of all knowledge," he adds.

With funds from Jhunjhunwala and other donors, construction began in full swing and the result is a sprawling campus with 10 innovative laboratories on various subjects where sessions are held, a planetarium, a workshop where prototypes are created for the mobile vans, and a beautiful, airy library and media centre, among a host of other facilities.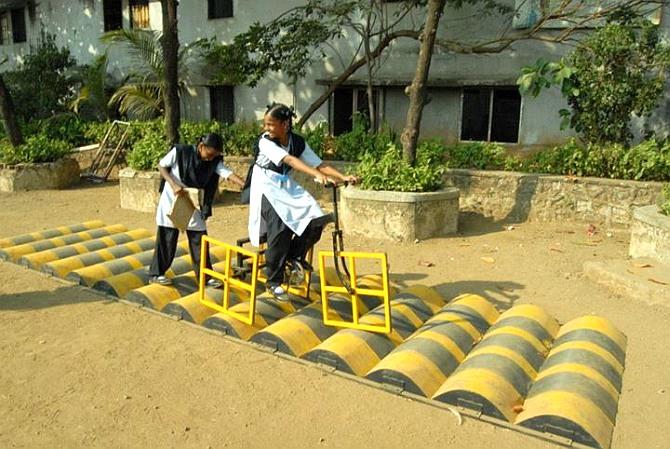 Though Raghavan had emphasised that the land had been arid, years of effort have resulted in a green campus, to which students from government schools within a 35-kilometre radius are brought in turns every day. It is mostly students from classes V to X who are brought there, and the idea is to have each class visit five times a year, says Shibu Shankaran, who heads the Kuppam campus.

"The students are divided into batches of 30, and encouraged to first observe and then try out things by themselves." By the time a student finishes Class X, she or he would have visited the campus some 30 times.

At the planetarium, Ramya, a Class IX student whose father is an electrician and mother, a homemaker, says she likes coming to Agastya because they get to experiment on their own.

A class on the optic nerve is taught with the help of an experiment using a rolled up A4 sheet paper, while in a chemistry session, a teacher explains chemical reactions with the help of household materials, like cleaning liquids.

Of course, not every class may result in Raghavan's Ah, Aha and Haha, but it is probably more interactive, experiential and hands-on than what these students would otherwise experience.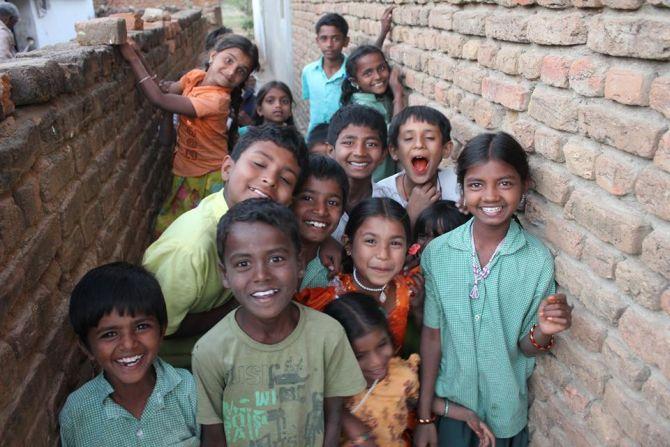 K Sulochana, headmistress of Zilla Parishad High School, Gudupalli, which is very close to Agastya's campus, has good things to say about her students' experience.

"They have better facilities than we do, and the students get to do more on their own. They can also express themselves better after sessions there," says Sulochana, adding that she wants to show Agastya's facilities to her daughter as well.

Agastya has now entered into an agreement with the Karnataka government to replicate the Kuppam campus and model in Raichur in the northern part of the state, where the government would cover the capital costs and Agastya would design, equip and help run it. While construction will begin in six to eight months, science centres in five districts in the backward northern Karnataka would begin functioning in the next two to six months.

Thus, though Raghavan may not have achieved his dream of a school churning out leaders in the midst of green meadows in the shadow of the Himalayas, the impressive campus at Kuppam is no less of a dream. "Instead of building a school, we have built a school for schools," he says.

Photographs: Agastya International Foundation/Facebook