The real effect of the so-called 'weak-allegations' against Robert Vadra is that the Nehru-Gandhi dynasty is shaken to its core, even if temporarily, says Sheela Bhatt.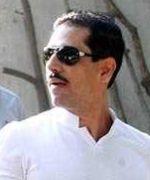 In front of 60 television cameras and around 100 journalists on Friday, activists-turned-politicians Arvind Kejriwal and Prashant Bhushan hit at India's most powerful political family's son-in-law, Robert Vadra. Since 1998, when Sonia Gandhi became Congress president, she has never been attacked so directly, personally and so politically. Her clean public image will never be the same again if the charges against her jamai stick. The cynics, however, claim nothing will ever be proved. But, still, the story is unlikely to get over soon.     
It was a rare evening when the crusading duo hit the Congress where it hurts the most.
They alleged that Priyanka Gandhi's husband has been on a property buying spree. They said he had accumulated 31 properties in three Congress-ruled states of Haryana, Rajasthan and New Delhi between 2007 and 2010 through dormant companies. The list of assets, if true, is astonishing. The greed of Vadra, if proven, will brand him as a typical crony businessman.   
Kejriwal produced the registration details and value of the properties as mentioned in the official papers. According to the papers provided to journalists, more than 160 acres of land was purchased by Vadra in Bikaner, Rajasthan. 
The most serious charge is about Vadra getting unsecured loans, probably in lieu of his land in Manesar in Haryana, from realty firm DLF for more than Rs 60 crore. Out of that seed money provided by DLF builders, he has allegedly bought a range of attractive properties in the new but shady India called Gurgaon.
Kejriwal posed a few sharp questions: How come in just four years Vadra could buy so much land and flats? What is his source of income? Why is DLF so pleased with Vadra?
Even if some charges against Vadra stands scrutiny, it will be a dark chapter of post-1992 India where only dirty money makes things work.
Vadra is believed to be travelling and largely living in Dubai.
Shanti Bhushan, leader of India Against Corruption, told rediff.com that there was no evidence to link Priyanka Gandhi or Sonia Gandhi to Vadra's properties in the official papers.
Kejriwal said that Priyanka Gandhi withdrew from Vadra's companies before 2008. 
"We, particularly the media, should find out how the nexus of Sonia Gandhi-Haryana Chief Minister Bhupinder Singh Hooda-DLF builder-Robert Vadra has worked. It is a matter of investigation," Bhushan told rediff.com.
Kejriwal has offered no evidence at all of an alleged "quid-pro-quo" between Vadra and DLF or between the Congress and DLF. But the convincing counter-perception will be a serious issue worrying the Congress.  
"This is essentially a political fight now. We will fight. We are reluctant to go to court because the court will direct the CBI to investigate. We know the CBI will do nothing in the case. How will the CBI dare touch Vadra?" asked Bhushan.
Vadra has not spoken in his defence yet. But Sonia Gandhi herself came out to defend her son-in-law. She said in a brief statement that Vadra is a businessman and there has not been any misuse by him.
It wasn't surprising to see Ambika Soni, minister of I&B, Salman Khurshid, law minister, Congress spokesmen Rajeev Shukla and Manish Tiwari rush to TV cameras to protect the member of the Nehru-Gandhi family. Their defence was noisy and angry. That's all.
The day ended without any convincing denial of the "specifics" produced by Kejriwal.
Not once did any of the Congress stalwarts deny that Vadra got these abnormally high numbers of high valued properties in an abnormally short period of time.
Normally, in a similar situation, Indian politicians are quick to retort, "If you find these many properties in my name then I will transfer it to you". No such stout defence came forward this time. The Congress's denials made it clear that the list of Vadra's properties may not be fake. The debatable part will be, how and at what terms he acquired it.
The denial was vague and Environment Minister Jayanthi Natarajan and Salman Khurshid mostly attacked Kerjiwal and Bhushan instead of speaking on the charges. When asked why they should defend Vadra, who is neither a Congressman nor a government functionary, Khurshid candidly said that he was talking to the media to ensure that his party's president (Sonia Gandhi) remained behind "protective armour".
Now Sonia Gandhi's credibility is at stake. As soon as Kejriwal-Bhushan declared on camera that "We will talk about Sonia Gandhi's son-in-law Robert Vadra. He has, between 2007 and 2010, purchased Rs 300 crore worth of property out of a capital of Rs 50 lakh only," Congressmen launched their attack.  
Kejriwal's allegations are not just dramatic; at another level it is regrettable for the family and the country that has seen Jawaharlal Nehru's son-in-law Feroze Gandhi, a man of principles and a feisty agitator who would have taken on the DLF type of builders with all the force at his command. The real effect of Friday's so-called "weak-allegations" of Kejriwal-Bhushan is that the Nehru-Gandhi dynasty is shaken to its core, even if temporarily.
Since the days of Bofors, no graft charge has come so dangerously close to the Gandhi family.
The Congress is losing credibility as scam after scam is tumbling out but Sonia Gandhi, so far, had not faced any corruption charges. Her dignified personal image has not been sullied, in spite of her party and the government's failures. But the charges made by Kejriwal, even if not fully substantiated, are extremely uncomfortable for her, politically and personally.
The Congress's opponents think, "Her jamai became rich in the four years she was ruling India with the help of her proxy, Dr Manmohan Singh." This perception will percolate down faster than the Congress's denials.
For the moment, the focus on Dr Singh's "inaction" behind the coal scam will get blurred as the question will arise on how come Sonia overlooked the dramatically rising income of Robert Vadra? That is the question Bhushan is asking. Arvind Kejriwal says the country wants to know whether it is a case of "quid-pro-quo".
Whenever the Congress is weak, the Gandhi family becomes the rallying point. Congressmen look forward to the Gandhis when in crisis. But for the first time Sonia Gandhi will need the Congress. She needs to create a protective wall around her historic family's reputation from getting tarnished. This is a unique situation. A new political scene has been unfolding on television after the news of Vadra's fortunes broke. The balance of power between 24, Akbar Road and 10, Janpath has been shaken.
Jayanthi Natarajan said Kejriwal's charges are stupid. Salman Khurshid said it's "preposterous", but no Congressmen has so far said that Robert Vadra does not own the 10,000 square feet Aralias luxury apartment and other 30-plus properties. If he does own the apartment then Vadra will have to show his source of income. Some of the other VVIP occupants of Aralias have paid the full amount by cheque, while Vadra got the flat at a throw-away price.
Aralia, where Vadra owns a penthouse, is no ordinary home. It's the final word in luxury in India. Designed by Hafeez Contractor, the penthouse overlooks a golf course and its ownership is by invitation only. The BJP's Arun Jaitley, the Badals of Akali Dal, Congress minister Kapil Sibal and even Arun Maira, member of Planning Commission, own flats in Aralia. Sources say, "Jaitely has paid the full amount by cheque, which could be an embarrassment to Vadra."
Kejriwal thinks the only defence for Vadra could be to own up if he really got the properties in his name and provide his "known source of income".
However, there is one curious element in Vadra's properties.
If it is proved that some of the properties are indeed Vadra's, then the question arises, how come his wife of 15 years does not share any of it?
However, if Vadra disowns all these properties or most of them, then the credibility of Kejriwal and Bhushan will nosedive. But, it's unlikely that the information unearthed about Vadra will prove totally incorrect because documents have been collected from open sources, claims Bhushan.
It must, however, be said that Sonia Gandhi or the Congress is not really stunned by the allegations. They have had enough time to prepare their defence in case the "opposition" uses the "DLF- Vadra" connection. The BJP reportedly had all the details that Kejriwal and Bhushan collected. But due to differences in its top leadership, the party never "exposed" Vadra and his super-rich status acquired in just four years.
Since the last few months the Congress has been successful in suppressing the issue of "Vadra's DLF connection" but "do deewane" (two crazy chaps, Arvind and Prashant) have been doing unpredictable things and promising to do more "crazy" things. The expose on Vadra is also telling on the BJP that has been sitting on these details since long. They and other political leaders were part of the "conspiracy of silence". Kejriwal and Bhushan just exploited the time and helped themselves.
Kejriwal and Bhushan have taken the news report (external link) published on March 14, 2011, in The Economic Times to the next level. It was revealed, for the first time by ET, how Vadra made a low-key entry into real estate and also pointed out that Sky Light Hospitality Pvt Ltd, a company owned by Vadra and his mother Maureen Vadra, was in partnership with DLF hotel Holdings. They jointly own Hilton hotel in Saket.
The report showed that DLF had also extended loans to various companies owned by Vadra. It was revealed that some of these loans or debt was without any collateral and completely unsecured. Vadra had given a short interview to ET accepting his DLF connection.
DLF was passing through tough times some time back. At one point its shares had plummeted sharply and stock market investors lost money due to DLF's financial woes. After the ET report, it was a known fact that DLF's managers were meeting political leaders of many opposition parties to give their side of the story. But, obviously, they could not have dared to influence Kejriwal or Bhushan. The member of India Against Corruption explains that it is public knowledge that in spite of having amassed huge land in and around Gurgaon and Haryana, DLF's planning had gone awry.
Reportedly, they had been in need of political patronage to release the pressure from various banks. Also, DLF needed political patronage of the New Delhi and Haryana governments to get the Metro line as soon as possible, touching their "land bank." As expected, DLF has denied Kejriwal's allegations. 
The fact-based ET report is now taking a sharp political angle.
After touching charismatic heights by getting into the Forbes list, DLF's KP Singh was finding the going tough. Kejriwal feels that an independent agency should find out why and how much the Congress's help was needed by DLF to improve its financial uncertainties.
Kejriwal asks again and again, "But why did DLF give unsecured loans to Vadra? Why?"
Image: Robert Vadra