APJ Abdul Kalam was passionate about everything he did. He was perfect, says Aditi Phadnis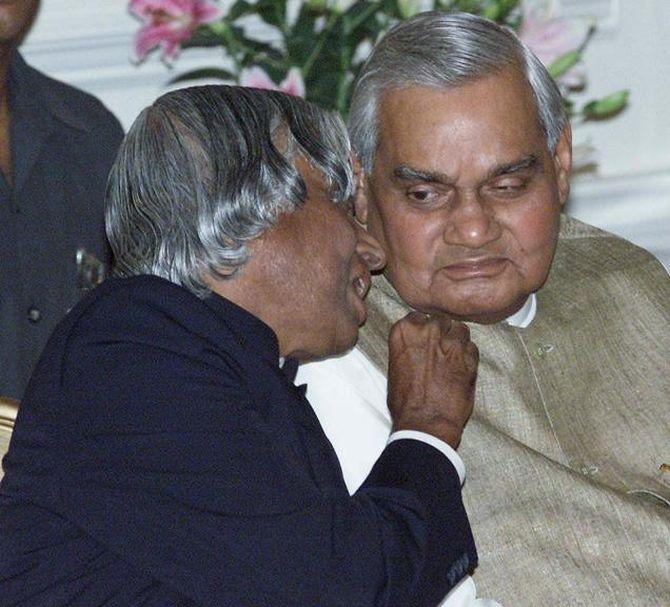 APJ Abdul Kalam's elevation as president was the brainchild of Atal Bihari Vajpayee. Photograph: PTI

Avul Pakir Jainulabdeen Abdul Kalam, this country's 11th president, 83, died a satisfied man. He oversaw India test its nuclear bomb twice, developed India's missile system, rose to czar of the Defence Research and Development Organisation and scientific advisor to the defence minister. He became President of India once and would have been a second and a third time as well had Mulayam Singh Yadav not played dirty. And, without doubt, was an example for young men from depressed backgrounds with big dreams.

Kalam was passionate about everything he did. His elevation as president was the brainchild of Atal Bihari Vajpayee and Lieutenant Brajesh Mishra in 2002. Rather than give the job to a political figure, Vajpayee decided on Kalam. He was perfect -- how many Muslims know the essence of the Gita and played the Vichitra Veena?

His father was a boat owner at the temple town of Rameswaram in Tamil Nadu. He began working early in life to supplement the family income. He was an average student in school but was bright and hardworking, with a strong desire to learn and spent hours on his studies, especially mathematics. "I inherited honesty and self-discipline from my father; from my mother, I inherited faith in goodness and deep kindness, as did my three brothers and sisters," he wrote in his autobiography.

After completing his school education at the Rameswaram Elementary School, Kalam went on to attend Saint Joseph's College, Tiruchirappalli, from where he graduated in physics in 1954. Toward the end of the course, he was not enthusiastic about the subject and would later regret the four years he studied it. He then moved to Madras (now Chennai) in 1955, to study aerospace engineering. While Kalam was working on a senior class project, the dean was dissatisfied with the lack of progress and threatened to revoke his scholarship unless the project was finished within the next three days. He met the deadline, impressing the dean, who later said, "I was putting you under stress and asking you to meet a difficult deadline."

Becoming a fighter pilot was a "dearest dream" but he failed to realise it, bagging ninth position when only eight slots were available in the Indian Air Force.

He was a great scientist. More, he was a superb administrator, who knew when to yield ground and when to stick to it. Former minister of state for science and technology Prithviraj Chavan remembers a meeting of a parliamentary committee when Kalam was scientific advisor to the defence minister. The subject of the meeting was the Lakshya -- the pilotless target aircraft the DRDO was developing -- and the endless delays and cost overruns. Kalam faced a lot of hostile questioning about the project, DRDO and his leadership of the department. To his credit, Chavan says, he took the blame and conceded some things could have been done differently. But, he did not allow anyone to suggest he should be sacked.

In 2002, his name was floated by the then Bharatiya Janata Party-led government at the Centre. The Left parties opposed Kalam and decided to field Lakshmi Sahgal, a veteran freedom fighter from Subhash Bose's Indian National Army. It was Mulayam Singh Yadav who clinched it by parting ways with the People's Front at the 11th hour and supporting Kalam's candidature. Though the Left accused Mulayam of betrayal, the Samajwadi Party chief got political mileage by supporting a 'Muslim' for the post of president. Kalam, however, never thought of himself as a Muslim.

He did, however, think of himself as President of India. When the Parliament (Prevention of Disqualification) Amendment Bill (better known as the Office of Profit Bill) was sent to him after being rushed through both Houses by the Manmohan Singh government, the President studied it long and hard, consulting a number of jurists and constitutional experts on the implications. The government paid this no heed. It should have known better, having to then swallow his rejection.

After coming to power, that government gave Kalam plenty of reasons to distrust it. The way President's Rule was imposed in Bihar (the president being sent a fax in the dead of night when abroad and the government expecting he would return it immediately, signed, implicating him in the unconstitutionality) deeply embarrassed Kalam.

Worse occurred in Jharkhand where the governor, to ingratiate himself with Sonia Gandhi, thought nothing of compromising his own office and that of the president's by swearing in Shibu Soren as chief minister, disregarding the opposition National Democratic Alliance's claim, though it had more MLAs. Only when the NDA petitioned Kalam, paraded its MLAs and Kalam summoned the governor to Delhi was the situation corrected.

This is why in 2012 when Pranab Mukherjee's name was suggested as President of India, the Trinamool Congress countered that by suggesting Kalam's. He was a man of principle and a youth icon, all said and done, TMC reasoned. This time, the Samajwadi Party turned tail and supported Mukherjee.

Kalam had to publicly issue a statement dissociating himself from those who were thrusting the presidency on him. He withdrew from politics and turned to do what he loved most -- speaking, talking, mentoring young people. That is what he was doing until he collapsed on Monday in Shillong.