The December 1996 raid came following a complaint by BJP's Subramanian Swamy naming late Chief Minister J Jayalalithaa, reports N Sundaresha Subramanian.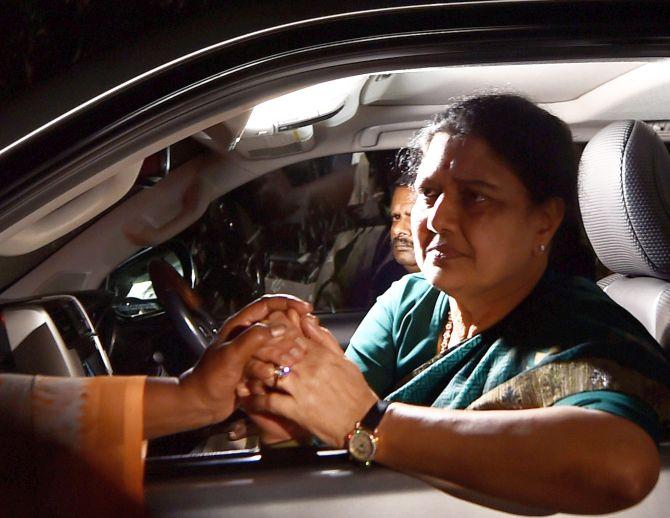 IMAGE: VK Sasikala leaving the Koovathur resort on February 14, 2017, after the Supreme Court upheld the trial court verdict finding her guilty in the disproportionate assets case. Photograph: PTI Photo.
Bharatiya Janata Party functionary Subramanian Swamy has been one of the staunch supporters of V K Sasikala's claim to form a government in Tamil Nadu. Ironically, the bullet that killed Sasikala's hopes of becoming the chief minister came from a shot fired by Swamy two decades ago.
Legal proceedings in the disproportionate assets case against late Chief Minister J Jayalalithaa started after Swamy, then with the Janata Party, filed a complaint naming only Jayalalithaa. But a raid on her Poes Garden residence and evidence gathered there and other locations in 1996-97 brought V K Sasikala, her nephew V N Sudhakaran and her sister-in-law J Ilavarasi as accused.
-- SC seals Sasikala's fate in 8 minutes, sends her to prison
Swamy had lodged the complaint on June 14, 1996, alleging that subsequent to becoming the chief minister, Jayalalithaa acquired properties disproportionate to her known sources of income. The complaint came a month after the All India Anna Dravida Munnetra Kazhagam had seen its worst defeat in the assembly elections. Jayalalithaa lost and her party was reduced to four seats from 164 five years earlier.
What was found at Jaya's residence
>> 30 kg of gold
>> 500 kg of silver
>> 100 wrist watches
>> 10,000 saris
>> 250 pairs of footwear
According to a trial court judgment, the value of Jayalalithaa's properties in 1987 were worth only ₹7.5 lakh. She also had about ₹1 lakh in cash. Her mentor and AIADMK founder M G Ramachandran died that year. Jayalalithaa soon acquired a firm grip on the party and became the chief minister in 1991.
"Her declared wealth during 1989-90 was nil and it increased to ₹1.89 crore in 1990-91; ₹2.60 crore in 1991-92; ₹5.82 crore in 1992-93; ₹91.33 crore in 93-94 and ₹38.21 crore during '94-95 though she was receiving only ₹1 a month towards her salary as chief minister," Swamy's complaint had said.
In December 1996, 20 years before she breathed her last, a search of her iconic Poes Garden residence yielded evidence for the prosecution. It was widely reported that the haul included 30 kg of gold, 500 kg of silver, 100 wrist watches, 10,000 saris and 250 pairs of imported footwear. Sasikala, Sudhakaran and Ilavarasi were made co-accused.
The trial was moved to Karnataka in 2003 following concerns of undue influence, as the AIADMK returned to power in 2001. Eleven years later, Justice John Michael Cunha passed a landmark judgment that sent Jayalalithaa to jail.