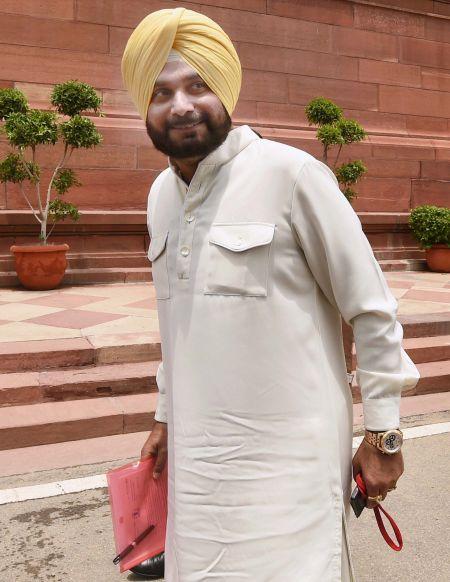 Navjot Singh Sidhu resigning from Rajya Sabha on Monday sent the Bharatiya Janata Party for a six.
On Tuesday, his wife confirmed what everyone was suspecting and speculating… He's joining the Aam Aadmi Party.
However, if given a choice, Sidhu, the cricketer-turned-politician, would like to go back in time and change some of the statements he made against the AAP.
"Main politics kabhi join nahi karunga, Aam Aadmi Party bana di. Main security nahi lunga. Z security le li. Main bungalow nahi lunga. Bungalow mein khud jhadu maarne lag gaya. Main koi jhooth bol raha hu? ('I will never join politics, he created the Aam Aadmi Party. I will never take security cover. He took the Z security. I will not take a bungalow. He took a bungalow and started sweeping the floor himself.' Am I lying?)."
This is what Sidhu had said about Kejriwal earlier during an election campaign. What do you have to say now for yourself, Sherry paji?
In another blast from the past, Sidhu is captured on video calling Kejriwal and his party a 'nautanki'. Sidhu goes on to mock Kejriwal saying, "Idhar dharna, udhar dharna. You couldn't get rid of your cough, what will you do to change Delhi."
It will be interesting to see what Sidhu has to say about Modi and the BJP, won't it?