Prime Minister Narendra Modi on Tuesday gave an exclusive interview to Smita Prakash of ANI and spoke on range of issues -- from Rafale deal to Ram temple and triple talaq to mob lynchings.
Here are excerpts from the interview.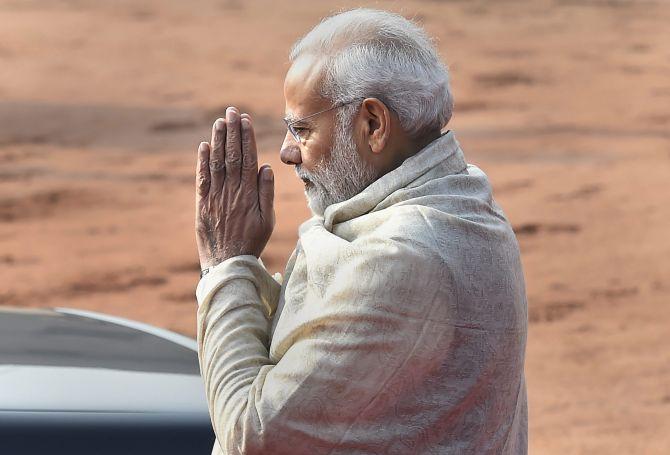 On Rafale deal controversy
The PM said that the Congress is trying to throw muck on him even though the party has nothing to prove him wrong.
Modi said that those levelling allegations on him are actually weakening the Indian security forces.
He added that in spite of allegations from the Congress in the Rafale deal, he will continue to expedite the procurement process in defence so that country's security is not compromised.
"Those people who want to weaken the Army are levelling allegations. Should I worry that they are making personal attacks on me, or whether my country's needs should be met?
"I decided that whatever abuses are hurled at me, whatever allegations are levelled against me, I will continue on the path of honesty and give primacy to the country's security. I won't leave my Army jawans merely to their fate.
"Whatever be their requirement, I will expedite the procurement processes. I will do it even if allegations are levelled me," Modi said in response to allegations of corruption in the Rafale jet purchase deal.
When asked why he was silent on the Congress accusation of crony capitalism and alleged favouring of Anil Ambani in the Rafale deal, Modi replied, "This is not an allegation against me personally, but an allegation against my government. If there is any allegation against me personally, let them dig who gave what, when and where and to whom."
"In Parliament, I have spoken elaborately on this and whichever public forum I got, I spoke about this. The matter has been cleared even by the Supreme Court. The Supreme Court scrutinised it threadbare. The French President has spoken. ..
"Media should have the courage to ask (the Congress) where is the evidence for these allegations? Don't throw muck and run away.... They (Congress) are not able to give any real evidence, just keep talking.
"Unko yeh bolne ki beemari hai toh mujhe kya baar baar ussi me ulajhna chahiye kya (If they have this problem of talking about it then should I too get entangled in it)," he added.
The PM said that there should be debate in the country on why controversies have been created over defence deals since Independence and on need for middlemen in defence purchases.
"Why controversies have been created over defence deals since Independence and our forces weakened. Who is doing it? What is the reason? Also, what is the need for middlemen in the defence deals? Can't defence deal not be done without middlemen? Had Make in India been initiated 70 years back, the malai khane wala raasta from outside would have been closed.
"My crime is that I am trying to Make In India. My crime is that whatever our defence forces need, that should be made in India, so that dealings outside the country end. I am trying to get technology transfer," the prime minister said.
The prime minister sought to dispel the Congress allegation that the purchase would harm his Make in India initiative.Congress president Rahul Gandhi has accused Prime Minister Modi of favouring Anil Ambani's Reliance group in the Rafale deal by pushing Dassault Aviation to have a tie up with it through an offset clause, an allegation denied vehemently by both the Indian government and Dassault.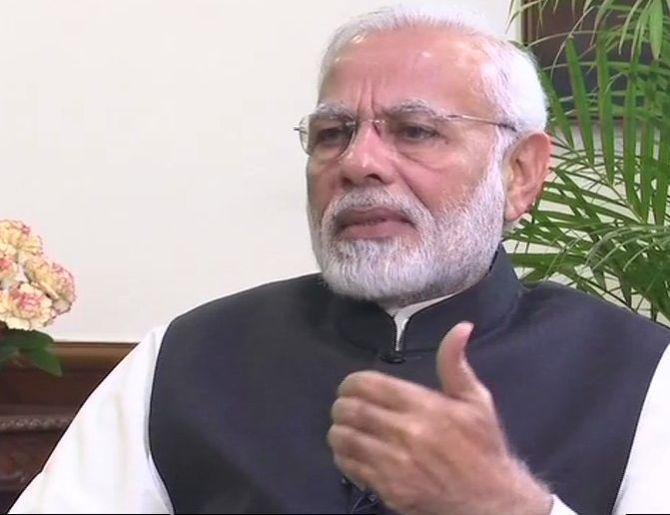 On construction of Ram Temple
Prime Minister Modi made it clear that any decision on bringing an Ordinance on Ram temple can be considered only after the judicial process gets over.
He also suggested that the judicial process was being slowed down because Congress lawyers were creating 'obstacles' in the Supreme Court.
"We have said in our BJP manifesto that a solution would be found to this issue under the ambit of the Constitution," the prime minister said about the Ram temple matter when asked whether the Ram Mandir issue had been relegated as merely an emotive issue for the Bharatiya Janata Party.
"Let the judicial process be over. After the judicial process is over, whatever will be our responsibility as the government, we are ready to make all efforts," he added.
The prime minister was asked why an Ordinance cannot be promulgated to facilitate Ram temple construction when a similar step was taken to ban instant triple talaq.
In response, Modi said, 'the triple talaq ordinance was brought after the Supreme Court verdict, in the light of Supreme Court verdict.'
He was referring to the Supreme Court's ruling in 2017, banning the practice of triple talaq among the Muslims.
Subsequently, the government issued an Ordinance and brought a bill in Parliament. The bill has been passed by the Lok Sabha and is before the Rajya Sabha.
"Nobody can deny that those sitting in the governments in the last 70 years have tried their best to stall a solution to this (Ayodhya) issue," Modi said.
Targeting the Congress, he said it should 'not create obstacles' and should let the judicial process to take its own course.
"Don't weigh it in political terms," Modi said, addressing the Congress.
"I beseech the Congress, for the sake of national peace and amity, they should stop its lawyers from stalling this (Ayodhya issue) in the court," he added.
The prime minister said all lawyers, including the Congress ones, should jointly head to the court and ensure that there is an early judicial verdict.
"In the court, Congress lawyers, who are creating obstacles, should stop. Let the judicial process take its own course," he said.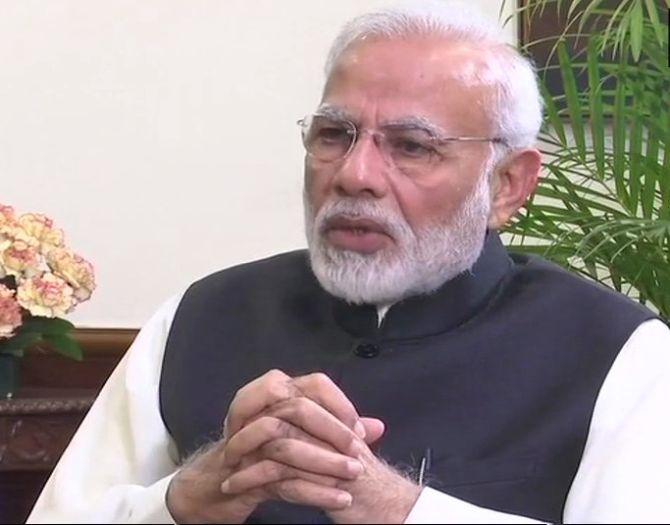 On triple talaq bill and Sabarimala row
Modi said that while triple talaq is a matter of gender equality, entry of women in Sabarimala is related to tradition.
The PM tried to clear the air on BJP's apparent contradiction in its stand on the controversial Triple Talaq Ordinance and the ban on entry of women between the age group of (10-50 years) in the Sabarimala Temple by saying the Ordinance against triple talaq was brought keeping in mind gender equality and social justice and it should not be seen as interference in religious issues.
However, on the entry of women of menstrual age in the Sabarimala Temple and protests by Hindu groups, Prime Minister Modi said that the issue relates to tradition and the Supreme Court judgment that saw a dissent by a lady judge should be read carefully.
"Triple Talaq Ordinance was brought after Supreme Court verdict. We have said in our BJP manifesto that a solution would be found to this issue under the Constitution," Prime Minister Modi said.
"Most Islamic countries have banned triple talaq. So it is not a matter of religion or faith. Even in Pakistan, triple talaq is banned. So it is an issue of gender equality, matter of social justice. It is not an issue of faith. So keep the two separate," he said.
Reacting to a question on the BJP's stand on the Sabarimala issue, PM said: "India is of one opinion that everyone should get justice. There are some temples, which have their own traditions, where men can't go. And men don't go... In this, Sabrimala, a woman judge in the Supreme Court has made certain observations. It needs to be read minutely.
"There is no need to attribute those to any political party. As a woman, she has made some suggestions. There should be a debate on that as well sometimes."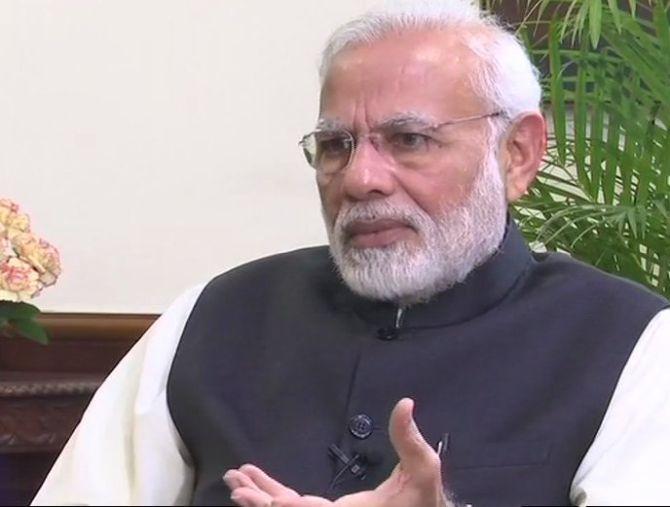 On electoral losses in Madhya Pradesh, Rajasthan and Chhattisgarh
In my opinion 2018 was a successful year. Elections are just one facet of a number of facets in this country.
If in this country poor are given insurance of up to Rs 5 Lakh, through Ayushman Bharat Yojna. Within 100 of its implementation, 6-7 lakh have benefited. In such big numbers people were suffering and today they have got treatment. How can I consider this a failure?
It is my biggest achievement. The world today talks about climate change and India was considered as one of the countries that caused pollution. In 2018, the United Nations awarded the champion of earth, a protector of environment, to a leader. It is a source of pride.
18,000 villages did not have electricity, in this year every village was electrified.
In sports, Indian children did a tremendous job. A lot of medals were won. Children from Tier 2, 3 cities, villages and from financial weak background are bringing laurels to the country.
Our Para athletes are doing a great job. 104 satellites have been put in orbit is a record of sorts. There has been bumper crop in 2018.
Any sector can be taken as an example, India is breaking previous records. 2018 has been a shining year for India.
In Telangana and Mizoram, nobody gave BJP any chance or even thought that we would form government. In Chhattisgarh, a clear mandate was given, BJP lost.
But in two states there was a hung assembly. Secondly, 15 years of anti-incumbency was being fought by our people. We are discussing what was lacking.
However, in Haryana local polls we won all, Tripura there was 90-95 per cent victory, J-K 74 per cent polling took place and in many of those the BJP won.
Winning or losing is not the only yardstick.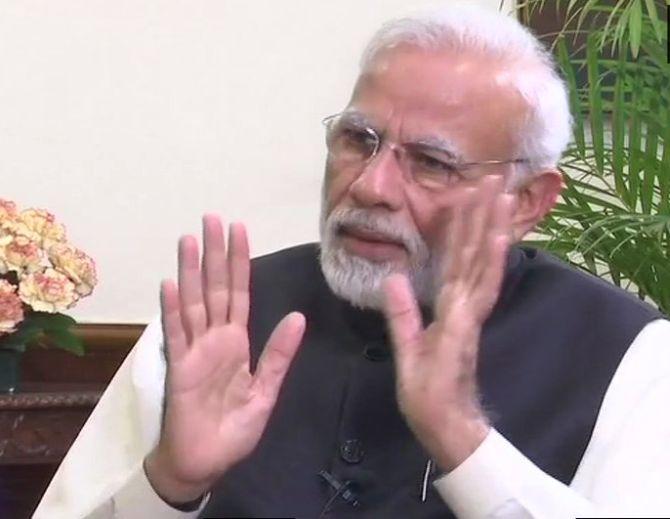 Prime Minister Modi said mob lynchings in the name of cow protection were 'totally condemnable', saying such incidents do not reflect well on a civilised society.
At the same time, he appeared to reject the contention of actor Naseeruddin Shah that minorities were feeling unsafe in India due to lynchings, saying 'some people' sense insecurity around the time of elections because of 'agenda'.
Modi questioned whether such incidents had started only after his government came to power in 2014.
He said everybody's sentiments should be respected and for creating such an environment, everyone will need to contribute.
"Any such incident does not reflect well on a civilised society. No voice ever should support such incidents. This is totally wrong and totally condemnable," he said when asked to comment on incidents of lynching in the name of cow protection.
On actor Naseeruddin Shah saying that minorities were feeling unsafe in the country, the prime minister said, "Before elections, some people do see insecurity. Some people have an agenda."
He went on to add, "Did it (mob lynching) start after 2014? This is a result of ills within society. For improving this situation, we should all work collectively."
Prime Minister Modi said his government believes in 'Sabka Saath, Sabka Vikas' (cooperation with all, development of all).
In this context, Prime Minister Modi said that when his government went on electrifying 18,000 remaining villages of the country, it did not ask the villagers which religion they belonged to.
Similarly, when the government implemented the Ujjwala scheme to provide subsidised LPG connections, it did not discriminate on the basis of religion, Modi said.
He said he did not want get into a debate that such things happened during any particular government as 'even one incident is condemnable'.
"There should be no such incident in the society. But we should understand what the main fabric of the society is," he added.
The PM said people should listen to what sentiments Mahatma Gandhi and Vinobha Bhave had expressed or take note of the sentiments enshrined in the Constitution.
"It is the responsibility of every citizen to respect those sentiments. If you honour those sentiments, our sentiments are also respected. To create this environment, everybody should contribute," he said.
Talking about harmonious existence in India, he said a Muslim scholar based in the Gulf had written about India's harmony in diversity whereas in their region people of the same faith attacked each other.
"India should take pride in this compliment. India should take pride that we have been living in harmony for ages," he said.
The prime minister also decried political violence that has been taking place in some parts of the country, apparently referring to West Bengal and Kerala.
"As a worker of the BJP, I strongly condemn it. We have suffered a lot," said Prime Minister Modi.
"In West Bengal, BJP is not even allowed to exercise its democratic rights. During elections, the way our workers are killed, it does not reflect well on democracy. In Kerala, our workers are killed every day," Prime Minister Modi added.
He said BJP workers have been also killed in Karnataka, Tamil Nadu, Assam and Jammu and Kashmir.
"The question is not whether our workers are killed or not, but this political violence is not good for our democracy and all political parties will have to think about it," he said.
"I want to assure BJP workers and their families that the government does not tolerate any form of violence, be it by any party. We are committed to ensuring justice to everyone," the prime minister added.
"We appeal to the state governments also ....Some day the truth will come out. Today, some people may be enjoying protection but someday the truth will come out. Political parties should train their cadres how to behave in a democracy," the prime minister said.
WATCH: PM Modi recounts sequence of events during surgical strike
On demonetisation and GST
There used to be regular reports about black money. There is no disputing the fact that a parallel economy was running.
Notes were found under beds, sacks full of cash were found. This parallel economy had made the country hollow.
Demonetisation has done a big job and in the coming days will set the country on the solid economic path.
Those sacks full of cash have now entered the banking structure. An atmosphere of honesty has been created.
The tax net has increased since earlier. Won't you call this a success?
Currency circulation in comparison to gross domestic product has reduced. This is a good indicator.
If it continued like it did unabated, it would have been difficult to run things in the country.
This (demonetisation) wasn't a jhatka (shock).
We had warned people a year in advance that we have a scheme wherein if you have such wealth (black money), you can deposit it, pay the penalties and you will be helped out.
However, they thought that Modi too would behave like other governments so very few people came forward voluntarily.]
Through the media and Parliament I beseeched people to take advantage of this scheme or else we (GoI) would have to take steps to change the situation.
This hasn't happened overnight. This process took one year. Only after that we had to take this step.
This was necessary for the economic health of this country. If any process is changed, take for examples Railways, if a bogey changes tracks there is a change in speed. We can't deny this.
Even when Manmohan Singh was finance minister, do you have any idea how much the GDP fell? It had fallen to approximately less than 2%.
With change this happens but later things got stabilised. Now, even our growth rate has stabilised, a cleansing process was needed, we did it. Now an ideology has been created for the country to head towards.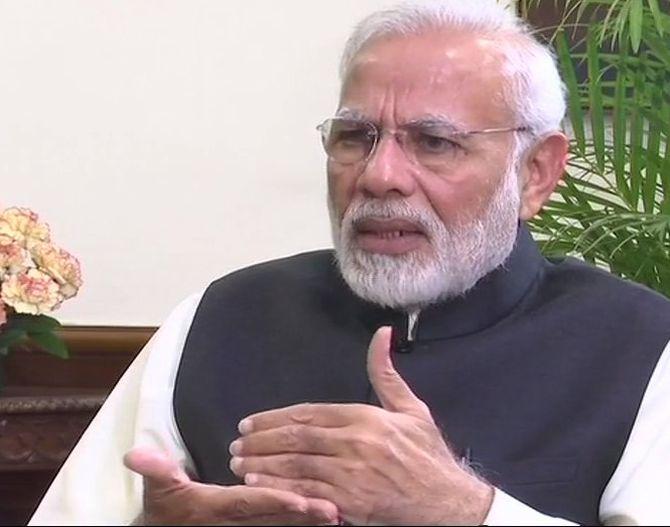 2019 LS polls will be Janta versus Gathbandhan
The 2019 Lok Sabha elections will be a 'public versus coalition' contest, the PM said while ridiculing the alliance proposed to be formed by anti-BJP parties.
He dismissed claims by some political pundits that the BJP might not get more than 180 out of 543 seats in the Lok Sabha elections, saying there were a similar 'set of persons' who echoed a similar narrative even in 2014.
The PM was responding to a question whether people had now considered the 'Mahagathbandhan' to be an alternative to Modi.
He expressed confidence that the people will again repose faith in the BJP considering the work done by his government over the last four and a half years.
"I believe, this election is going to be a contest between those who fulfil and take forward the aspirations of the people and those who stop these aspirations. There is experience of 70 years. The public is the decider," the prime minister said when asked if the 2019 elections were heading towards a US Presidential style of elections between Modi VS Rahul.
Asked whether the upcoming Lok Sabha polls would be 'anybody but Modi' contest as projected by the opposition parties, he said, "It is going to be 'janta (public) versus gathbandhan (coalition). Modi is just a manifestation of public love and blessings."
Reposing faith in the 'intelligence' of the voters, Modi said, "The Indian public will decide the course of elections. The public will decide the agenda, who is for the aspirations of the people, who is against the aspirations of the people. This is going to the yardstick for the elections."
Ridiculing the coalition sought to be formed by some anti-BJP parties, he said, "the public knows that earlier it was decentralised corruption, those who sat in the states, looted the states, those who were in the Centre, looted at the centre... The people will decide whether or not they should ally with these forces of corruption who are coming together."
The prime minister's attention was drawn to the '180 club' claim by some sections, inferring that the BJP might not get more than 180 seats in the Lok Sabha polls.
In his response, he said, "Is there any scientific study? In 2013 too, the same set of persons used to talk the same thing about BJP getting less than 180 seats. That narrative continues."
He went on to add, "If they do not spread such things, how will people join their 'gathbandhan'? They will have to talk big to attract people."
Asserting that BJP has no reason to 'mistrust the intelligence of the common man', Modi said, "I keep telling all political pundits let us trust the common man's intelligence. After all, what did the common people experience from this government that they will go away from us? I have faith in the public, their intelligence."
Attacking the anti-BJP parties who are trying to firm up an alliance, he said there is no unity among them in any way, nor any joint articulation about what they would do for the country.
To press his point, he said if media reports of last five years are analysed, there is nothing concrete that the 'gathbandhan' has said or done unitedly.
"They still speak in different voices. Who are these people? They are looking for each other's support to save themselves... They hold each other's hand, so that they are saved. That is the game," Modi said."Their single point agenda is Modi, do this to Modi, do that to Modi...There is no articulation on what they would do for the nation and why they will do it," the PM said.
He said the anti-BJP coalition had failed already during its experiment in Telangana assembly elections and local polls in states like Assam and Jammu and Kashmir.
"At the top, these (coalition) leaders may get together for their safety but that does not mean that public is joining them," Modi said.
PM Modi's attention was drawn to allegation by Andhra Pradesh Chief Minister and Telugu Desam Party leader Chandrababu Naidu that the efforts being made by Telangana Chief Minister and Telangana Rashtra Samiti supremo K Chandrashekar Rao to form an alliance has the blessings of Modi.
"I am not aware that some coalition is being made by KCR," Modi replied.
The PM was also asked about the unhappiness expressed by some of the BJP allies, like Shiv Sena, from time to time and whether they were indulging in 'muscle flexing'.
His attention was particularly drawn to Shiv Sena chief Uddhav Thackeray's apparent attack on him when he said that 'chowkidar chor hai (guard is the thief) , echoing Rahul Gandhi's oft repeated line of attack on Narendra Modi.In his response, he said, 'Sometimes, some expectations are not met' and some allies feel that they "could benefit by putting pressure" on the BJP.
"Some (allies) feel that such issues could be resolved through discussions.... But our effort is to take everyone along and listen to everyone," Modi added.
He emphasised that he was 'committed to give importance to regional aspirations' as he believes that the country cannot be run by ignoring regional aspirations.
"That is why BJP is more successful."The Prime Minister noted that the BJP, despite getting full majority in the 2014 Lok Sabha polls, took every ally along, adhering to the coalition dharma.
"Even today when we run the government, there is consensus in decision-making," he said.
"It is true that states have their own level of politics. Our allies wish to grow and we too want them to grow. We do not want that we should grow at the cost of allies," Modi added.
Making a comparison with the Congress, he said, "it is specialty of Congress-led alliance that all allies are those who have come out of the Congress after raising their voice against the Congress or emerged because of Congress-opposition. So when they approach the Congress, Congress usurps them."
"We are different. Those who associate with us, they prosper. So our effort remains that our allies blossom."
Asked whether he expected more parties to join the NDA, Modi said that process has been continuing since 2014 and referred to the small parties of North East which had joined the BJP-led coalition.
Queried whether the Bahujan Samaj Party would be joining the National Democratic Alliance, he said, "I don't think any sensible person will spell out such things on TV, as to who will join and who cannot."
Asked whether there was any move of film stars-turned-politicians Rajnikanth and Kamala Hassan to join the NDA and improve the NDA'S footprint in South India , he said, "We are continuously striving to expand our base. We are ready to take everyone along, those who want to come with us, those with whom we can walk. It is linked to our strengthening the regional aspirations."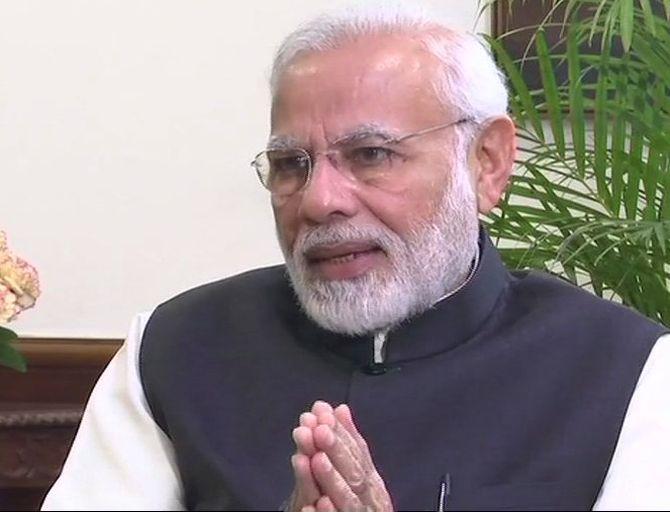 Even Congress people say Congress is a thought, a culture.
That culture has been in mainstream for such a long period. Because of this, it has become an integral part of Indian political culture.
What is that culture -- casteism, dynastic politics, undemocratic nepotism.
The Congress represents this culture. When I say Congress-mukt, I want to rid the country from this culture and this sort of thinking.
And I have even gone to say that Congress too needs to be mukt of this Congress culture.
Whether institute remains or not, I accept that in a democracy, a strong Opposition is essential but unfortunately the Congress has failed even in that.
On Congress's 'first family'
Refuting that no action had been taken against names involved in the 2G, CWG and other assorted alleged scams that occupied news cycles in the run up to the 2014 general elections, the PM said that his government has cracked the whip and acted against all.
Modi said that his government has made all efforts to take action against the top leaders of the Congress party who allegedly have been involved in any wrong doing.
Taking aim on the 'First Family' of the Congress, Prime Minister Modi said that those who ran the country for four generations, are today facing charges of financial irregularities and are out on bail.
Tongue firmly in cheek, he responded to the remark that those accused in the scams were taking walks in Lodhi Garden, saying that those on bail had freedom given by courts to walk in the park.
Responding to a question that despite making claims of taking action against those who are involved in 2G scam, Commonwealth Games scam and the alleged land deals of Robert Vadra in Haryana, not much action is visible and they are moving freely, Prime Minister said: "Zamanat pe bhi toh hain (They are out on bail).
"Those who are on bail can do it.... but it is a fact that those considered 'First Family', who ran the country for four generations, are out on bail, that too for financial irregularities. It is a big thing. A set of people, who are at their service, are trying to suppress such information and push other narratives."
He added that action has been initiated against former Finance Minister P Chidambaram and even though he does not believe in political vendetta, action against those involved has begun.
"The country's former finance minister is making rounds of courts. It is not a small thing. I am not in favour of such a thing that anybody should face problems just because you are our political rival. We are not in favour of that (political vendetta.) Whatever judgement court gives, we will accept but there should not be delay," the PM said..
WATCH: PM Modi on talks with Pakistan
WATCH: Urjit Patel had been requesting to resign for 6 months due to personal reasons, says PM