The four-day Chhath Puja may be a Hindu festival, but Muslim families across Bihar are busy churning out earthen stoves for devotees. M I Khan reports.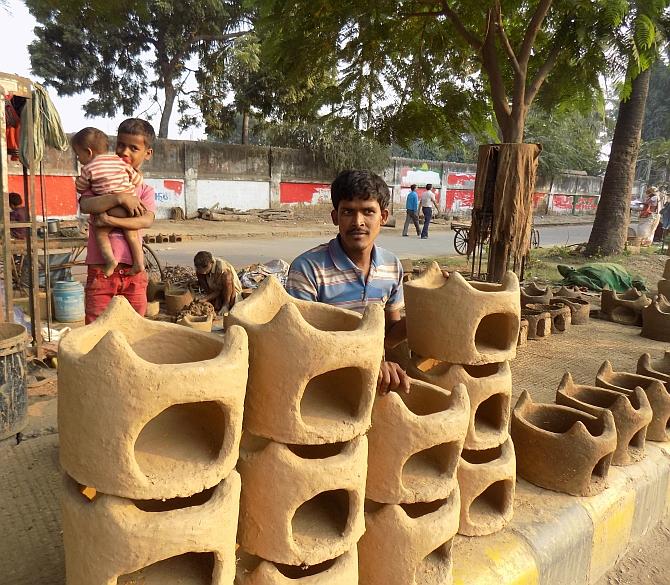 Several Muslims make earthen stoves in Bihar for Chhath Puja. Photograph: M I Khan
With the Chhath Puja on in full swing in Bihar, Lal Mohammad and his wife Sayeeda Khatoon are doing brisk business.
Having set up shop at the roadside at Birchand Patel Marg in heart of Patna, the Muslim couple and their children have been selling earthen stoves -- used to cook the offering for Chhath puja -- at Rs 50 to Rs 60 a piece.
That they are Muslims matters little.
Mohammad's family is one among the dozens of Muslim families engaged in making earthen stoves across the state for the Chhath Puja, which is celebrated to thank the Sun God for sustaining life on earth.
The four-day festival began on Sunday, and the Mohammads are busy trying to keep up with the demand. During the fastival many people, mostly married women, throng the banks of Ganga, Punpun, Gandak and Kosi rivers as well as big and small water bodies to have a bath before preparing vegetarian food on handmade earthen stoves.
'We make the earthen stoves with great care and purity since they are being used for Chhath. We make substantial money too as devotees don't bargain much,' Lal Mohammad, in his late 50s, said.
"We have already sold many since the last two days and are hoping to sell more in next two days," an upbeat Sayeeda chips in.
Besides the Mohammads, there are others like Rubina Khatoon, Makhun Bakho, Mohammad Qaiser and Umedha Khatoon who live in a slum behind the elite New Patna Club and eagerly await the Chhath featival to make earthen stoves for Hindu devotees.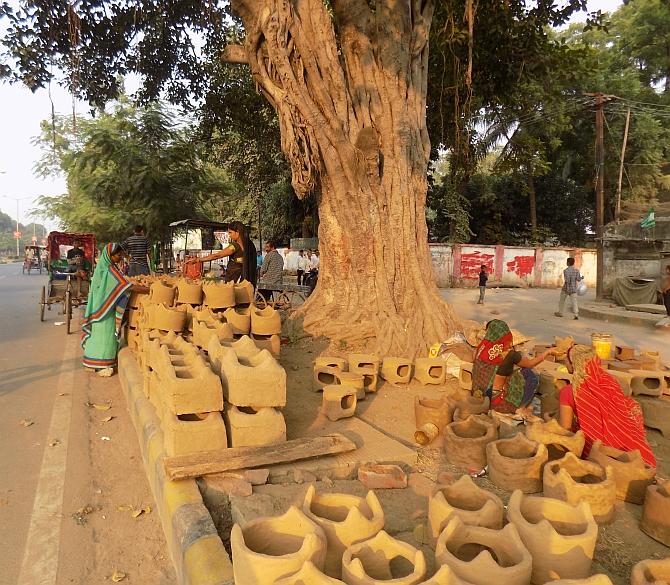 Earthen stoves displayed along a road during the festival. Photograph: M I Khan
"We begin making earthen stoves at least two weeks ahead of the Chhath to be able to sell them on time" says Makhun, who is believed to be the first from the Muslim community to have started making 'mitti ka chulha' (earthen stoves) for devotees.
"When I first started making these stoves, I made just 30 pieces -- all of which sold like hot cakes in the mid 80s. Since then, others from my community have joined me to make these stoves. Now, dozens of Muslim families are making and selling them during Chhath," Makhun says.
They buy clay from farmers in nearby rural areas at Rs 1,500 per tractor and distribute among themselves.
Makhun claims he has been making earthen stoves since the last three decades.
"The Chhath devotees never disappoint us; they give us more than we expect because for them it is a matter of faith and emotion," he says when asked about the response from the Hindu devotees.
Some Muslim families even celebrate the festival like their Hindu brethren. Many members of the community even volunteer to clean up rivers, ponds and streets for the festive occasion. Some also donate money to put up marquees for devotees.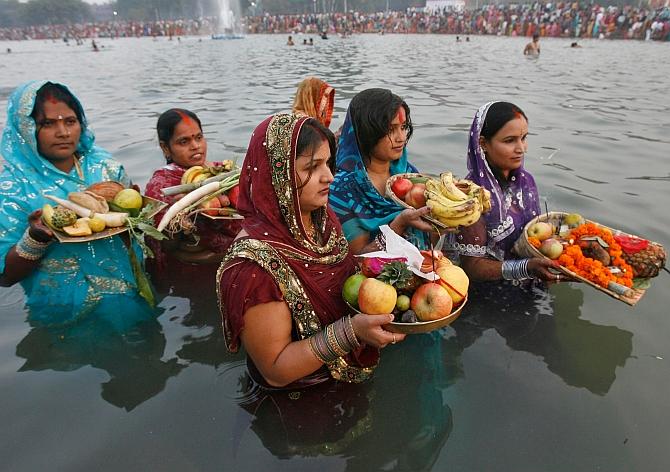 Says Rubina, "The stoves are made with special care, as they were used during the Chhath. I gave up eating garlic and onion while making them, and I would only begin work after taking a bath."
Ravinder Singh, whose mother fasts for 36 hours during the Chhath, says, "We consider earthen stoves pure and it is an age-old tradition to prepare cooked offerings for Chhath. We are thankful to the Muslim families who make and sell these stoves to us."
Sanjay Kumar, a central government employee, says that the hand-made stoves are actually a rare commodity in urban centres like Patna.