What led them to mass murder?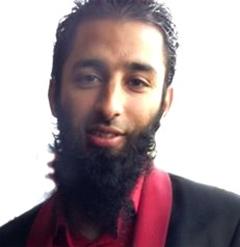 London, June 3

Khuram 'Abz/s' Shazad Butt

Age at death: 27
Born: Probably in Jhelum, Pakistan.
Origin: He and his parents were from Jhelum, Pakistan, very close to Pakistan occupied Kashmir. He has family still in Jhelum including his uncle and visited Pakistan twice. The family is likely to have Kashmiri roots.
Family:
Father Saif Butt owned a furniture shop in Pakistan before the family migrated to England. Father died when Butt was young.
Married to Zahrah, two children, including a newborn and a three-year-old son.
He and his wife may have lived with his mother. Although other reports suggested she lived nearby.
His sister Haleema and her husband live close by in East Ham. His entire family, including his brother Saad, was arrested by the Metropolitan Police.
Educational background:
Bachelor's degree. Professional networking site Bayt.com has his CV on file and it shows Butt obtained an NVQ in business administration in 2009, and a diploma in teaching English to adults in August 2016.
Professional background: Worked for nearly six months, till October 2016, for London Tube. Also apparently worked at a KFC, a local gym, Topshop and a property company.
Last address: Elizabeth Fry Flats, King's Road, Barking, East London.
Barking is a very ethnically diverse area of London which is 17 per cent Pakistani.
Well-recognised figure in his neighbourhood, held barbecues, discussed football, played table tennis and football, known to be chatty and friendly with kids.
Was invited to watch the Champions League final with neighbours that Saturday night, but declined.
Activities
He was the ringleader of the trio of London attackers and is said to have gotten radicalised watching extremist videos. He wore traditional Islamic robes; his wife wore a burqa and was not seen in public with him.
Butt knew the virulently extremist Anjem Chaudhary, currently serving time in a British prison.
Butt appeared in a Channel 4 documentary The Jihadi Next Door with a jihadi flag praying at Regent's Park, after which the Metropolitan Police apprehended him.
He was thrown out of the mosque he worshipped at, the Jabir Bin Zayid Islamic Centre, Barking, for deeming participating in the British elections as un-Islamic.
He had come to the notice of the police or MI5, Britain's domestic intelligence agency, with complaints registered against him on the anti-terror hotline.
Butt was under investigation, but not under special surveillance because he was deemed not actively pursuing any terrorism-planning activities.
A football fan, particularly of Arsenal, Butt was killed wearing an Arsenal jersey.
His whatsapp status quoted the Koran: Indeed, with hardship, come ease. His last profile picture was these lines: Speak justice, speak kindly, speak politely, speak fairly, speak gently, speak graciously, speak not in vain.
Rachid Redouan
Alias: Rachid Elkhdar
Age at death: Uncertain. Either 25 or 30. Functioned under second identity too.
Born: Probably Morocco
Origin: Libyan-Morroccan
Family: Estranged Scottish wife Charisse Ann O'Leary, daughter Amina, 17 months. He had differences with his wife for her non-Islamic habits and apparently beat her up. He visited his daughter the night of the attack.
Educational background: Unknown
Professional background: Pastry chef. Was living in Rathmines, Dublin, Ireland, for 5 years.
Last address: Dagenham, East London, a less ethnically diverse area of London.
Activities: It is uncertain how he came in contact with Butt. He had not caught the attention of either family or friends or the police for any suspicious activities earlier. He had applied for asylum in Britain in 2006 and was rejected in 2009 and entered Britain on an Irish immigration after he married Charisse.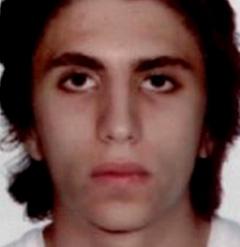 Youssef Zaghba
Age at death: 22
Born: Fez, Morocco
Origin: Italian-Moroccan
Family: Italian national. Mother, Valeria Collina, is Italian but converted to Islam and wears a veil. His father was Moroccan. Parents separated. Mother lives in Bologna, Italy. He spoke to his mother two days before the attack.
Educational background: Unknown
Professional background: Working in a London Pakistani restaurant and an Islamic news channel.
Last address: East London
Activities:
It is unclear how he came in contact with Butt.
In 2016 he was prevented from boarding a flight to Turkey with a one-way ticket from Bologna on his way to Syria. His lack of luggage raised suspicions. When he was barred from flying he got worked up and said he was becoming a terrorist. His phone had religious material on it but not of the jihadi kind. His mother thought he was going to Rome. His mother told BBC that he started looking at strange things on the internet and would tell her that they should both go an love in Syria because they practised "pure Islam" over there.
He was put on an Italian list of potential terror suspects and the Italian authorities said they had informed British intelligence. But he was allowed to travel to London.
He had not caught the attention of the London police for any suspicious activities prior to this.
London, March 22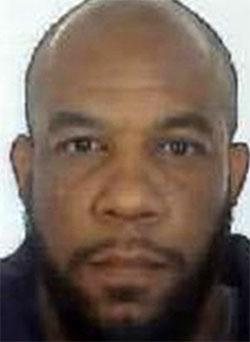 Khalid Masood

Real name: Adrian Russell Elms Ajao
Aliases: Khalid Choudry and Adrian Ajao
Age at death: 52
Born: Dartford, Kent
Origin: British
Family:
Married to first partner Jane Harvey. Had two daughters.
Later in 2004 married Farzana Malik. Perhaps divorced.
Living since 2012 with Gambian Rohey Hydara and her two children.
Mixed race parentage. Father unknown. Mother Janet Elms. Brought up by Nigerian stepfather Philip Ajao. Mother lives in Wales where she hand makes bags and cushions. Has two half brothers Alex and Paul Ajao.
Educational background: Apparently had a degree in economics. Earned a TESOL certificate to teach English.
Professional background: Worked at Aaron Chemicals in East Sussex. Worked as an English teacher in Luton.
Last address: Birmingham
Activities:
In and out of trouble with the law for drugs, debts and violence as a teenager.
Jailed for two years for causing grievous bodily harm in 2000. In 2003 jailed for six months for possession of a knife.
Seemed to have been radicalised in prison.
In 2005 changed name to Khalid Masood and apparently travelled to Yanbu, Saudi Arabia. Later taught at Jeddah, Saudi Arabia 2008 to 2009.
Not known to be obviously radicalised although he adopted traditional Muslim clothes. A colleague said he showed interest in Anjem Choudary's group Al Muhajiroun.

Manchester, May 22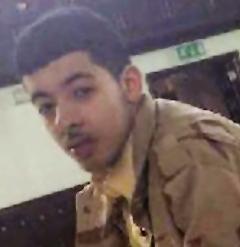 Salman Abedi
Age at death: 22
Born: Manchester
Origin: British-Libyan
Family:
Parents Samia Tabbal and Ramadan Abed fled Muammar Gadaffi's regime as dissidents and sought asylum in Britain.
One of four siblings. Elder brother Ismail (still under arrest in Manchester), younger brother Hashim (still under arrest in Tripoli) and sister Jomana
Educational background: Attended Burnage Academy for Boys and then Salford University to study business management. Dropped out.
Professional background: Not known to be working anywhere.
Last address: Elsmore Road, Manchester
Activities: Had apparently proven links to ISIS. Travelled to Libya and later Syria where he got radicalized over the last year. Also made a trip to Dusseldorf and was probably an ISIS mule.