'Each of them is a setu (bridge) that links the government with the party, but their territories are different.'
Radhika Ramaseshan reports.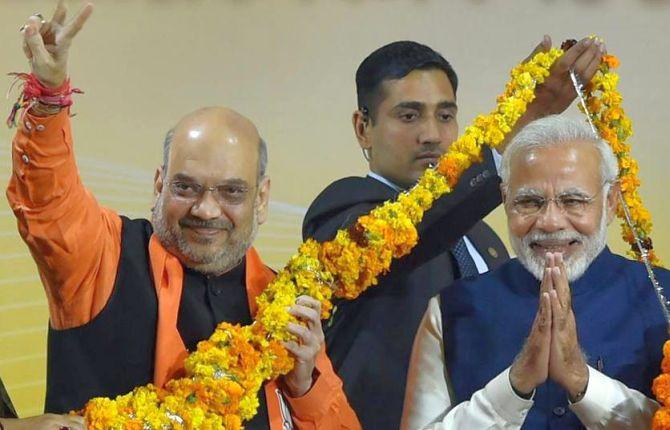 Political management is an artful enterprise for a party in power and more for one that administers through a coalition.
The Bharatiya Janata Party discovered the ordeals of handling incongruent allies in the early years of the first National Democratic Alliance dispensation, led by Atal Bihari Vajpayee and his second-in-command, L K Advani.
Notwithstanding their long experience, Vajpayee and Advani were ingénues in a thicket peopled by divas (J Jayalalithaa) and icons (Bal Thackeray).
When Jayalalithaa, who proffered her support to Vajpayee after much persuasion, demanded that Samata Party leader George Fernandes should be dumped as the defence minister, Vajpayee sent his foster son-in-law Ranjan Bhattacharya to appease her.
The late All India Anna Dravida Munnetra Kazhagam chief was nettled by Vajpayee's insouciance because he dispatched a family member to engage with her on a serious political issue.
Later, when Vajpayee had an issue with the then Shiv Sena supremo Thackeray, he turned to Fernandes to troubleshoot, which he ably did.
Fernandes turned out to be Vajpayee's dependable negotiator and peacemaker.
Biju Janata Dal President and Odisha Chief Minister Naveen Patnaik was peeved after Advani sent a favourite, a Rajya Sabha MP, to renegotiate the terms of engagement when the BJD's alliance with the BJP crumbled over the attacks on the Christians.
Patnaik, by then a hard-core politico, was amused at Advani's choice of a flamboyantly attired politician, with whom he talked cinema and not communalism.
Expectedly, the alliance ended.
The current NDA ship is navigated by two hard-nosed politicians, Narendra D Modi and Amit A Shah, who are unyielding under pressure and flexible under compulsion.
Prime Minister Modi and BJP President Shah carry out their political mission and agenda through motley emissaries bound together by their instinct for realpolitik, commitment to the Rashtriya Swayamsevak Sangh and the BJP, and an ability to work within the system.
With two exceptions -- Banwarilal Purohit and Himanta Biswa Sarma.
Purohit, the Tamil Nadu governor, is not from the Sangh. He was a Congressman from Nagpur who served only one Lok Sabha term from the BJP, but was elected twice each as a legislator and an MP from the Congress.
The Maharashtra Congress inducted him as a minister. The BJP, then a two-year toddler, watched Purohit closely and was impressed with his "honesty and diligence", a Maharashtra party veteran recalled.
However, a third qualifier endeared Purohit more to Modi and that was his sense of realpolitik.
In September 2017, when he was shifted from Dispur to Chennai, Tamil Nadu was gripped by political chaos that flummoxed the BJP.
Purohit signalled that he would not close off. He meets district officials daily to understand how the Centre's schemes work in a state rendered dysfunctional by fluid politics.
In November 2017, when Modi unexpectedly called on Dravida Munnetra Kazhagam patriarch M Karunanidhi, at the latter's Chennai home, the political chatter was Purohit had cleared the decks.
"Naturally, we couldn't arrange a call on an Opposition leader through the AIADMK government. We had to go through the governor," a state BJP leader said.
The speculation over a prospective realignment of forces -- after Modi's harmonious equation with Jayalalithaa ended with her death -- was fuelled when in March Purohit invited DMK Working President M K Stalin ostensibly to explain why he had appointed T S Shastri as the vice-chancellor of the Tamil Nadu Dr Ambedkar Law University.
The unprecedented move raised eyebrows because, under previous governors, Tamil Nadu political parties had carte blanche to recommend vice-chancellors. Purohit stated he was 'cleansing the system'.
Purohit is regarded as Modi's eyes and ears in Tamil Nadu.
The latest evidence of the governor's pro-activism came in February. He told entrepreneurs at a Chennai business conclave that they could access him directly with their problems because 'I have a good relationship with the chief minister... and work will be done immediately'.
Among the other go-to persons in the Modi-Shah reign are Nitin Gadkari, Piyush Goyal, Bhupender Yadav and Himanta Biswa Sarma.
"Each of them is a setu (bridge) that links the government with the party, but their territories are different," explained a BJP functionary.
They have distinct functioning styles, but a common brief handed out by the Modi-Shah duo is to meet as many people as they possibly can, hear out their entreaties and resolve those that were feasible.
"Piyush multi-tasks while he walks, many phones in hand. He will attend to his ministry's demands, switch off, listen intently to an aam aadmi, absorb his words and direct an aide to do the needful," a source said.
"Gadkari is the relaxed one who will joke, seriously work and deliver. Yadav never turns anyone away. Sarma is precise, sometimes abrupt, but result-oriented," the source added.
In the Modi-Shah regime, results alone count.