His office and staff have been revamped after the Congress's electoral defeat in 2014, reports Kavita Chowdhury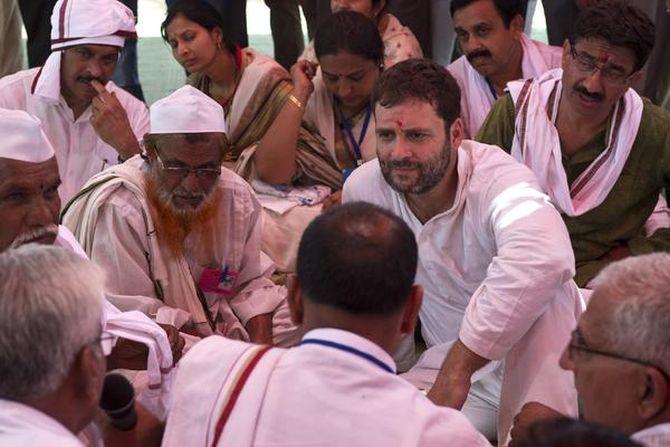 Rahul Gandhi's office and staff have been revamped after the Congress's electoral defeat in 2014
1) He is not likely to have a political secretary
2) Professionals with a strong social sector connect continue to dominate
3) People such as Jyotiraditya Scindia, Jitin Prasada and K Raju flank him. Select members of the 'old guard' like Ahmed Patel are also visible; Patel organised Gandhi's comeback rally with Digvijaya Singh, who is also considered close to Gandhi
Mohan Gopal
The director of the think-tank, Rajiv Gandhi Institute for Contemporary Studies advocates Adam Smith's model of a free market economy. He also argues for economic resources to be allocated through egalitarian means. He has served as head of the NationalJudicialAcademy, former member of the Securities and Exchange Board of India and is a former vice-chancellor of National Law School of India University. Gopal had helped draft the United Progressive Alliance's food bill and land Bill. He was a president of the party's youth wing.
Kanishk Singh
Chief of staff at 12, Tughlaq Lane, (Gandhi's residence-cum-office) for a decade, Singh continues to be a key figure in his team and manages Priyanka Vadra's office as well.

Alankar Sawai
A former banker (he was with ICICI Bank's credit cards division), he is in-charge of documentation and social media in Gandhi''s team.

K Raju
The bureaucrat-turned-politician is head of the party's Scheduled Castes cell; he was by Gandhi's side during his Vidarbha trip and is supervising the Telangana stretch of the Congress vice-president's programme to raise the issue of agrarian distress. The 1981 batch IAS officer's stint as additional secretary of the National Advisory Council brought him close to 10, Janpath. He quit the job and joined Gandhi. Raju has an MPhil in economic management and policy, as well as an MBA.

Kaushal Vidyarthee
The Oxford University graduate is a key figure in Gandhi's office; he is in-charge of the Congress vice-president's appointments and provides research inputs to Gandhi.

Sachin Rao
Manages matters concerning youth organisations of the Congress. He heads the party's election commission that manages elections in the Youth Congress and NSUI. Rao has an MBA in corporate strategy and international business from the Michigan Business School.

KB Byju
A former Special Protection Group officer, Byju quit the service in 2010 to join Team Rahul. He oversees logistics and media

Randeep Surjewala
The new communication chief of the party, his inputs on the agrarian crisis, the points against the government's stance on minimum support price and land bill have all been critical in shaping Gandhi's image as a champion of the rural people and farmers.