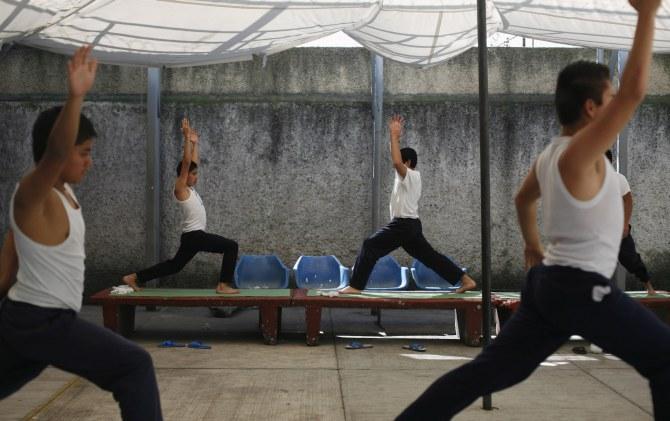 Archis Mohan tells us how the event came to be celebrated on June 21
It was neither Baba Ramdev nor Sri Sri Ravi Shankar, but a 'Castro' from Portugal and a mechanical engineer from Bengaluru who were the moving forces behind Prime Minister Narendra Modi suggesting June 21 as International Day of Yoga, which has now been accepted by 192 of 193 United Nations member countries.
Jorge Veiga e Castro, 62, better known as Jagat Guru Amrta Suryananda Maha Raja, a Lisbon resident, had first mooted marking June 21, the day of summer solstice and recognised in several cultures as the 'day of light', as world Yoga Day in 2001.
In India, H R Nagendra, one of the founders of Bengaluru-based Swami Vivekananda Yoga Anusandhana Samsthan or S-Vyasa, a deemed university, took up the cause after having met Suryananda in early 2000s.
According to a Bharatiya Janata Party leader associated with the planning of the International Yoga Day, Nagendra initiated Modi into yoga in the early 1980s. Modi, then a Rashtriya Swayamsevak Sangh pracharak, has been visiting the Bengaluru institute ever since.
Incidentally, the PM had suggested to Delhi Chief Minister Arvind Kejriwal that he visit S-Vyasa to seek cure for his endemic cough.
Nagendra was part of this year's Padma Awards committee, which did not confer the award on Ramdev. Suryananda was one of the 75 to have been conferred the Padma Shri in 2015.
Nagendra also conducts regular workshops for bureaucrats and ministers of the Gujarat government for over a decade, apart from several other institutes such as HarvardUniversity.
Nagendra has been closely associated with the RSS. His uncle the late H V Seshadri was a general secretary of the Sangh. According to sources, Ramdev hasn't taken the slight likely and been less than supportive of the June 21 effort.
It is Nagendra and his disciples at S-Vyasa who have devised the 35-minute long ceremony to be followed by millions, including government servants and school children, on June 21.
The event will start with the Rig Vedic prayer -- samgacchadhwam samvadadhwam samvo manamsi janatam. It means: "May you move in harmony, speak in one voice; let your minds be in agreement; just as the ancient gods shared their portion of sacrifice."
The PM had referred to the sloka as a guiding principle at his first Independence Day speech from the Red Fort on August 15, 2014.
This will be followed by five minutes of loosening exercises, 15 minutes of simple asanas or yogic postures, five minutes of pranayam or breathing exercises, five minutes of meditation and a sankalpa or pledge.
The event will end with another Sanskrit shloka, composed by Adi Sankara -- sarve bhavantu sukhinah... (May all become happy, may all be free from illness, may all see what is auspicious, may none suffer).
Those associated with the planning say none of these prayers had any religious connotations but spoke the universal language of peace and harmony. The two prayers are also inscribed in Parliament, and are the opening and closing prayers at RSS meetings, although not its shakhas.
The first is called the 'sangathana mantra' and the second the 'kalyan mantra'.
Image: People take part in a group yoga practice at the Grand Palais in Paris. Photograph: Benoit Tessier/Reuters