Sonelal claims the snake bit him and this enraged him so much that he snapped the snake's head off with his teeth.
Virendra Singh Rawat reports.
Illustration: Uttam Ghosh/Rediff.com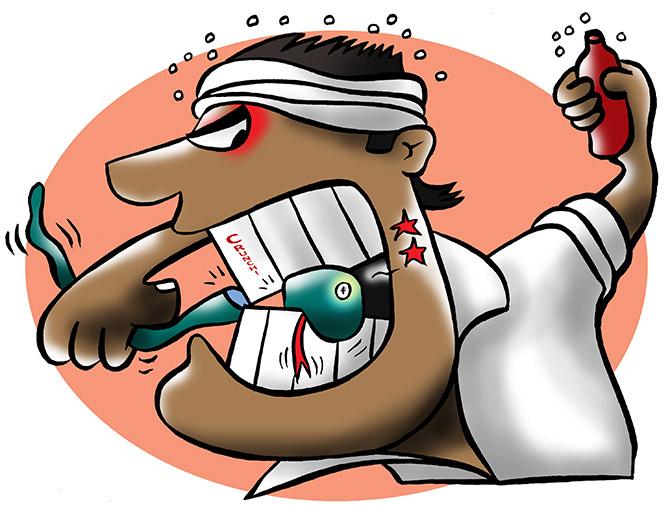 Fascinating tales never cease to emerge from the mysterious backwaters of Uttar Pradesh.
The latest addition to the genre is about a wiry-framed man who claimed to have killed a snake by biting its head off in a fit of anger. He was angry because it bit him, he says.
Sonelal, a 45-year-old farmer in Shuklapur Bhagat village in Hardoi district, was outdoors when he encountered the snake.
Sonelal claims that the snake bit him and this enraged him so much that in a quick reflex action, he snapped the snake's head off with his teeth.
Sonelal then allegedly fell to the ground unconscious, after which his worried family rushed him to the nearest community health centre in Madhoganj block at the government-run emergency ambulance service around 7 pm.
In hospital, Sonelal was administered emergency first aid and kept under observation for the next three hours. However, Dr Mahendra Verma, who attended on him, said no snake bite marks or injuries were found in a full body examination.
"We could not find any snake bite marks on his body, yet he was given life support treatment on arrival. Sonelal regained consciousness after some time and when asked, he claimed that he had eaten the snake's head after the reptile bit him," Verma said.
The doctor said Sonelal was actually under the influence of alcohol when he was brought to hospital.
"Since he was intoxicated, Sonelal could not give details about the incident. He was discharged when his condition improved."
Now, reports are circulating that the snake was in fact a non-venomous, small python.
A local journalist said most men in Sonelal's village consume hooch, said to be highly toxic, and inducive of psychotic behaviour.
"If a person consumes excessive liquor, especially hooch, he is bound to exhibit psychotic features, which could manifest in sudden angry outbursts and whimsical behaviour," said Verma.
This is not the first such instance that has come to light in Uttar Pradesh or elsewhere in the country.
There are regular incidents reported in the media of people taking strange steps either in self-defence, out of anger or propelled by some deeply held beliefs or superstitions.
Mental health expert Dr S C Tiwari of the King George's Medical University, Lucknow, said a traditional prescription of biting off a snake's head if bitten does exist -- the belief is that this will mitigate the effect of the bite.
This could have been the reason that prompted Sonelal to act as he did, he noted.
"It's also possible that Sonelal apprehended danger from an approaching snake and decided to pre-empt getting bitten by biting off its head, Dr Tiwari said.
If Sonelal was already intoxicated at that time, Dr Tiwari said, he was probably in a state of "altered sensorium" -- a semi-conscious state in which one is unable to comprehend situations and actions.
Sonelal's gruesome act has gone viral on social media with footage of the dead snake, his village and the doctor attending on him being shared profusely.
Clearly, there's no news like horrific news.