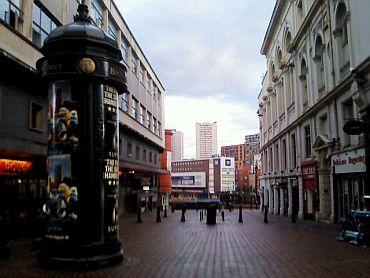 Bikash Mohapatra strolls through the deserted streets of Birmingham, as it very slowly comes into terms with violent riots and lootings that rocked the city earlier this week.
Three days following that fateful Monday, the effect was still apparent in Birmingham.
The City Centre wore a deserted look.
Not a single shop was open. The debris (following the damage) had been cleared. Few people could be seen in the area which continued to remain heavily guarded.
There were cops in every nook and corner. Some were conversing. Others kept patrolling the area.
Almost all were in groups of two, spread across the whole.
The area had on Monday witnessed a violent mob and mass looting. Perhaps an aftermath of the London riots, maybe opportunism. Tuesday had been no better.
The atmosphere had remained tense. Besides there were three deaths, leading to the father of one killed appealing for peace.
By Wednesday the area had been completely cordoned off. The danger had abated to a considerable extent. The police, however, didn't want to take any chances.
Thursday was no different. There were a few restaurants that were open. But that was just about it.
Looking for a particular restaurant, I bumped into John Barstow, one of the officers in charge. He was happy to help, himself taking help from the GPRS.
"A brisk 10-minute walk, first straight and then the fourth left" he smiled. I asked if any shop would be open. The reply came in the negative.
"The shops have been asked to close early. They would open only tomorrow morning," he said. Most of the shops in the area generally close before 6 pm (local time). An earlier shut down was just a precautionary measure. Things were coming back to normal, said the officer.
"It's been quite in most areas today save a few minor incidents. Things should be okay soon," he added with a smile, before trudging off with his colleague.
As I continued walking towards the restaurant, the silence kept ringing in my ears. The most crowded area of the city was anything but crowded following what had happened.
The positivity though came from the fact that a senior colleague, with whom I had dinner this evening, walked back to his hotel, less than a kilometer away.
The evening before, he had opted to take a cab.
Image: Bikash Mohapatra/Rediff.com