It's been four days since media honcho Indrani Mukerjea has been arrested for the murder of her daughter Sheena Bora. Police are unearthing the murky details and uncovering the lies that went to hide the murder for the last three years.
Here are the latest updates in the case.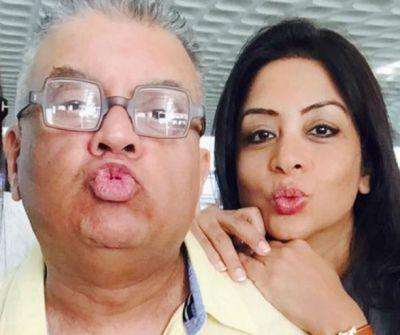 1) Former Star TV CEO Peter Mukerjea, husband of Sheena Bora's murder accused Indrani Mukerjea, on Friday reached Khar police station for being questioned in connection with murder case.
He gave a written statement to the police and it is likely that he will be called in again for interrogation.
Headlines Today says Peter was told to 'confront' Indrani at the police station -- sit face-to-face -- and answer questions put to them jointly. But Peter refused to do so and left the police station within 30 minutes. It is believed Peter is taking legal advise.
---
2) In an exclusive interview to India Today, Vir Sanghvi, who worked as CEO in INX Media, came out with some interesting details about the Mukerjeas. Sanghvi described Indrani as an obsessive woman who wanted people to 'fear her'.
Talking about the couple, Sanghvi, a noted journalist, said that the Mukerjeas were called 'Bunty and Babli but now they could be called Bonnie and Clyde'.
-----
3) Mumbai Police Commissioner Rakesh Maria will be interrogating all three accused in custody -- Indrani Mukerjea, her ex-husband Sanjeev Khanna and the driver Shyam Manohar Rai – together.
Mumbai top cop Rakesh Maria, who is heading the investigation, is believed to have grilled Indrani for over nine hours in the last two days, but she revealed little.
-------
4) Helping put the pieces together to solve the alleged murder mystery of Sheena Bora, the JJ Hospital in Mumbai has handed over the bones and teeth samples that it received in May 2012 to the police.
"We today handed over samples of bones, teeth that we revived from Pen police on May 25, 2012. JJ Hospital had sent its report on samples in December 2012," Dean of JJ Hospital Dr Lahane said.
----
5) CNN-IBN quoting police sources reported that the individual who forged Sheena Bora's signature in letters to her landlord and workplace is an employee of Indrani Mukerjea and has admitted to doing so.
----
6) NDTV reports that body parts have been found from the spot in Raigad where Sheena Bora's body was dumped in 2012.
If the remains are established as Sheena's, the police will have a strong case against Indrani Mukerjea, step-father Sanjeev Khanna and Indrani's driver.
The case around Sheena's murder in 2012 currently revolves around statements by Indrani and the driver.

Half-burnt remains of Sheena's body in a suitcase were found a month after the murder on April 24, 2012, but in a glaring lapse in procedure, the local police allegedly dismissed the body as unclaimed and did not conduct a forensic examination.
----
7) Sanjeev Khanna, the ex-husband of Indrani Mukerjea, has been sent to police custody till August 31. He was produced before a court in Bandra on Friday.
Sanjeev Khanna, ex-husband of Indrani Mukerjea, admits he was "in the car when Sheena Bora was kidnapped but later dozed off".
The police learnt of Sheena's murder from Indrani's driver, Shyam Manohar Rai, 43, who spilled the beans when he was arrested on August 21 in connection with an illegal arms case.
During interrogation, Rai cracked and confessed to several other crimes, including the murder of Sheena. The Vakola resident told the police that he and Indrani, along with Sanjeev Khanna murdered Sheena and dumped her body near a farmhouse in Raigad. The driver, Rai, said Indrani was the mastermind of the whole crime.
-----
8) The Mumbai police identified the DNA sample of the body which is supposedly Sheena Bora's, as sent by Raigad police, according to ANI.
The sample will now be matched with Indrani Mukerjea and her husband's DNAs. Indrani's lawyers filed application in Bandra court on Friday to meet her during investigation and give her home-cooked food and fresh clothes.
----
9) And as if this case didn't have enough of twists and turns, here another. Zee TV reports that Sheena was allegedly pregnant when she was murdered. Reports claim that Sheena was few months pregnant with the baby of a person who was very close to Indrani. The man is said to have spent some intimate time with Sheena in Thailand. Initially, Indrani was unaware of the fact; however, later she got to know and confronted the person, who admitted to the relationship.
---
10) Sheena's brother has arrived in Mumbai from Guwahati on Friday where he may be quizzed by the police. Mikhail had earlier told the media that he has evidence on the murder of Sheena. He also told newsmen outside the house, where he lives with his maternal grandparents in Guwahati, that he feared he would be the next target.
Meanwhile, a local court on Friday allowed the application filed by the lawyer of Indrani, seeking permission to meet her.
Indrani's lawyer had moved the court on Thursday saying that police were not allowing her lawyers to meet her. The Bandra court, while allowing the application, directed the police to follow the guidelines framed by the apex court on the rights of the accused.
Mukerjea's lawyer Gunjan Mangala had told the court that when the lawyers went to meet her, the police denied the permission repeatedly.
---------
11) Late, on Thursday night, Mumbai Police Commissioner Rakesh Maria said the police have a fair idea of the motive behind the murder of Sheena Bora but declined to elaborate saying the "third accused" (Sanjeev Khanna) was yet to be interrogated.
"We have a fair idea of the motive of the murder. However, the third accused (Khanna, a former husband of Sheena's mother Indrani Mukherjea) is yet to reach Mumbai and to be interrogated. Only then, we will be able to tell you about the motive," Maria told the media.
------
12) Speaking to the media, Peter Mukerjea, the husband of the accused, Indrani, also revealed that he was informed that Sheena was Indrani's daughter by his son Rahul. However, he told the media that he had believed his wife when she said that claims of Sheena being her daughter were untrue and that Sheena was, in fact, Indrani's sister.
----
13) Upendra Kumar Bora, father of Indrani Mukherjea, too disputed his daughter's claim that murdered Sheena Bora was his daughter.
"She is not my daughter. I am her grandfather," 80-year-old Bora, whose name was said to have been given by Indrani as father in the birth certificate of Sheena (who was born in February, 1989).
He named Sheena's father as one Siddarth Das.
Asked if there was another person in Shillong who is believed to be the biological father of the murdered girl, Upen Bora said "that needs to be explored".