With the Apollo Hospitals chairman saying that she has recovered, the party can go back to business as usual.
T E Narasimhan and Gireesh Babu report from Chennai.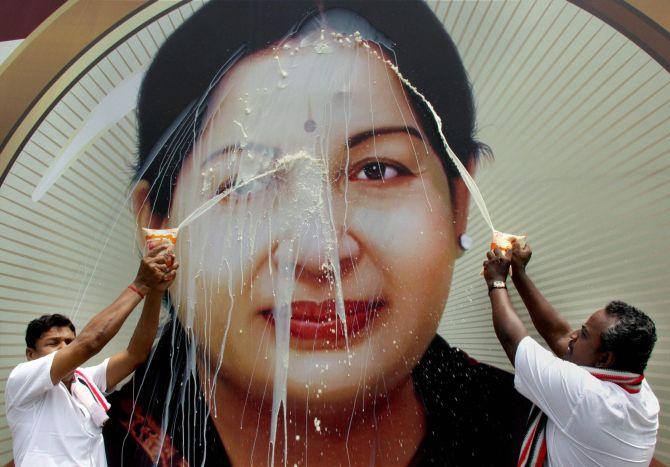 Tamil Nadu Chief Minister J Jayalalithaa has 'completely recovered.' This statement from Apollo Hospitals Chairman Prathap C Reddy sent a wave of cheer among her supporters, many of whom have been camping outside the hospital off the busy Greams Road in Chennai since Amma, as she is popularly known, was rushed there on September 22 with complaints of fever and dehydration. She was later put on respiratory support.
Reddy said it's now for Jayalalithaa to decide when she would like to go home from the hospital, which has for the last month-and-a-half turned into a mini-secretariat of sorts.
It was late in the evening when Jayalalithaa was taken to hospital. The next morning, the narrow road leading up to it was choked with hundreds of her followers, forcing the police to divert vehicles to other roads.
For patients coming to the hospital, their misery was compounded by the high security they had to get past. All vehicles were stopped at the main gate and only a select few, those of doctors, hospital employees and those with permission, were allowed inside. Most had to get off their auto-rickshaws, taxis or cars and walk to the main hospital building.
Only ambulances and battery cars (golf carts) deployed by the hospital for those who were too unwell to walk were allowed inside the premises. They would drop the patients and leave.
Seeing the plight of patients, who were forced to walk up to half a kilometre to reach the main road from where they could get a bus or an auto-rickshaw, G Sukumar, an auto-rickshaw driver who practically worships Jayalalithaa began ferrying them free of cost.
He would take them wherever they needed to go -- even to the Chennai central railway station -- without charging a rupee. He says it is his devotion towards Amma that is encouraging him to do this. He claims to have spent around Rs 45,000 on these free rides for patients.
Sukumar started this free service after about six days of the 'Puratchi Thalaivi"' (revolutionary leader), as many refer to Jayalalithaa as, being hospitalised.
There have been reports, which the hospital has denied, that given the inconvenience patients have been facing, many have since opted to go to other hospitals. A local journal reported that many of the foreigners for medical tourism have also moved to other hospitals.
Apollo Hospitals has, meanwhile, issued a statement that it is functioning normally.
For Jayalalithaa's supporters, the past month has been spent in prayers. Several supporters and workers of her party, the All India Anna Dravida Munnetra Kazhagam, have organised mass prayers and carried out rituals like mann soru (eating food off the ground) for her speedy recovery.
Others have been offering pots of milk at temples. Many have got their cheeks and backs pierced with spears and hooks for the well-being of the 68-year-old leader.
As the news of her health remained evasive, anxiety among her supporters grew. And the rumour mill went into an overdrive, especially on social media, with speculation about her condition.
Meanwhile, the government is being practically run from the hospital.
In 2011, as chief minister, Jayalalithaa had announced the decision to turn the new secretariat complex, built at a cost of Rs 1,200 crore (Rs 12 billion) by the previous Dravida Munnetra Kazhagam regime led by M Karunanidhi, into a multi-super specialty hospital-cum-medical college.
Now, in an ironic turn of events, a hospital has become a secretariat.
The most glaring image that Jayalalithaa still called the shots, even if in absentia, appeared on October 20, when her trusted aide, O Panneerselvam, held a cabinet meeting with her picture placed in front of him on the table.
Within a week of her hospitalisation, it was announced that the local body elections would be held in the state on October 17 and 18. Her party came out with the list of candidates and a message in a voice that appeared to be of Jayalalithaa urging people to vote for AIADMK.
The question everybody sought an answer to was: Who was running the government?
A public interest litigation was filed in the Madras high court seeking information about Jayalalithaa's health.
At this point, Tamil Nadu Governor Chennamaneni Vidyasagar Rao visited the hospital and then issued a statement that the chief minister's health was improving.
Since her hospitalisation, all cabinet ministers and top bureaucrats have been camping at the hospital. All major decisions, including issues related to the Cauvery waters, were taken by her or as advised by her, party leaders said.
On September 27, he AIADMK said that after discussing the Cauvery water row, she had also dictated her speech to be read out by Chief Secretary P Rama Mohan Rao at the meeting of the executive heads of Tamil Nadu and Karnataka, and a day later, had also announced a bonus for the state's public sector undertaking employees.
Later, she is also said to have cleared the names of the AIADMK candidates for the local body elections, discussed the Goods and Services Tax and the idea of handing over her portfolios to Panneerselvam.
Besides this, she also approved the garlanding of M G Ramachandran's statue on October 17, the day he founded the AIADMK 44 years ago.
'This arrangement (to hand over Jayalalithaa's portfolios to Panneerselvam) has been made according to the advice of the chief minister and will continue until Jayalalithaa resumes her duties,' the governor said in a statement.
Following this, various ministers conducted review meetings of their departments and even announced the decisions related to their ministries, 'under the guidance of Jayalalithaa.'
"All major decisions were taken after Amma's approval. Without her approval, nothing will be finalised. She is our leader, she will continue to be our leader and the chief minister of the state," said C R Saraswarthi, the AIADMK spokesperson.
The police, meanwhile, swung into action and at least 43 cases were filed for 'false posts' on social media about Jayalalithaa's health. Some were put behind bars. There had earlier been rumours that the day-to-day decisions were being taken by Jayalalithaa's advisor, a 1976 batch IAS officer, Sheela Balakrishnan.
Other names like those of Jayalalithaa's secretary, M Sheela Priya and her longtime friend Sasikala Natarajan had also cropped up.
Since September 22, the hospital has seen several top politicians like BJP National President Amit Shah, Finance Minister Arun Jaitley, Congress Vice-President Rahul Gandhi, the Kerala and Puducherry governors and chief ministers, ministers from various states, including Jammu and Kashmir, West Bengal, Odisha, Uttar Pradesh and Rajasthan coming to visit Jayalalithaa.
Andhra Pradesh Chief Minister N Chandrababu Naidu also enquired about her health and requested the administrator of the Balaji Temple at Tirupati to send laddoos and srivari prasadam to her, after prayers for her speedy recovery.
Mukesh Ambani's wife Nita Ambani and Gautam Adani's son Karan Adani also visited the hospital.
But none of them could reportedly meet Jayalalithaa and were instead given an update about her health by senior AIADMK leaders camping in the hospital.
Now, with the Apollo Hospitals chairman saying that she has recovered, her supporters are overjoyed. The party can go back to business as usual.
And patients coming to Apollo can heave a sigh of relief.
IMAGE: All India Anna Dravida Munnetra Kazhagam supporters perform milk abhishekam on a poster of AIADMK General Secretary and Chief Minister J Jayalalithaa in Madurai. Photograph: PTI