'Hundreds of engineers have complained that they are being threatened by criminals for allotment of contracts and extortion.'
M I Khan reports from Patna.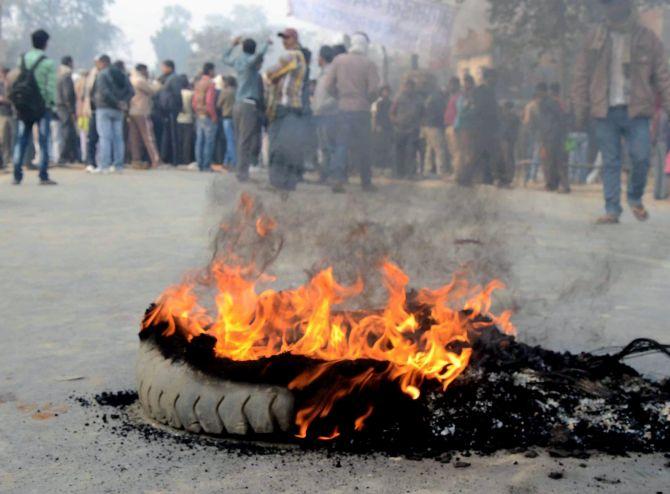 IMAGE: Angry demonstrations after the recent murders of engineers in Bihar. Photograph: PTI
The fear of rangdari or protection money rackets conducted by local gangsters and state-based Maoists has returned to haunt businessmen, traders, doctors, contractors and construction companies engaged in infrastructure development projects in Bihar.
A road construction company was threatened this week and asked to pay Rs 25 lakh (Rs 2.5 million) in Sitamarhi district.
Rajesh Ram, the munshi of the Bhawani construction company, which is engaged in road construction in Sonbarsa in Sitamarhi, has lodged a first information report, FIR, about the extortion demand and sought security.
Ram told local police officers that the criminals had threatened to kill company staff if they were not paid.
Again this week, Vikash Kumar, the owner of Ramdas Jewellers in Bakhtiyarpur, Patna district, was threatened with dire consequences if he did not pay Rs 20 lakh (Rs 2 million) to the extortionists.
Sensing the fear among the entrepreneurial community in Bihar, Chief Minister Nitish Kumar and Deputy Chief Minister Tejaswi Yadav have provided assurances that the state government will provide security to individuals and projects and not spare or shield any criminals and law breakers.
The extortion threats pose a major challenge for the two-month-young government of the grand alliance of the Janata Dal-United, the Rashtriya Janata Dal and the Congress party led by Nitish Kumar, who has repeatedly stated that that the 'rule of law' prevails in Bihar.
The reality on the ground is very different.
In the last one-and-a-half months, newspaper reports indicate a spurt in extortion-related crimes, particularly the demand for protection money and murder upon refusal.
Dozens of cases of extortion threats went unnoticed in Bihar till the killing of two engineers employed at a road construction company in Darbhanga district on December 26 hit the headlines.
Then jeweller Ravikant Prasad was killed in Patna, the state capital, on Saturday, January 16.
Prasad was shot dead in broad daylight in Patna after he reportedly refused to pay rangdari to notorious gangster Durgesh Sharma, who has been absconding since 2011, accused of several murders and other serious crimes.
Prasad was the owner of Sonali Jewellery, located in one of the busiest areas in Patna, and his murder drove fear into the hearts of the local trading community. Tragically, Prasad's father Sidheshwar Prasad died of a heart attack a day after his son was murdered.
Although the Patna police have arrested nine criminals involved in the killing, Durgesh Sharma is still on the lam. Sharma, the police say, is constructing an apartment in Patna funded by the extortion money he has collected over the years.
Patna Senior Superintendent of Police Manu Maharaj says a proposal to seize Sharma's property will be sent to the state police's economic offence unit.
Doctors are soft targets for Bihar's extortionists. Dr Rani Devnath of Patna received a rangdari demand for Rs 500,000 on Monday, January 18, and was threatened with dire consequences if he refused to comply.
Another doctor Vivekanand Jha of Hajipur was threatened and his house was fired at when he refused to pay earlier this month. Dr Prem Pushp Lohia of Sitamarhi district was attacked in December after he failed to pay up rangdari to a local gang.
"Doctors are threatened to pay rangdari by criminals across the state, but hardly a few come forward to inform the police," says Dr Sachidanand Kumar Singh, president of the Indian Medical Association's Bihar unit.
Maoists have also put pressure on road construction companies and contractors. Armed Maoists created panic when they burnt down six machines including earth movers in Gaya district.
With the opposition Bharatiya Janata Party and its allies attacking him over the deterioration in law and order, Nitish Kumar insists Biharis need not be scared as his government is committed to maintain law and order.
'The government has launched a sustained campaign against organised crime,' Nitish Kumar said, acknowledging that his government had prioritised the investigation of the murders of the two engineers in Darbhanga.
Jailed gangster Santosh Jha's gang was allegedly behind the murder of the two engineers who worked for the Gurgaon based BSC-C&C Joint Venture Ltd in Darbhanga.
The police have arrested Jha's sister Munni Devi and her husband Sanjay Lal Dev for the crime.
The Indian Engineers Association has demanded a judicial inquiry into Bihar's organised gangs patronised by politicians and asked for the creation of a security force for on site protection to engineers working on development projects in Bihar.
"We have demanded that the government take stern action against the concerned DM (district magistrate) and SP (superintendent of police) who failed to provide security to the engineers working at the Darbhanga construction site," says IAE convenor Prabhu Shankar Maharaj.
The IAE feels rising extortion threats could impact development projects in the state.
"Hundreds of engineers have complained in private that they are being threatened by criminals for allotment of contracts and extortion. But they are not coming out in the open because of fear," says the IAE.
Industry organisations have urged Nitish Kumar to initiate immediate steps to check the deteriorating law and order situation in Bihar.
'Any compromise on governance will spell disaster for Bihar,' Satyajit Singh, who head a state industry organisation, said in a letter to the chief minister.
'The bad news is coming almost from all areas of Bihar and disturbing the common people as well as the people engaged in the infrastructure, trade and industry sector. There is urgent need to address law and order issues which is the USP of your governance model as well as the prime responsibility of the state towards its citizens,' Satyajit Singh said in his letter to Nitish Kumar.
After officials of over a dozen construction companies -- including Gammon India, Chadha and Chadha, Navyuga, SP Singla -- engaged in mega projects in the state, expressed concern over the rise in extortion threats, Deputy Chief Minister Tejaswi Yadav promised them he would visit project sites from time to time to make sure that all hindrances in work are removed at the earliest.
The Visakhapatnam-based Navayuga Engineering Company Ltd, which is constructing the Ganga Expressway in Patna, had sought security fearing a threat to its employees following the murders in Darbhanga.
Tejaswi Yadav, who also heads the road construction department, assured managers of the construction companies full security for their projects. He asked them to get in touch with DMs and SPs in their areas of operation and seek their help in the event of any threat perception.
'In case of any laxity on the part of the DMs and SPs,' Tejaswi Yadav added, 'you can approach the principal secretary of the department and me as well for any law and order related issue.'