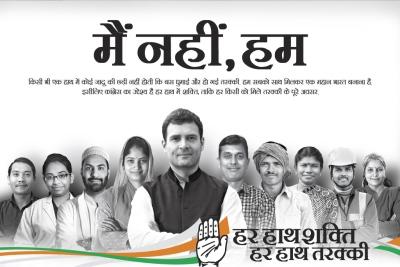 Arun Jaitley wonders why the Congress party's election advertising is centered around Rahul Gandhi
The 2014 general elections are about three months away. The election will be spread over several phases. The current expectation is that with the election notification, the campaign would pick up towards the end of March and would continue through April and May 2014.
Curiously, the Congress Party's poll advertisements in print, on TV and outdoor have started appearing from January onwards. Election advertising is a costly affair. Besides the normal cost of advertising, several mediums place an election premium on the rates of advertisements. The rates therefore multiply manifolds. The normal practice has been that with the filing of nomination papers, advertisement starts and picks up during the two weeks permitted for campaigning.
Obviously, the Congress has earmarked a huge budget for advertising, if advertising is spread over four months. Besides the volume of proposed advertising, the content of the message is curious. Ostensibly, the party has decided not to have a prime ministerial candidate.
Effectively, the campaign is centered around one person, who is the Congress's 'candidate in purdah'. In the campaign that has appeared so far, there is no mention of the present prime minister. There is no mention of the performance of the United Progressive Alliance government.
It has not even a mention of the Congress president. The entire campaign is centered around Rahul Gandhi. However, Rahul is a non candidate for prime ministership (since the party has no official candidate). Why is it that the campaign is centered around him?
The answer to this is apparent. The Congress does not want to admit that it is officially projecting Rahul as the prime ministerial candidate. An adverse result may make him accountable. It is therefore attempting an alternative strategy of having a de facto candidate rather than a de jure candidate.
A positive result will be credited to Rahul and a negative result will be debited to the Congress.
The party had a few days ago denied that it has earmarked a huge sum of money for image management of Rahul. It now appears that the denial was a phony one. Can an image be built up merely by advertising which is not commensurate with the performance of the candidate sought to be projected?
There are leaders who appear good only when the going is good. In an adverse situation they collapse like a house of cards. Advertising can market a marketable product, not otherwise.