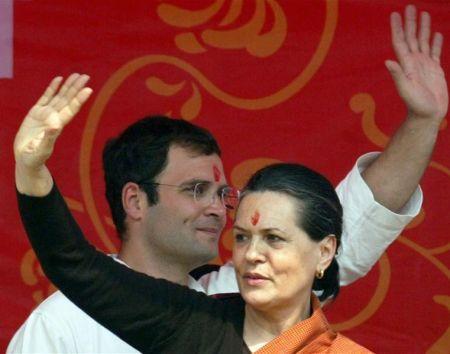 After Bihar elections, Rahul Gandhi's go-it-alone strategy seems to have taken a back seat, reports Kavita Chowdhury
After the Bihar verdict and in the midst of the winter session of Parliament, the Congress has realised the wisdom of the old adage: "There is always strength in numbers." Reduced to its lowest numerical strength in the 2014 polls with 44 Lok Sabha members, the party has over 18 months accepted that it needs to work with other opposition parties to take on the government.
Party president Sonia Gandhi played her cards well in the monsoon session, reaching to opposition party leaders individually and successfully managed to stop the government's attempts to push through the land bill. Bumping into Mamata Banerjee in the Central Hall of Parliament, Gandhi greeted the Trinamool Congress chief warmly and praised her, saying she has learnt the fighting spirit from the West Bengal chief minister. Again, on November 11, Gandhi messaged Banerjee at 5.30 pm from her personal phone, conveying Diwali greetings, to which Banerjee immediately reciprocated.
The realisation of the merits of a united front has dawned on the party, especially after the recent landslide victory of the Grand Alliance, in Bihar. Despite being a junior partner, the Congress succeeded in winning 27 seats, nearly seven times its earlier strength of four, leading to a re-calibration within the party leadership and its attitude to coalition politics.
Till some time ago, Congress vice-president Rahul Gandhi was opposed to alliances and gave an "ekla cholo (go it alone)", eager to revive the organisational strength in states where it had been wiped out. However, its solo outing resulting in naught in several states left the vice-president stumped. Now basking in the glory of "having brought Lalu Prasad and Nitish Kumar together", Rahul Gandhi himself is open to the idea of alliances as the Congress braces for elections to several state assemblies in 2016.

What this effectively means is a turnaround for the Grand Old Party from its Pachmarhi resolution of 1998 to shun alliances and work towards establishing a single-party rule. That is not to say the party had shied away from alliances; in 2004, it had got together even with the Left in the first avatar of the United Progressive Alliance and stitched an umbrella coalition of 14 parties. The UPA's first stint was succeeded by another coalition with several old and new partners, including the temperamental TMC on board.

However, it's a big reality check for the Congress, which till as late as 2012, derided the "pressure of coalition politics". The telecom scam saw Dravida Munnetra Kazhagam ministers in the government give the UPA the label of being scam-tainted. When Banerjee had dug in her heels over not allowing foreign direct investment in retail, it left the Congress red-faced. Then finance minister Pranab Mukherjee had said coalitions had hampered the pace of reforms.

With Assam, Kerala, Tamil Nadu, West Bengal and Puducherry going to polls next year, Rahul Gandhi has started holding meetings with state leaders in the capital.

Speculation is rife that the Congress could even be contemplating a coalition partner for Uttar Pradesh for 2017 but for now, the party is scotching such rumours. Rahul Gandhi is conducting padayatras there to create a toehold in a state where regional parties - the Samajwadi Party and the Bahujan Samaj Party -- rule the roost, with the Bharatiya Janata Party a close contender.

For now, it is training its energies on Assam. With three-term Chief Minister Tarun Gogoi at the helm, the party has its back against the wall in the run-up to polls in the state. Hampered by anti-incumbency and the organisation weakened by the exit of Himanta Biswa Sarma to the BJP, with several young leaders in tow, the Congress is aware of the challenge it is up against. The successful Bihar example of projecting the development work of the Nitish Kumar regime, party sources indicate, has appealed to the Congress. Gogoi himself is keen to engage the services of someone like Prashant Kishor, who helped script that victory, to chart political strategy.

Not too long ago, Gogoi had dismissed Badruddin Ajmal and his All India United Democratic Front as "communal". However, after the Bihar poll results, Gogoi was quoted as saying, "I am not for a 'maha-jot' as they had in Bihar. Instead, I would go for a 'maha-understanding' among all anti-BJP parties in the Assam polls. I appeal to all parties, including the AGP, AIUDF, CPI and Communist Party of India-Marxist to join this platform."

In West Bengal, a strongly-entrenched TMC has left political opponents far behind. While there is no question of aligning forces with the BJP in the state, the Congress is open to an "understanding" with the Left in the state. "Although it might be difficult for us to have an overt and open alliance with the CPI-M, given the fact that we are pitted against them in Kerala, we could go for a covert understanding with them to contain the TMC," said a senior Congress leader. Asked about the prospects of such a move, CPI-M chief Sitaram Yechury reportedly said he was not averse to it.

The Congress is on a weak wicket in Kerala where the ruling United Democratic Front headed by the party received a setback in the recent civic polls, the CPI-M-led Left Democratic Front making massive gains. Internal problems within the Oommen Chandy government have even Congress leaders from Kerala admitting the prospects for the party look bleak, while that of the LDF are bright.

In Tamil Nadu, the Congress is open to an alliance with the DMK. The latter is looking for allies and has sent early feelers to the Congress to stand up against Chief Minister J Jayalalithaa and her All India Anna Dravida Munnetra Kazhagam.

Asked if there had been a re-think in the party about its "ekla cholo" policy, All India Congress Committee general secretary P C Chacko said, "We are not averse to the idea of having a mahagatbandhan (grand alliance). However, things will depend on the situation in a given state."