Fear of Sheena Bora inheriting the entire property of her and her husband in the event of the victim's marriage to Peter Mukerjea's son Rahul is said to be the prime motive for Indrani Mukerjea to do away with her daughter, according to the Central Bureau of Investigation chargesheet in the sensational case.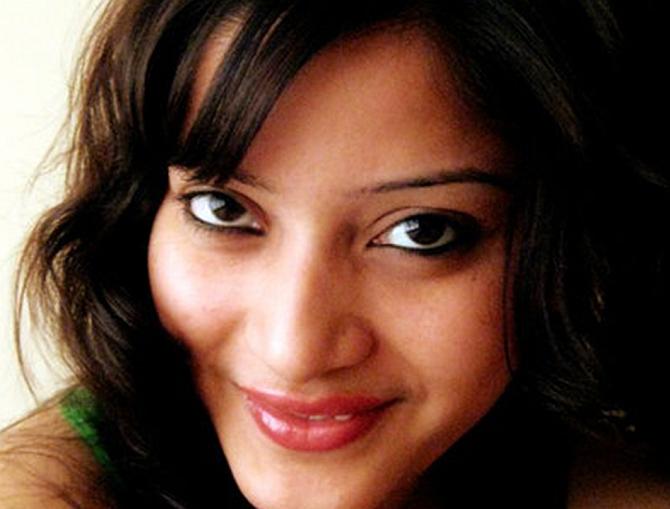 Indrani, who has a soft corner for Vidhie, her daughter with former husband Sanjeev Khanna, feared that the entire property might go to Sheena and Rahul if they were married, the chargesheet said, adding, "In this context, she planned a conspiracy with Khanna and her driver Shyam Rai to kill Sheena Bora."
The CBI, which arrested Peter Mukerjea on Thursday, told the court of Metropolitan Magistrate in Mumbai on Friday that he was
allegedly involved in the conspiracy with his wife Indrani and had played an active role in the commission of the offence and
also misled his son Rahul to hide the fact that Sheena was murdered.
The central probe agency, represented by Additional Solicitor General Anil Singh, also told the court that Peter was in continuous conversation with Indrani prior, during and after the gruesome murder of Sheena, who was Indrani's daughter from her first marriage.
There was a dispute between Sheena and Indrani, and Peter had acted as a mediator, Singh told the court.
Singh said that Rahul and Sheena were about to get married and "After that she (Sheena) could have got a share of property. And they (CBI) are looking into this (angle)."
The probe agency also said that (when) Peter and Indrani returned separately (from the US) they were constantly in touch with each other, which was not normal at other times.
"Though Peter was abroad, telephone conversation during 2/3 days around the crime lasted 20 to 25 minutes each time," Singh told the court.
Also, Sheena's mobile and ATM cards are missing, he told the court.
The agency told the court that Rahul had recorded his conversation with Peter in which his father told him that he has spoken to Sheena and she was in the US.
The CBI also sought 14 days of custody of Peter arguing he has "multiple bases" like Mumbai, Kolkata, Guwahati, Shillong and abroad. The court, however, granted the agency the custody of Peter till November 23.
"Peter made no effort to trace Sheena's whereabouts and misled Rahul", Singh told the court.
According to the chargesheet, Indrani had told Sheena and Mikhail that nobody should learn that they were her own children as it would affect her business and her reputation.
She promised to take care of their educational and other expenses and bring them to Mumbai for education on the condition that they address her as sister in public. Sheena and Mikhail agreed as they had no other alternative, it said.
Rahul met Sheena at Peter's house and the friendship grew into love. In 2008, Sheena told Rahul that she was in fact Indrani's daughter, the chargesheet says.
Indrani was not happy with the love affair and quarreled with Sheena. She also sent Sheena to Guwahati and later, Delhi.
When Sheena fell ill in Delhi, Indrani called Sheena's former boyfriend, Kaustubh Saikia, and asked him to take her to Bengaluru. Rahul came to know of this; he visited her in Bengaluru and found that the medicines given by Indrani to Sheena were sedatives meant for mental illness, it says.
Sheena wrote to Peter that her problem was Indrani.
"You could make Indrani Mukerjea understand that bad-mouthing me or Rahul won't solve anything," she wrote.
Indrani made every effort to end Sheena's relationship with Rahul and threatened Sheena that she would disinherit her of their ancestral property in Guwahati, the chargesheet says.
After Rahul and Sheena's engagement in October 2011, Indrani sent an email to Mikhail (which he forwarded to Sheena).
"...we have changed the will (in which Indrani had bequeathed flat in Delhi to Sheena) and disinherited you... as a sign of our disapproval of your relationship with Rahul... don't contact us till relationship with Rahul (continues)," the email said.
Sheena, in her reply, said she was happy and safe with Rahul.
"Shouldn't that be the most important things for parents... You did whatever gave you happiness in life. Even I deserve the same why are you upset because of it? I am your daughter. I have some of you in me I will find my way through and be just fine," she wrote.
Khanna entered into the conspiracy with Indrani as, after Sheena's death, his daughter Vidhie would have got all the property of Indrani and Peter, the chargesheet says.
"A will had also been executed by Peter and Indrani in favour of Vidhie in which she had been made legal heir of some properties," it says.
Shyamwar Rai received Rs 1.25 lakh from Indrani's secretary, and he (Rai) participated in "planning and killing... disposal of her body to destroy evidence", it states.
During the conspiracy, Indrani and Khanna spoke through Skype, an online video chat service. She also asked her secretary to open a Skype account for Rai and train him in using it. Then Indrani told Rai about the plan to kill Sheena and Mikhail.
Rai visited forests in Khopoli and Lonavala to find a spot for disposing of the bodies. Later, he took Indrani with him to finalise the place, and also purchased an empty 20-l can and two big-sized bags.
On April 24, 2012, Indrani invited Sheena to meet her for an 'engagement gift' and dinner.
The chargesheet says that Indrani also visited a chemist's shop and a wine shop that day, while Rai added a sedative in some water bottles. In the evening, Indrani and Rai went to Bandra where Khanna had arrived.
Meanwhile, Rahul visited Sheena at her office and took her to his house. From there they went to Bandra.
"Sheena Bora met Indrani at around 6.40 PM while Rahul went away. Indrani offered the spiked water bottle to Sheena," the chargesheet says.
Rai drove the car, Khanna was sitting beside him, while Indrani and Sheena were in the rear seat.
"When Sheena became drowsy, Rai stopped the car and Khanna came to the rear seat, Rai covered Sheena's mouth while Khanna pulled her hair and Indrani strangled her," says the chargesheet.
Sheena, putting up some resistance, had bit Rai's right thumb, the chargesheet says.
The car then moved towards Taj Land's End hotel in Bandra. Indrani said to Rai and Khanna that 'Sheena has got her three bedroom flat'.
The three then reached Indrani's flat in Worli.
Indrani drank liquor with Mikhail, who was there.
"She was concerned that even after consuming a lot of liquor, Mikhail was not getting unconscious. Khanna suggested they would see him later as it would be difficult to carry two bodies at two different places," says the chargesheet.
The next day, they disposed of Sheena's body in a Raigad forest.
When Rahul tried to contact Sheena on her mobile phone, he received a message (which Indrani had sent) that she was with Indrani and would return in the morning.
Later, Rahul received another message from Sheena's mobile phone saying that she wished to discontinue their relationship.
"Rahul grew suspicious of the responses when he tried to ascertain Sheena's whereabouts from her (Indrani). Indrani and Peter both were evasive and gave contradictory versions. Rahul was persistent in his enquiries and raised questions over their inconsistent responses and he started recording conversations with Peter and Indrani," the chargesheet says.