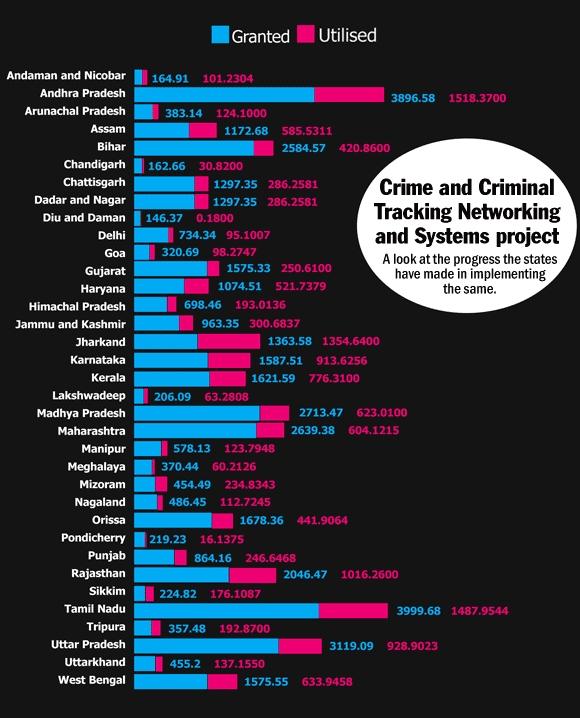 The Rs 2,000 crore Crime and Criminal Tracking Networking and Systems project, which was kickstarted to create a comprehensive and integrated system for enhancing the efficiency of policing by creating a nation-wide network, will be monitored weekly to ensure that this ambitious home ministry project is completed quickly. Vicky Nanjappa brings you the progress report.
The primary objectives of the CCTNS project were to make the police functioning citizen-friendly and transparent by automating the functioning of police stations.
The project is aimed at automating 14,000 police stations across the country. When the project was launched, P Chidambaram, the then home minister had said, "The police stations in the country are, today, virtually unconnected islands. Thanks to telephones and the wireless, and especially thanks to mobile phones, there is voice connectivity between the police station and senior officers, but that is about all."
"There is no system of data storage, sharing and access. There is no system under which two police stations can talk directly. There is no record of crimes or criminals that can be accessed by a station house officer, except the manual records relating to that police station," he had said.
And so, the CCTNS was born.
Let's take a look at the progress the states have made in implementing the same. So far, the Union government has released Rs 418.77 crore on the project in the eight installment, and the states and union territories have utilised Rs 147.21 crore.
A total of 5.3 lakh personnel have been trained as opposed to the target of 11.7 lakh. The home ministry now feels that there is an urgent need to monitor the progress of this project on a weekly basis.
Among the other objectives of this project as per the National Crimes Records Bureau are:
Improve delivery of citizen-centric services through effective usage of ICT.
Provide the police investigating officers with tools, technology and information to facilitate investigation of crime and detection of criminals.
Improve police functioning in various other areas such as law and order, traffic management etc.
Facilitate interaction and sharing of information among police stations, districts, state/UT headquarters and other police agencies.
Assist senior police officers in better management of police force
Keep track of the progress of cases, including in courts
Reduce manual and redundant records keeping
Each of the states has a nodal officer for this project, and the home ministry would remain directly in touch with this officer who will have to put out a progress report on a weekly basis.
An official pointed out that crimes committed today have inter-state ramifications and hence it is very important that police stations are networked.
"Once this system is completely in place, it would have a database of crime records of all police stations and one person sitting in Delhi would have access to the same on the basis of which alerts could be issued," he said.
First, each state has to connect its police stations and the same will then be interlinked with other states and the one main unit in New Delhi. Currently, the only states which are in the advanced stage of implementing this project are Karnataka, Goa, Tamil Nadu and Andhra Pradesh.
In addition to details of crime records, the servers would also be interlinked with other organisations which store, technical data bases, fingerprints and forensic details.
Once the system is in place, the need to make a formal request to a respective police station would not be required.
The database with all the antecedents of a criminal will be available and this would save time in nabbing him/her. In this age where fighting terrorists is so very important, this kind of a database would go a long way in fighting the menace.