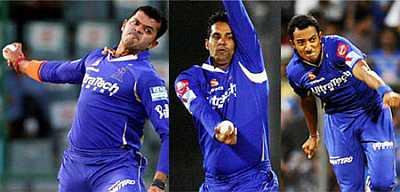 This mess is not limited to Sreesanth, Ajit Chandila and Ankeet Chavan, but has spread to include other, more famous and better connected names, both cricketers and non-cricketers.
If so, we may never unearth all the facts. But in all seriousness we have to ask if match-fixing in cricket truly deserves this level of attention, asks T V R Shenoy.
August-September is traditionally the 'Silly Season' for the English media. With parliament and the courts fleeing from London's wretched summers there is little hard news to report, meaning that stories that would otherwise be buried suddenly make the headlines.

India's summer, of course, begins far earlier than its English counterpart. Which means that our own 'Silly Season' is already in full swing. And this year we in the Indian media have received a bounty in the form of the Indian Premier League.

The mark of the 'Silly Season' is a lack of proportion, and we must return to this point later. Right now, let us focus on what we know.

Shanthakumaran Sreesanth. Ajit Chandila. Ankeet Chavan. Are they the 'Three Idiots' of Indian cricket? Or just the three scapegoats? Whichever it is, this drama cannot end with an 'All is well'.

Much of it simply does not add up. The illegal gambling market in India has been estimated at running into thousands of crores, and the Indian Premier League is supposedly a bonanza for bookies.
Are we really supposed to swallow that all this money is centred around the nefarious activities of two obscure Ranji-level cricketers plus Sreesanth?

Sreesanth played his last T-20 match in Indian colours at Melbourne on February 1, 2008, appeared in his last One Day International in the World Cup final, on April 2, 2011, and was last seen in a Test, against England, in August 2011.
He has not been central to Indian cricket for the better part of the past two years, and his age -- he turned thirty earlier this year -- was always against his making a comeback.

Does anyone believe that gamblers and bookers would be dealing in thousands of crores on games featuring Sreesanth and his teammates in the Rajasthan Royals team? This question can have three possible answers.

First, contrary to what everyone believes, the illegal gambling market in India is not worth thousands of crores, but is a fraction of that, a very small fraction.

Second, cricket gamblers bet not just on the Indian team and on Indian Premier League matches, but on every obscure first class match up and down the length of the country, possibly even on all the minor club-level encounters.
This may be true, but do these encounters attract enough of an audience to justify spending crores of rupees?

Third, this mess is not limited to Sreesanth, Ajit Chandila and Ankeet Chavan, but has spread to include other, more famous and better connected, names, both cricketers and non-cricketers. If so, we may never unearth all the facts.

Let us go back thirteen years in time, when allegations of fixing rocked Indian cricket. Many names popped up back then, but the two men who made the headlines were Mohammed Azharuddin and Hansie Cronje, and that made sense because they were not two obscure cricketers, but the captains of India and of South Africa respectively. Even Ajay Jadeja, whose name appeared in the scandal had captained India in a few One Day International matches.

The money at stake was small potatoes compared to the immense sums paid to cricketers in the Indian Premier League auctions. Cronje said that he had been offered $30,000 to lose a Test; there was also talk of $200,000 for the team if the South Africans lost a limited overs match.

To put those sums into perspective, in 2012 the Rajasthan Royals bought Sreesanth's services for an annual payment of $400,000. Obviously, inflation must have cut away at the value of the American greenback since the Cronje years in the 1990s, but it is still fair to say that Sreesanth's legal salary was far greater than the illegal amount offered to the entire South African XI. And by all accounts cricketers' incomes are dwarfed by the illegal gambling market.

Can we accept that only Sreesanth, Chandila and Chavan were involved in gambling running into hundreds, perhaps thousands, of crores?

Having mentioned Azharuddin and Jadeja, please recall that while the BCCI barred them from cricket -- a life ban in the case of the wristy Hyderabadi, five years for Jadeja -- the punishments were lifted by the Andhra Pradesh high court and the Delhi high court respectively.
It is anybody's guess whether the Delhi police can make a case in the courts, and whether those can stand the (inevitable) appeals in higher fora.

Please note that I do not disbelieve the Delhi police; all I say is that, until a judge pronounces a verdict, there will always be a question on whether accusations meet the burden of proof.

And finding such evidence may be hard unless the police forces in the various cities provide at least a semblance of cooperation.
Thus far, we have seen the Delhi police flying to Mumbai. Which was followed by the Mumbai police flying to Chennai. I suppose we shall now see the Chennai metropolitan police flying off to Kolkata, and so forth.
Meanwhile, there is news of the Delhi police and the Mumbai police having a tussle over security footage from the hotel in Mumbai where Sreesanth was staying while he was arrested.

This, as I said, is the Silly Season, and I do not begrudge the various police forces their fun and games. Nor would I deny (slightly bored) talking heads on television their impassioned calls for justice through a judicial commission of enquiry -- or the frenzied voices on the Internet demanding instant punishment.

But in all seriousness we have to ask if match-fixing in cricket truly deserves this level of attention?

The Supreme Court has asked for answers in the Coal Allotment Scam, and we still do not know the full details of what took place in the 2G Scam.
Their Lordships have also made it clear that the Central Bureau of Investigation should be free of ministerial interference. We have at least one chit fund scandal in West Bengal (and rumours of more), with no clarity on who is to regulate these non-banking financial organisations.
The Coal Allotment Scam, the 2G Scam, and all the other scandals are a bit far removed from the concerns of the ordinary Indian, as is the independence of the CBI (which, of course, is crucial to getting to the bottom of each of those crimes). But chit funds -- lotteries too -- directly affect the common man because he simply does not have the money to invest in mutual funds, leave alone the hedge funds that operate for the very wealthy.

We have a choice.

We can have an intelligent debate on the economy, the cost of the Food Security Bill, for instance. We can discuss operational freedom for the CBI and other such organisations. We can focus on getting to the bottom of the various scandals -- and the cover-ups that followed each. We can try to fix the shortage of water and electricity in the midst of a blazing summer.

Or we can discuss fixing in the Indian Premier League, and devote headlines to it for several weeks running.

Let us not choose the sillier option.
For more columns by Mr Shenoy, please click here.