At least 50 people have been killed after a gunman opened fire at the Mandalay Bay Casino in Las Vegas - the deadliest mass shooting in the history of United States.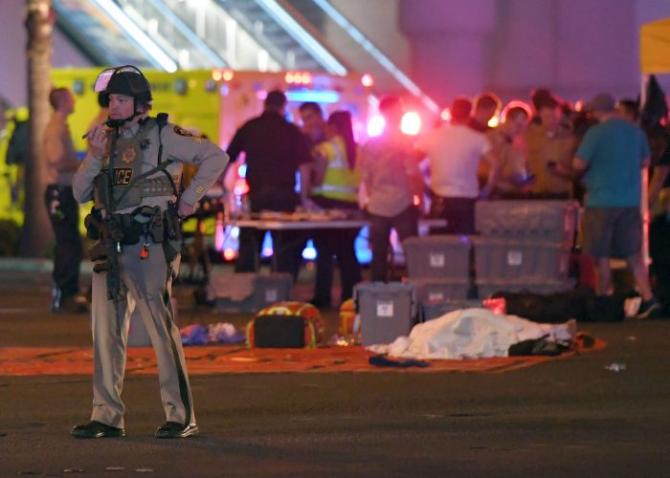 IMAGE: A Las Vegas Metropolitan Police officer stands in the intersection of Las Vegas Boulevard and Tropicana Avenue after a mass shooting at a country music festival nearby. Photograph: Ethan Miller/Getty Images
Here's a look at other such incidents that have struck the country in recent times.
A lone gunman armed with an assault rifle shot and killed 50 people and injured 53 others at Pulse -- a gay nightclub in Orlando, Florida in June, 2016, making it one of the deadliest mass shooting in the US which was also described as the "worst terror attack" in American history since 9/11.
>> Tragedy strikes Pulse nightclub
Syed Rizwan Farook, 28, and his partner Tashfeen Malik, 27 -- armed with assault rifles and semi-automatic handguns, and dressed in 'assault-style clothing', stormed the Inland Regional Center in San Bernardino, California. The shot 14 people dead and wounded 17.
>> Pak-origin couple open fire at Christmas party in US
James Eagan Holmes arrived at the Aurora movie theatre armed with guns, ammunition, tear gas and a gas mask before indiscriminately shooting moviegoers during a midnight screening of 'The Dark Knight Rises', killing 12 and injuring 70. The 27-year-old was sentenced to life in prison without parole.
>> Gunman kills 14 during 'Dark Knight' screening
Adam Lanza, 20, killed 28 people including 20 children and eight adults in Sandy Hook Elementary School in the US state of Connecticut. Lanza first killed his mother at their shared home before taking her guns and driving to the school.
>> 20 children among 28 dead in US school shooting
Jiverly Wong, 42, a Vietnamese immigrant invaded an immigration services centre in downtown Binghamton, New York, during citizenship classes and shot 13 people to death and critically wounded 4 others before killing himself.
Nidal Hasan, a US Army major and psychiatrist, fatally shot 13 people and injured more than 30 others at Fort Hood, Texas. The shooting produced more casualties than any other on an American military base. He was convicted and sentenced to death by a military jury after just two hours of deliberation. He said he acted to protect Islamic insurgents abroad from American aggression.
>> Upset at Iraq posting, US army major guns down 12
Seung-Hui Cho, a 23-year-old student from the Republic of Korea goes on a shooting spree at Virginia Tech University in Blacksburg of Virginia, killing 32 people and wounding 15 others before killing himself. It was the worst school shooting in the US history.
>> The Viriginia Tech Massacre
Seniors Eric Harris and Dylan Klebold storm Columbine High School in Jefferson County, Colorado shooting four guns and carrying dozens of pipe bombs. They kill 12 classmates, one teacher and then themselves. They also wound 23 others. Authorities find a powerful 20-pound propane-tank bomb Harris and Klebold had planted in the school's kitchen. Officials later say if it had gone off, hundreds of people would have been killed.
George Hennard, 35, opened fire crashed his blue Ford Ranger though a floor-to-ceiling window at Luby's Cafeteria just off US Highway 190 in Kileen, Texas. He then shot dead 23 people and wounded 20 others before retreating to a restroom and killing himself.
Patrick Henry Sherrill, a part-time mail carrier who thought he was being treated unfairly, entered the Edmond Post Office in Oklahoma armed with three handguns. He killed 14 postal workers in 10 minutes before killing himself.
James Oliver Huberty, a 41-year-old unemployed security guard dressed in camouflage fatigue pants, walked into San Ysidro McDonald's restaurant armed with an Uzi semiautomatic rifle, a shotgun and a pistol and started shooting. He killed 21 people and injured 19 others before he was slain by a police sharpshooter. At the time, it was the largest massacre in the United States.
Charles Whitman, a 25-year-old architectural engineering major and ex-Marine who had previously complained of searing headaches and depression -- climbed to the top of the University of Texas Tower with three rifles, two pistols, and a sawed-off shotgun. From there, he killed 14 and wounded at least 30 before police officers shot him dead. He had already murdered his mother, Margaret, and his wife, Kathy, earlier that morning.