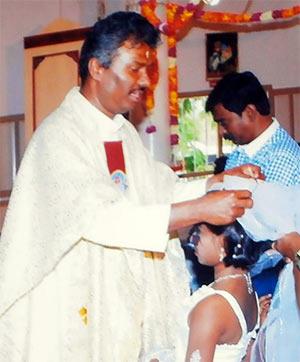 'We want to celebrate my brother's return in a big way,' Father Alexis Prem Kumar's brother tells A Ganesh Nadar/Rediff.com
Father Alexis Prem Kumar, who was abducted in the Herat province of Afghanistan on June 2, 2014, by the Taliban, has finally been released.
His younger brother, Albert Manoharan, spoke to Rediff.com over the telephone from his home in Sivaganga, Tamil Nadu, in a voice choked with emotion.
"We are all very happy and waiting for my brother. I have spoken to him on the phone. He said he was very happy to be back in India. He said he could not talk for long as there were too many officials around."
Two days ago, Father Kumar's father A S M Antony received a phone call from Prime Minister Narendra Modi who informed him that his son had been freed and was on the way to New Delhi. Antony left for the capital at once to receive his son.
"We do not yet know when he will come home. There are a lot of formalities he has to complete in Delhi before coming back," Manoharan said.
A native of Tamil Nadu, Father Kumar, 47, was working with the Jesuit Refugee Service, an educational charity, as its Afghanistan director and had been in the country for over three years, reports PTI.
Before moving to Afghanistan, Father Kumar had worked for the JRS, serving Sri Lankan refugees in Tamil Nadu. He had accompanied teachers on a visit to a JRS-supported school for returnee refugees in Sohadat village, 25 km from the city of Herat.
He was kidnapped from the school as he was about to return to Herat, the JRS said.
"He said he has to first meet his co-workers and decide what to do next," Manoharan said. "We are also planning to have a thanksgiving meeting in the church here, but the date has not been fixed"
Father Kumar, who arrived in Delhi on Sunday evening, was quick to credit Modi for his release. 'It is because of our Prime Minister Narendra Modi (that) I am here. He saved me. This evening he talked to me when I was at Kabul airport. Possibly, he took a lot of interest in rescuing me,' Kumar told reporters after arriving at Delhi airport.
"We want to celebrate my brother's return in a big way," Manoharan added, "but at the moment I cannot make any plans because we do not know when he will be here and when he will have free time."
Image: Father Alexis Prem Kumar blesses a child in Tamil Nadu, a couple of years before he was abducted. Photograph: Rediff.com