Terrorists struck again for the second time in as many days when two of them opened fire at an army camp on Jammu-Pathankot Highway in Samba district on Saturday and were killed in the counter attack.
The militants opened fired and lobbed grenades at an army camp in Meshwara area of Samba around 5:50 am, security officials said.
Defence Minister Manohar Parrikar said in Delhi that two terrorists have been killed in the operation. A civilian, who was passing by the area, fell off his cycle during the firing and was injured, the army said.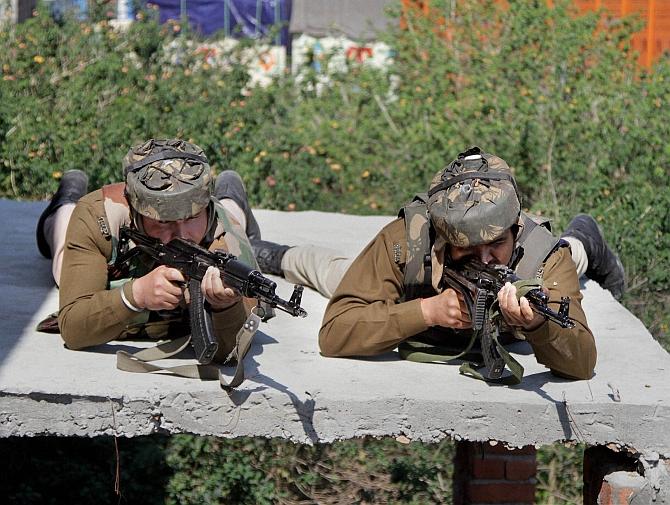 Defence PRO Lt. Col Manish Mehta said it was difficult to say whether the two militants were from the same group which had attacked a police station in Kathua on Friday.
"At 5.45 am, the terrorists had opened fire and let me tell you nobody has been injured. No soldier or civilian has been injured. The individual, who has been injured, had fallen off from his cycle during the firing. It is not a bullet or a splinter injury," Mehta told media persons.
"They (attackers) were not trying to enter any unit. They have fired from outside and now they have been cordoned outside the army area," he added. Officials said the Jammu-Pathankot Highway has been closed for vehicular traffic as a precautionary measure.
Deputy Chief Minister Nirmal Singh told media persons that, "The first gunshots were heard at around 5:30 am. One person was injured during the firing. As the state has been put on high alert following Friday attack, the militants could not launch a bigger attack on Samba".
"Security forces have been alerted and will prevent such attacks. Combing operation is underway," he said. This is the second such terror attack in Jammu in as many days.
'Fidayeen' militants in army fatigues had stormed a police station in Jammu's Kathua yesterday, killing three security personnel and two civilians, and leaving 11 others including Deputy SP wounded.
Two militants were also killed in the gun battle.
"It was a joint operation by army and police – the combing operation is still on," Lt Col Mehta said. "The recoveries included two AK-47 rifles, one of them fitted with UBGL; two daggers; 13 hand grenades; one Chinese star pistol, two UBGL rounds, 12 AK rifle magazines, one water floating bag, and clothes," the Defence PRO said.
It seems that militants have used the water floating bags to infiltrate via riverine areas along the Indo-Pak border and changed clothes and donned the uniform of the paramilitary forces to avoid detection by the local people and the Border Security Force.
"Security forces have been alerted and will prevent such attacks. Combing operation is underway," he said. The injured Papu Yadav, hailing from Uttar Pradesh, was part of a group of 70 cyclists, who were on way to the cave shrine of Mata Vaishnodevi for pilgrimage, he said.
Deputy Chief Minister Singh said the intention of Pakistan has always been to engineer infiltration of militants. "I feel it might be aimed to scuttle the foreign security level talks.
It is the design of the militants," Singh said.
Asserting that Pakistan is not ready to mend its ways, Union Minister of State Jitendra Singh today maintained that the Centre was following zero-tolerance towards terrorism and said any decision on withdrawal of Armed Forces (Special Powers) Act cannot be taken on political considerations.
"I think, this is also an occasion for us to do some re-thinking and rise above political lines and learn that any decision regarding sensitive issues such as the AFSPA, to maintain it or withdraw it, to continue it or discontinue it, has to be essentially based on the wisdom and inputs of the security agencies, instead of getting tempted to political considerations," said Singh, Minister of State in the PMO.
He also hit out at Pakistan.
Reacting to the militant attacks in Samba, former chief minister Omar Abdullah on Saturday tweeted, "If Samba is indeed a terrorist strike it marks a sharp departure from past attacks. 2 attacks in 2 days in same area of Jammu very unusual."
Hitting out at the Prime Minister Narendra Modi for failure to rein in Jammu and Kashmir Chief Minister Mufti Sayeed over the latter's 'pro-Pakistan stance', Congress today said the twin attacks were the direct fall out of Mufti playing footsie with Pakistan, separatist and militants.
"Two consecutive attacks by militants -- first in Kathua yesterday and in Samba on Saturday -- are the direct fallout of the Chief Minister playing footsie with Pakistan, separatist and militants and the failure of Prime Minister Narendra Modi in reining in Mufti," Congress Legislature Party leader Nawang Rigzin Jora told media persons.
With inputs from Mukhtar Ahmad in Jammu