IMAGE: Security personnel take position near CRPF training camp in Pulwama during an encounter after a terrorist attack on Sunday. Photographs: Umar Ganie/Rediff.com
Heavily armed terrorists on Sunday launched a pre-dawn suicide attack on a Central Reserve Police Force camp in Pulwama district of south Kashmir, killing four personnel of the force and injuring three others.
CRPF spokesperson Rajesh Yadav said the bodies of two terrorists have also been recovered while one more is believed to have been killed.
"Four CRPF jawans have been martyred and three others are injured. The bodies of two terrorists have also been recovered. We believe another terrorist has also been killed," Yadav told PTI.
A CRPF officials said the 'heavily armed militants stormed the camp at about 2 am. They were armed with under-barrel grenade launchers and automatic weapons. They were challenged by camp sentries.'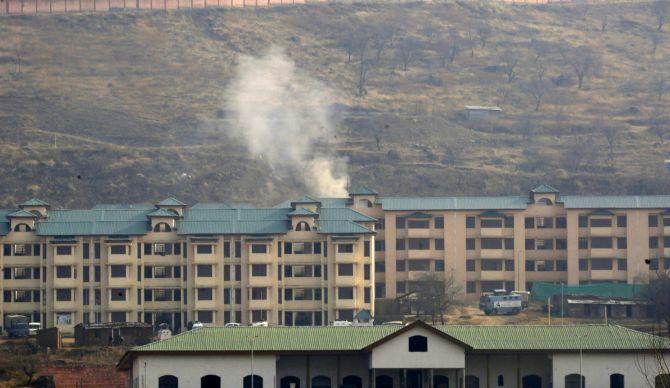 IMAGE: Smoke rises from the CRPF training camp in Pulwama.

Yadav told PTI the terrorists fired indiscriminately injuring three CRPF personnel.
One of the injured personnel was identified as Saifuddin, a resident of Nowgam in Srinagar, officials said.
Director General of Police S P Vaid said security forces had inputs about an impending militant strike in the Kashmir Valley for the past three days.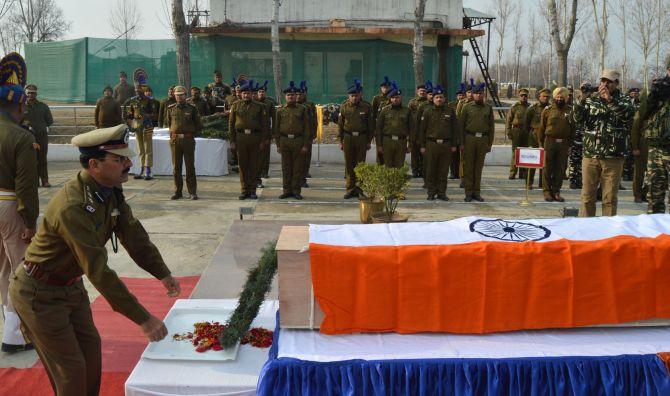 IMAGE: Wreath-laying ceremony of the personnel martyred in the attack in Srinagar.

Terming the attack as 'unfortunate', Vaid said as long as Pakistan keeps sending terrorists, security forces and people of Kashmir will continue to go through this.
"There was an input from the last two-three days.They (terrorists) were trying. They probably could not get a place and time earlier. So, they struck last night," Vaid told reporters.
The CRPF camp also serves as training centre for troops inducted for counter-militancy operations in Kashmir Valley.
A Jammu and Kashmir Police team is also co-located with CRPF in this camp.