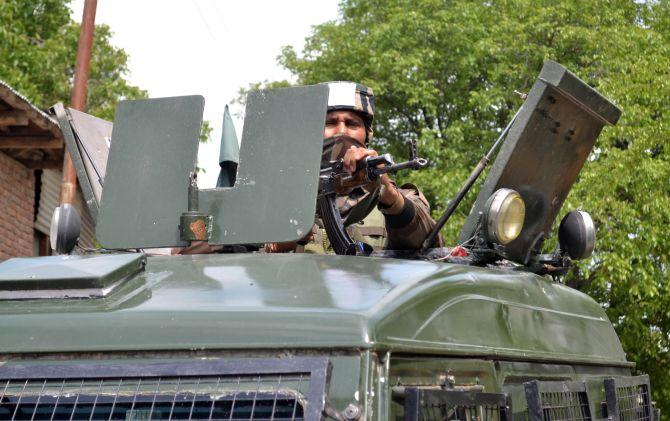 Terrorists attacked an army patrol leaving a civilian dead and two personnel injured during a massive operation involving 4,000 troops initiated on Thursday by the security forces to clear South Kashmir of terrorists.
Door-to-door search of houses, a practice stopped in the late 1990s, was reintroduced with security forces comprising army, police and Central Reserve Police Force personnel marching into more than a dozen villages in Shopian district, about 55 km from Srinagar, for 'Operation Clean Up' on Thursday morning, while helicopters and drones hovered over the area.
Encounter breaks out in Kulgam
An encounter broke out between terrorists and security forces in Kulgam district of south Kashmir on Thursday.
Security forces launched a cordon-and-search operation in Khudwani area of Kulgam district, 75 km from Srinagar, following information about presence of three to four terrorists there, an army official said.
As the security forces were closing in on the terrorists, they opened fire.
"The cordon has been strengthened to prevent the militants from escaping. So far, there have been no casualties," the official said.
The operation, launched after a spate of terrorist attacks in the region, was perhaps the biggest in more than a decade in the troubled Kashmir Valley, an army official said on the condition of anonymity.
After a 12-hour dawn to dusk operation, the terrorists struck when army troops were carrying out a 'reverse sweep' of Chowdari Gund and Kellar area of Shopian on Thursday evening, official sources said.
Reverse sweep is a term used by army in which they carry out a surprise check of a location after having combed it earlier in the day.
They said the terrorists had laid an ambush and fired indiscriminately when the troops approached the village looking for terrorists.
Two jawans and a civilian, who was passing by, were injured. The civilian later succumbed to injuries. The troops returned the fire besides alerting other teams who laid a cordon around the spot.
The cordon and search operation followed intelligence inputs about the presence of militants, including foreign terrorists, in the area, an official said. However, no arrests were made during the search.
The troops asked all villagers to assemble in a common area so a proper search of their homes could be carried out.
"We do not wish to have any civilian casualty and the measure was therefore required," said a senior army official engaged in the operation.
Aiding the security forces, which included a team of concealed anti terrorists, were drones providing real-time intelligence to the troops.
Barring a minor stone pelting incident at Turkawangan village, the operation went on smoothly earlier in the day, an official said.
IMAGE: A security personnel during cordon and search operation in Shopian on Thursday. Photograph: Umar Ganie/Rediff.com