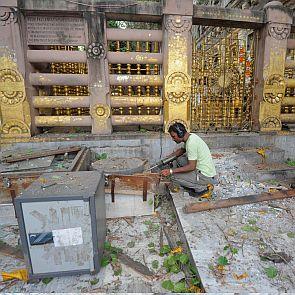 The National Investigation Agency believes that Indian Mujahideen's stamp on the Bodh Gaya attacks is evident. However, the agency has been unable to zero in on the major players behind the attack.
Part of the problem lies in the fact that terror outfits like the IM have begun outsourcing their operations.

An NIA officer told rediff.com, "We are realising that the outfit has started to outsource operations too. This is a hunch we have on the basis of the probe we conducted into this attack so far."

The Indian Mujahideen follows the same pattern as its creator, Lashkar-e-Tayiba.

The chargesheet NIA filed recently in the case paints a helpless picture as it realises that the key men are still at large and appear to be operating with a lot of ease.
The NIA lists Yasin Bhatkal, Riyaz Bhatkal, Mohsin Choudhary, Amir Reza Khan, Tahsin Akhtar, Dr Shahnawaz Alam, Asadullah Akhtar, Ariz Khan, Md Sajid, Md Khalid and Mirza Shadab Beg as absconders.
While the masterminds have gone into hiding, the investigators are looking to nab the foot soldiers who were not even part of the main outfit but were sourced for this operation.

There is no intelligence on these persons nor is there a case diary, which would suggest their links. Fresh faces picked up randomly by the IM have surely reduced the heat on the main cadre to a great extent, the NIA points out.
The IM does realise that its operations in Dubai and Gulf are high on the scanner.

There was an easy flow of funds from these countries till a few years ago. That changed after the authorities there decided to crack down on the network.

The intelligence agencies have tracked several calls made by Yasin Bhatkal to Dubai during which he has made desperate pleas for funds.

Today, however, the IM has now found a better way of generating funds -- through a Bangladeshi outfit named Hizbut Tahrir.

Although it seems as though the IM planned and carried out the Bodh Gaya blast with outsourced foot soldiers, the directive to carry out this attack came from the HT in the first place. It is an angle that is under probe, the NIA also points out.
Another problem encountered by the investigators is that IM's tactics keep changing.

An intelligence input in 2010 suggested that the IM was cozying up to the Naxals. It was believed that while the IM planned to utilise Naxals' logistical knowledge to carry out attacks, the latter will rely on the IM for arms and funds.
The revelations made by an operative named Manzar Imam four months back about the unholy nexus between the Naxals and the IM confirmed this.
He said that the IM was in touch with Naxals in West Bengal, Jharkhand and Bihar to executing a common recruitment programme.