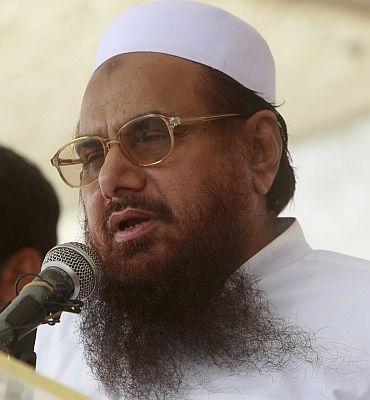 Hafiz Saeed, the mastermind of the 26/11 Mumbai terror attack, has praised the attack by Pakistani terrorists on an air force base in Pathankot last month and in a public speech called for more violence.
Saeed, the leader of the Jaamat-ud-Dawah, addressed a rally of around 1,000 in the disputed Pakistan-occupied Kashmir region, said, "800,000 Indian troops are committing genocide on Kashmiris. Don't they have a right to carry out Pathankot style attacks for their defence?"
He also lauded Kashmiri terrorist leader Syed Salahuddin, who heads the United Jihad Council that claimed responsibility for the attack. "You have only seen one attack on Pathankot. Matters could easily escalate."
Indian officials believe the Pakistan based Jaish-e-Mohammed was behind the siege. Saeed's frequent calls for jihad against India irk New Delhi, which considers JuD -- a UN designated "terror organisation" -- to be no more than a front for Lashkar-e-Tayiba, the terror group blamed for the 2008 Mumbai attacks that left 166 people dead.
Home Minister Rajnath Singh on Wednesday blamed Pakistan for most of the terror attacks in the country, but said India will stand by its neighbour if it takes action against terrorists operating from there.