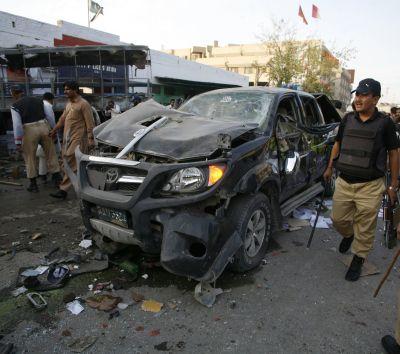 Bomb blasts rocked four major Pakistani cities on Thursday, killing 10 people, including three terrorists, and injuring more than 60 others.
In the deadliest attack, a bomb attached to a motorcycle went off outside a police station in Quetta, the capital of the restive Balochistan province. Six persons, including a child, were killed and 35 others injured.
Home Secretary Asad Gilani said women and children were among the injured. The bomb disposal squad said an estimated six kilograms of explosives were used in the attack. Nearby buildings were damaged by the explosion.
Earlier, a person was killed by a low-intensity blast in a food market in Lahore, the capital of Punjab province.
According to Deputy Inspector General of Police Rai Tahir, a timed device planted in the ground floor of a three-storey building in Old Anarkali food street went off around noon.
Three suspected terrorists were killed when explosive materials they were carrying on motorcycles exploded near a religious congregation in Mangopir area of Karachi.
Initial media reports said there were three suicide attacks on the congregation but senior police officials clarified only three suspected terrorists were killed in a blast.
Three security personnel, including a police officer, were injured in an explosion on the Ring Road in Peshawar. In the evening, 12 soldiers were injured when a security forces vehicle was targeted with a remote-controlled bomb in Bannu area of Khyber-Pakhtunkhwa province.
Image: Security officials and rescue workers gather at the site of a bomb blast in Quetta on Thursday
Photograph: Naseer Ahmed/Reuters