Vicky Nanjappa / Rediff.com, who has widely covered the Telangana statehood demand, reports from Ground Zero as India's 29th state is born amid cheer and hope.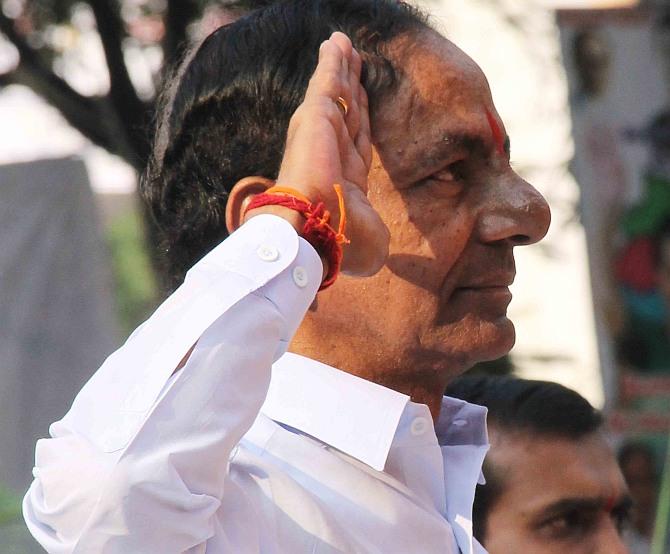 Celebrations have begun in Hyderabad and all across Telangana as India's 29th state was born at the stroke of midnight.

The streets of Hyderabad resemble a carnival with people dancing and singing to the state song, Jaya Jaya He Telangana.

The celebrations went on an overdrive after Telangana Rashtra Samithi chief K Chandrashekhar Rao took oath as the chief minister.

The TRS had earlier won the mandate by winning 62 of the 119 seats in the newly formed Telangana assembly.

Eleven ministers have also taken oath in K Chandrasekhar Rao's Cabinet in the new state of Telangana.
The ministers, who took oath today, include Mahmood Ali, Dr T Rajaiah, Nayani, Etala, Pocharam Srinivas Reddy, Harish Rao and KT Rama Rao.

Following the ceremony, Rao told media persons: "We will work together and ensure developement of Telangana. There is no animosity with the centre and we have no problem with Narendra Modi. We realise the importance of working together with the Centre as we are a new state and need assistance from all quarters."
Prime Minister Narendra Modi congratulated KCR and assured him of full help in taking the newly created state forward.
"Congrats to K Chandrasekhar Rao Garu on taking oath as Telangana's 1st CM. My best wishes to people for the state's development journey. Centre assures complete support to the people & Government of Telangana in taking the state to newer heights of progress," the PM tweeted.
"India gets a new state! We welcome Telangana as our 29th state. Telangana will add strength to our development journey in the coming years. Telangana's birth comes after years of struggle and sacrifices by several people. We pay our respects to them today," he further tweeted.
Home Minister Rajnath Singh also tweeted, "Congratulations to Shri K. Chandrashekhar Rao on taking oath as the first Chief Minister of the new Telangana state. My good wishes to him."

Earlier, joining the celebrations at midnight in Hyderabad, Rao said: "We have done it; now we need to live up to it. It is a new start and it will be a great one."

PTI adds: The swearing-in ceremony was not without controversies, as Chief Minister-designate of successor State of Andhra Pradesh N Chandrababu Naidu skipped it, in what is seen as first signs of discord between the two "regional satraps".
Sources said Telugu Desam Party President was peeved that there was neither a personal invitation nor a telephone call; it was said to be a routine invitation from the administration.
It is no secret that there is no love lost between Rao and Naidu, who fought a fierce electoral battle marked by personal attacks.
Naidu, who was swept to power in the successor State of Andhra Pradesh, is slated to be sworn in as Chief Minister on June eight at a ceremony to be held between Vijayawada and Guntur.