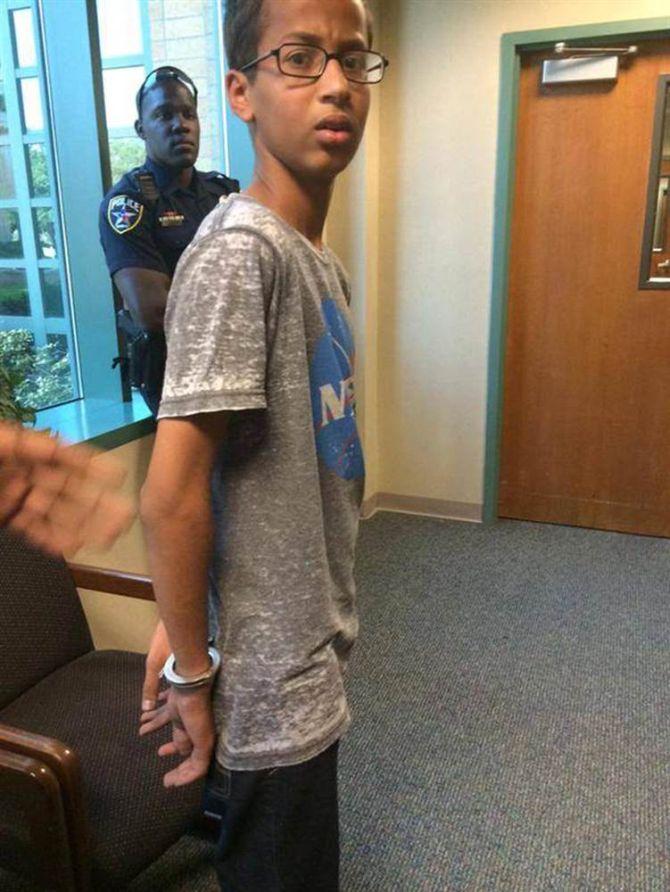 A 14-year-old Muslim boy in the US, who was detained after his homemade clock was mistook to be a bomb, has been applauded and invited by the White House, Facebook and Google for his innovation.
Ahmed Mohamed, an engineering enthusiast, brought the clock to his high school in Irving, Texas, on Monday to show one of his teachers which she mistook to be a bomb.
Hours later, he was handcuffed and arrested by school resource officers as part of "standard procedure".
The incident has created an outrage in the country with messages of support pouring from President Barack Obama, Democratic presidential candidate Hillary Clinton and Facebook founder Mark Zuckerberg.
"Cool clock, Ahmed. Want to bring it to the White House? We should inspire more kids like you to like science. It's what makes America great," Obama tweeted.
White House Press Secretary Josh Earnest said that Obama like many others were struck by these reports.
"In this instance, it's clear that at least some of Ahmed's teachers failed him. That's too bad, but it's not too late for all of us to use this as a teachable moment and to search our own conscience for biases in whatever form they take," he said.
"This episode is a good illustration of how pernicious stereotypes can prevent even good-hearted people who have dedicated their lives to educating young people from doing the good work that they set out to do," Earnest said.
"So Obama was pleased to extend an invitation to Ahmed to participate in Astronomy Night that will be hosted here at the White House next month," he said.
Astronomy Night will bring together government scientists and NASA astronauts and others to spend some time with young people examining the wonders of the heavens, and it'll be an opportunity for them to talk about science and our solar system and the universe.
"It should be good event, and I think that -- or at least we are hopeful, that Ahmed will feel right at home here," Earnest said.
Leading Democratic presidential candidate Hillary Clinton too came out in support of Ahmed.
"Assumptions and fear don't keep us safe—they hold us back. Ahmed, stay curious and keep building," she tweeted.
Zuckerberg publicly defended and praised Mohamed.
"Having the skill and ambition to build something cool should lead to applause, not arrest. The future belongs to people like Ahmed," he said.
"Ahmed, if you ever want to come by Facebook, I'd love to meet you," he added.
Google also invited Mohamed to take part in its science fair, urging him: "Bring your clock!"
Meanwhile, Irving's police chief announced Wednesday that charges won't be filed against Mohamed.
"The follow-up investigation revealed the device apparently was a homemade experiment, and there's no evidence to support the perception he intended to create alarm," said Larry Boyd, Irving police chief.
Image: Ahmed Mohamed, A 14-year-old North Texas student, appears in handcuffs, after his arrest on charges of making a "hoax bomb."