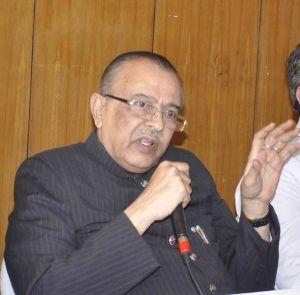 Sharing of dais with Narendra Modi in New Delhi and numerous other indications that N Chandrababu Naidu was fast heading towards renewed friendship with the Bharatiya Janata Party has left the Muslim leaders of Telugu Desam Party fuming with anger and frustration.
Zahid Ali Khan, one of the most prominent faces of the TDP and a respectable name in Hyderabad society, has threatened to quit the TDP if the party joins hands with the BJP.
Zahid Ali, owner and editor of leading Urdu daily "Siasat", along with a few other minority leaders of the party met Chandrababu Naidu to convey the growing concern among the minorities over increasing bonhomie between him and BJP's PM candidate Narendra Modi.
The minority leaders including member of legislative council member Mohamed Saleem and former MLC Ibrahim Bin Abdullah Masqati pointed out that for Muslims Modi was the most hated figure for his role in the 2002 pogrom in Gujarat.
They also reminded Naidu the stand he had taken against Modi at that time and demanded his removal as chief minister of Gujrat for his failure in ensuring law and order and protection of people's lives.
"Then how you can support the same person as prime minister", they reportedly asked Naidu.
The TDP president on his part told the minority leaders that he had not taken any decision so far about the alliance with any party and it was not an appropriate time to discuss the issue. At the same time he said that realignment of political parties will take place on the plank of anti Congressism.
Not satisfied with the explanation and keeping in view the fact that Naidu went ahead and shared the stage with Modi in New Delhi, Zahid Ali Khan has said that he will quit the party if TDP allies with communal forces.
"Such a friendship with the BJP will prove very costly for Naidu", he told a public meeting in Hyderabad held to condemn recent Muzaffarnagar riots.
Zahid Ali Khan, who had contested 2009 Lok Sabha elections unsuccessfully against Majlis-e-Ittehadul Msulimeen president Asaduddin Owaisi from Hyderabad constituency, said that he had joined the TDP with the hope that the party will work to uplift the minorities and take measures for their welfare.
He also recalled that the lone Muslim minister of Chandrababu Naidu cabinet in 1998, Basheeruddin Babu Khan, had resigned in protest against TDP's support to BJP-led NDA government.
If Zahid Ali Khan implements his threat and quits the TDP, it will be a big loss for the party as it will be left without any credible minority figure in its ranks.
Party's senior most Muslim leader and party vice president Lal Jan Basha recently died in a road accident.
Image: Zahid Ali Khan
Photograph: SnapsIndia