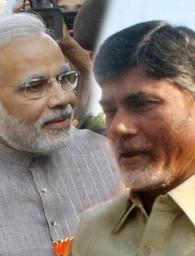 If the TDP fails to cash in on the Modi wave, the party would lose out to the newbie YSR Congress Party, believes chief Chandrababu Naidu
The Telegu Desam Party has decided to tie up with the Bharatiya Janata Party for the forthcoming Lok Sabha polls, party chief Chadrababu Naidu told top leaders recently.
Naidu's decision comes days after his meeting with Trinamool Congress chief Mamata Banerjee, which had raised speculations about the TDP's efforts to join the Third Front.
The TDP chief had clarified that he had met Banerjee as she, like him, was opposed to the creation of smaller states. Babu had sought the TMC chief's help to defeat the Telangana Bill in Parliament.
Senior BJP leaders Venkaiah Naidu and L K Advani have already given the go-ahead for the tie-up with the TDP, say sources, adding that the party is now waiting for a seal of approval by its prime ministerial candidate Narendra Modi.
If Modi feels that it is better to wait for the Lok Sabha poll results, and keep options open for an alliance with YSR Congress chief Jagan Mohan Reddy, the decision to team up with the TDP may be put on hold.
The TDP was part of the BJP-led National Democratic Alliance when the coalition was in power between 1999 and 2004.
Naidu had earlier indicated that his party would consider an alliance with the BJP if Modi managed to invoke the same kind of fervour that was triggered by former prime minister Atal Bihari Vajpayee.
In a recent meeting, Naidu told his party workers that he had witnessed a strong wave in favour of Modi, especially in urban regions of Andhra Pradesh.
If the TDP failed to cash in on the Modi wave, warned Naidu, the party would lose out to the newbie YSR Congress Party.
But BJP leaders from Telangana have opposed the proposed alliance with the TDP as the latter is vehemently against the creation of the new state. Such a tie-up will harm the TDP's poll prospects in Telangana, they say, adding that such an alliance will help the Congress and the YSR Congress.

But the saffron party is aware of the fact that the forthcoming polls in Andhra Pradesh will be fought primarily between the Congress and the TDP.
The BJP will need to wait for at least another five years before the party can make its presence felt in Andhra Pradesh politics.