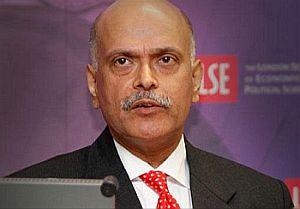 The Income Tax Department carried out searches at media baron Raghav Bahl's house and office on Thursday in connection with a case of alleged tax evasion, officials said.
A team of I-T sleuths raided Bahl's premises in Noida early morning and are looking for documents and other evidence related to a case of "bogus long term capital gains received by various beneficiaries", they said.
Bahl, who was in Mumbai, said in a statement that he was on his way to Delhi and his wife and mother were confined to the residence and not allowed to speak to anybody.
"I have got little else to go on right now," he said in a statement to the media.
Apart from Bahl, three other beneficiaries and professionals, J Lalwani, Anoop Jain and Abhimanyu, are also being searched as part of the same action, officials said.
Officials said their business links to offshore entities are being investigated.
LTCG is broadly defined as the tax paid on profit generated by an asset such as real estate, shares or share-oriented products held for a particular time-frame.
Bahl is the founder of the Quint news portal and the Network18 group.
Reacting to the raids, Bahl issued this statement to the Editors Guild on Twitter